Jimmy Harris returns to lead Ocean View boys' basketball
Sports Editor
For the last three weeks, Jimmy Harris kept asking himself the same question each morning.
Is this what you want to do?
The answer was always the same.
Yes.
Yes, as in Harris longed to lead the Ocean View High boys' basketball team again.
Six years after stepping away as co-coach of the Seahawks, Harris is taking over the program by himself. The school named Harris the coach on Wednesday, quite the turnaround since Roger Holmes stepped down as Ocean View's coach last week to become the athletic director at Fountain Valley.
Harris said he knew Holmes could be leaving for his alma mater for some time now. The question now was if Harris, 44, would be interested in becoming the head coach again at his alma mater.
I'm excited to progress, to do something, [to] teach. I haven't had that feeling in a while and it's great to have it.
Ocean View High coach Jimmy Harris
A week ago, he called Tim Walsh, the school's athletic director, and told him he was interested in the job. The move surprised Walsh, who stepped down as the basketball coach after sharing the duties with Holmes the past four seasons. For the last six seasons, Walsh knew being a head coach was the last thing Harris wanted in his life because he focused on spending time with his wife and two children.
"To be honest with you, I didn't expect it to be Jimmy," said Walsh, who had Harris as assistant the last six seasons. "Jimmy's an excellent coach. He's really good at what he does. There's no doubt that he can do it."
With his kids in high school now, the timing seemed ideal for Harris to return as a head coach. On his first day in charge, Harris said everything felt right when he walked into the gym.
"I'm excited to progress, to do something, [to] teach," said Harris, who also teaches math at Ocean View. "I haven't had that feeling in a while and it's great to have it."
The last time Harris said he felt this way was when he coached alongside his dad, the legendary Jim Harris, at Ocean View. Father and son were co-coaches for nine seasons, until Jim Harris died of cancer at age 67 a month before the 2011-12 season.
On his deathbed, Jim Harris told his son something that really affected his son's future in coaching.
"The last words he really said to me were, 'Don't feel obligated [to take over for me],' because he knew the weight of it," said Jimmy Harris, who wound up splitting the coaching duties with Walsh in 2011-12. "He knew that when he passed away that someone was going to have to fill the void, but he wanted to make sure that I knew, 'Hey, man. It's OK. You don't have to step into these shoes, unless you're 100% clear that you want to.' It took the weight off my shoulders. It gave me the confidence to say, 'I am not ready for this.' It gave me the confidence to wait until the time was right, when I was confident that I had the time to spend [to be a head coach].
"I watched him [coach]. The amount of time that he put into care-taking for this program is incredible."
There are constant reminders of what Jim Harris built during his 33 seasons at Ocean View, where he won 665 games, 19 league titles and two CIF Southern Section championships. One of those section crowns he won with his son at his side in 2008-09.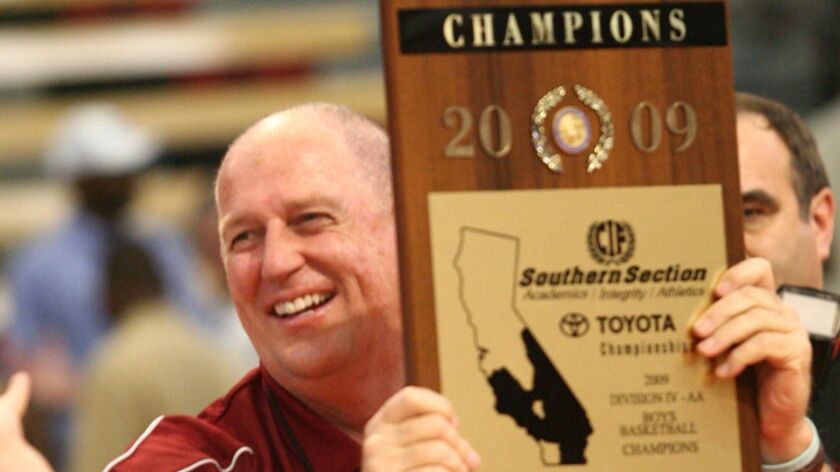 Jim Harris' name is outside of the gym and on the new court inside. Right in front of the home bench it reads, "Jim Harris Gymnasium." Near the scorer's table, where the players check in, there's a No. 25 on the court. That's the number Jim Harris wore at Long Beach State, and it was Jimmy Harris' number at Ocean View when he was a standout point guard for his dad before graduating in 1993.
Another No. 25 in the Harris family is Jimmy Harris' son, Jackson Harris. He wore it this past season as a freshman at Ocean View.
Jackson Harris will be one of many young players at Ocean View next season. The Seahawks, who won their fourth straight Golden West League title and reached the quarterfinals of the CIF Southern Section Division 3AA playoffs under Walsh and Holmes in 2017-18, lost eight seniors to graduation on Wednesday.
"I talked with the guys today, and I want to start back where we started as a program," said Harris, who will only have three varsity players returning next season off an Ocean View team that went 24-5 overall and 10-0 in the league. "My dad's calling card was always that we were going to try and outwork anybody that we came up against. That was my message to the players. I wanted to keep it simple, but I wanted it to be something that [they know] is important.
"When [opponents] see Ocean View on the schedule, they know they're going to be in [for] a [battle]. No matter what the strategy is, no matter what the talent level is, we are going to outplay you."
Get more of David Carrillo Peñaloza's work and follow him on Twitter @ByDCP
---
All the latest on Orange County from Orange County.
Get our free TimesOC newsletter.
You may occasionally receive promotional content from the Daily Pilot.