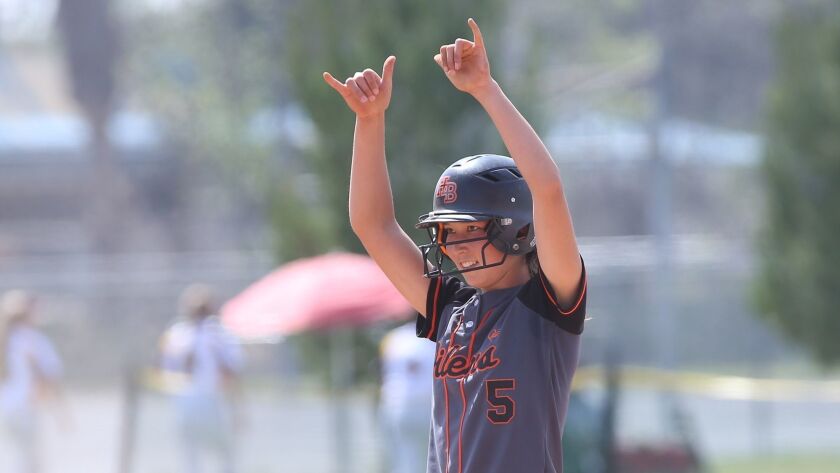 Kelli Kufta homered as part of a five-run sixth inning, and the Huntington Beach High softball team pulled off a 5-2 upset at Los Alamitos, ranked No. 1 in the CIF Southern Section Division 1 poll, in a Sunset League game on Thursday.
In doing so, the Oilers (18-7, 8-1 in league) drew even with the Griffins (24-2, 8-1) for first place in the league. Huntington Beach plays Edison to finish out the regular season on Tuesday.
"We've single-handedly played the toughest schedule in CIF," said Oilers coach Jeff Forsberg, whose team is unranked in the Division 1 poll. "I like our chances against anybody."
Jadelyn Allchin and Allee Bunker each had doubles for the Oilers. Grace Uribe threw a complete game, allowing just three hits to pick up the win.
Edison 13, Fountain Valley 3 (five innings): Gio Liggett and Grace Caswell each drove in a pair of runs, as the host Chargers earned a mercy-rule victory in Thursday's Sunset League game.
The Chargers improved to 13-9 overall and 5-4.
Delaney Sheppard, Samara Ortega and Kayla Vidal all hit doubles for the Barons (10-19, 2-7).
Marina 10, Newport Harbor 0 (five innings): Briana Gonzalez and Paige Shafer both had two runs batted in, as the host Vikings (13-12, 4-5) rolled to a mercy-rule win in a Sunset League game on Thursday.
Shayla Thomas had two hits, and Emily Rush struck out five in a complete game.
Newport Harbor dropped to 6-20 overall and 0-9 in league.
Northwood 17, Corona del Mar 0: Senior outfielder Aya Prow registered the lone hit for the visiting Sea Kings in Thursday's Pacific Coast League contest.
CdM dropped to 5-19-1 overall and 0-8 in league.
::
BASEBALL
Sage Hill 6, Whitney 4: The Lightning scored twice in the top of the eighth inning to break a tie and pull off an extra-inning win in Thursday's Academy League road game.
Daniel Fishman scored on a wild pitch and Trevor Klein, who went three for four, singled in a run during the extra-inning affair, helping Sage Hill win its sixth consecutive league game.
Drake Mossman struck out 10 in seven innings for the Lightning (14-7, 7-3 in league). Ashwin Chona and Justin Camp each had two hits.
Sage Hill, which is a half game back of second-place St. Margaret's (11-7, 7-2), closes out the regular season with the rival Tartans. Sage Hill travels to St. Margaret's on Tuesday before playing host to the Tartans next Thursday.
Calvary Chapel 6, Estancia 2: Estancia couldn't hold on to a 2-1 lead late at home Thursday, as Calvary Chapel score two runs in the sixth and three in the seventh in an Orange Coast League game.
With Estancia's loss, 12-0 Laguna Beach clinched the outright league championship. Estancia is in second place at 9-4, two games ahead of fourth-place Calvary Chapel, which is 7-6.
Estancia wraps up league play with two games with Laguna Beach next week. The first is at Estancia on Tuesday and the second is at Laguna Beach on Wednesday.
::
BOYS' TENNIS
Sunset League tournament: Andy Myers and Josh Watkins of Newport Harbor won the doubles league title after beating Erik Tadros and Ben Nguyen of Fountain Valley 6-2, 6-2 in the title match Thursday at Huntington Beach High.
Myers and Watkins, the No. 3 seeds, had beaten No. 2-seeded Vivek Savsani and Brandon Keller of Fountain Valley 7-6, 6-2 in the semifinals. Tadros and Nguyen upset top-seeded Barons teammates Justin Pham and Tommy Trinh 6-4, 4-6, 10-8 in the other semifinal.
No. 2-seeded Justin Nguyen of Fountain Valley made the singles title match before falling to top-seeded Colter Smith of Los Alamitos, 6-3, 6-3.
Each singles and doubles champion and finalist advances to the CIF Southern Section Individuals tournament, which begins May 24.
Pacific Coast League tournament: Corona del Mar's Diego Fernandez del Valle and Kyle Pham beat teammates Jacob Cooper and Ryan Wessler 8-6 for third place in doubles Thursday at Irvine's Heritage Park.
Each CdM doubles team had lost in the semifinals. Fernandez del Valle and Pham fell to eventual champions Patryk Kozlowski and Julian Lafond of University, while Cooper and Wessler lost to Leo Hibi and Paul Diamantopoulos of Woodbridge.
Stefan Dostanic of Woodbridge won the singles league title.
Academy League tournament: Sage Hill junior Emin Torlic defeated Matt Rosenthal of St. Margaret's 6-1, 6-0 to win the singles league title at home Thursday.
In the doubles final, Peter Gottlieb and Jay Phansalkar of St. Margaret's defeated Sage Hill's Ryan Ha and Robert Gerschultz, 6-0, 6-4.
Each singles and doubles champion and finalist advances to the CIF Southern Section Individuals tournament, which begins May 24.
::
BOYS' SWIMMING
Academy League finals: Jason Schreiber earned Most Valuable Swimmer honors after helping Sage Hill win its fourth straight league title Thursday at Kennedy High.
Schreiber won the 100-yard butterfly in 52.06 seconds and the 100 breaststroke in 58.55 for the Lightning. He was also part of the winning 200 medley and 400 free relay teams.
Sage Hill's Zane Drobenko won the 100 free in 50.92, and Cole Callin won the 50 free in 22.96.
::
GIRLS' SWIMMING
Academy League finals: Sage Hill finished second to Crean Lutheran on Thursday at Kennedy High.
Nicole Harvey won the 100-yard breaststroke in 1 minute 6.86 seconds for the Lightning, and Sydney Rosmann won the 100 backstroke in 1:00.66.
::
GIRLS' TRACK AND FIELD
Academy League finals: Sage Hill's Brooklyn Button qualified for the CIF Southern Section Division 4 preliminaries in three different events by virtue of performance on Thursday.
The senior won the 3,200 meters in 11 minutes 44.44 seconds. She took second in the 800 (2:27.64) and the 1,600 (5:20.67).
Sydney McCord also recorded a victory for the Lightning in the 400, clocking in at 59.97 seconds.
Emily Lam placed sixth in the long jump, but her mark of 16 feet, 3 inches beat the at-large standard to qualify for CIF.
Sage Hill finished fifth. St. Margaret's won it.
::
BOYS' GOLF
Newport Harbor 193, Los Alamitos 209: Ethan Barnes was the individual medalist for the Sailors with a three-under-par 33 at Old Ranch Country Club in Seal Beach on Thursday.
Ryan Miller had a 38 for Newport Harbor, followed by Campbell Norris' 39.
Newport Harbor, which finished third in the league at 6-4, qualified for the CIF Southern Section Southern Division Team tournament at Mile Square Golf Course on May 14.
Twitter: @DailyPilotSport
To report scores or newsworthy items, contact the sports staff listed below:
David Carrillo Peñaloza, Sports Editor
(714) 966-4612, david.carrillo@latimes.com
Twitter: @ByDCP
Fall: football, girls' golf
Winter: boys' basketball, boys' soccer
Spring: baseball, boys' golf
::
Matt Szabo, Sports Reporter
(714) 966-4614, matthew.szabo@latimes.com
Twitter: @mjszabo
Fall: boys' water polo, girls' tennis
Winter: girls' soccer, girls' water polo
Spring: boys' tennis, swimming, lacrosse
::
Andrew Turner, Sports Reporter
(714) 966-4611, andrew.turner@latimes.com
Twitter: @ProfessorTurner
Fall: girls' volleyball, cross-country, field hockey
Winter: girls' basketball, wrestling
Spring: boys' volleyball, track and field, softball
---