High School Roundup: Fountain Valley football improves to 4-0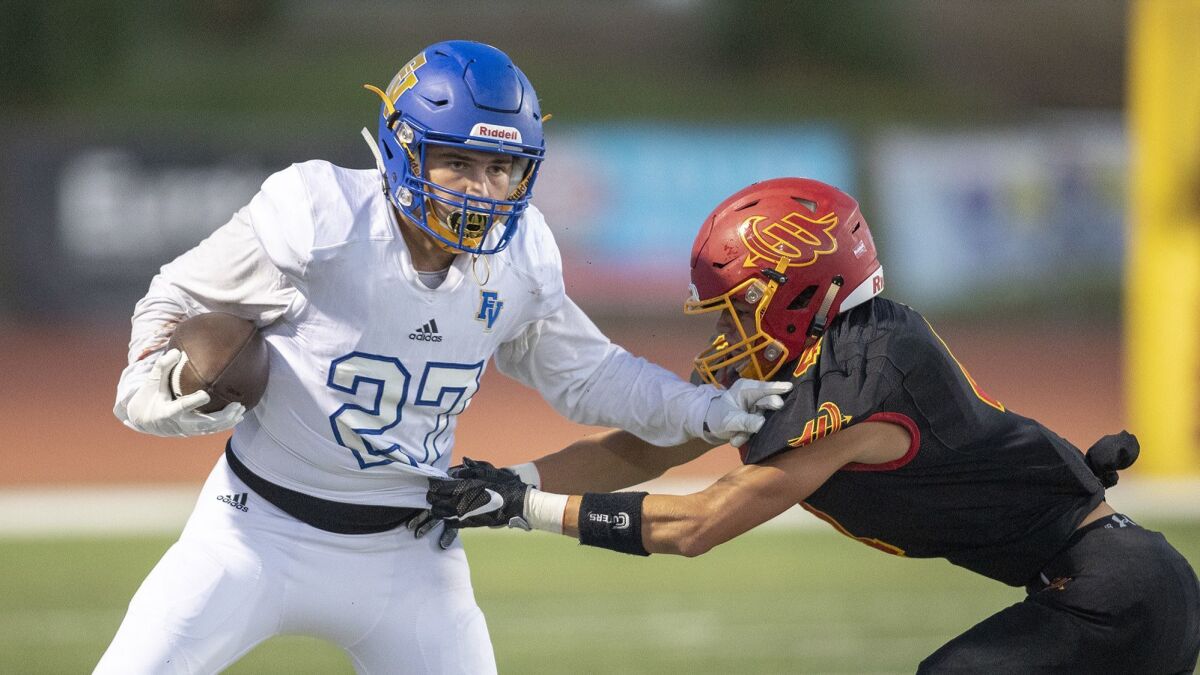 The Fountain Valley High football team scored all of its points in the first half of Friday night's 50-0 nonleague win at Long Beach Rancho Dominguez.
With the win, the Barons are 4-0 for the first time since 2009.
Junior quarterback Josh Stupin was five of eight for 184 yards passing and four touchdowns, while senior receiver Brandon Krause had three catches — all for touchdowns — and 89 yards. Senior Kishaun Sykes had an 80-yard touchdown run on the Barons' first possession and later added a receiving touchdown.
Fountain Valley plays at Adelanto next Friday.
Ocean View 56, Calvary Chapel 8: Senior wide receiver Will Earthman had four total touchdowns for the host Seahawks in Friday's nonleague contest.
Earthman scored Ocean View's first four touchdowns. He began his scoring barrage with runs of three and 13 yards.
The Edison transfer added a 67-yard punt return for a touchdown, and his final scoring salvo was a 59-yard reception from senior quarterback Noah Hickman.
Senior running backs Rodrigo Adame and Dezmond Doxey each scored twice for the Seahawks.
Ocean View (3-0) will host Estancia (3-0) next week.
Newport Harbor 35, Los Angeles University 13: Jake Keliikoa had two rushing touchdowns for the host Sailors in Friday's nonleague game.
Senior quarterback Rory McCrory had two touchdown passes, one to Rich Lemmon and one to Mason Walker.
Justin McCoy added a rushing touchdown for the Sailors (2-1), who play a road game against Santa Monica next week at Santa Monica College.
Laguna Beach 34, Dana Hills 8: Junior quarterback Andrew Johnson had three touchdown passes for the Breakers in Friday's nonleague game at home.
Johnson had a touchdown pass to Kai Ball that went for a school-record 98 yards. He also threw touchdowns to Shane Lythgoe and Sean Nolan, and had a one-yard keeper for a touchdown.
Lythgoe added a rushing score for Laguna Beach (2-1), which hosts Bellflower next week.
La Quinta 31, Costa Mesa 7: The host Mustangs fell behind early in Friday's nonleague game.
Costa Mesa (0-4) scored its lone touchdown on a goal-line run with four minutes to go in the third quarter, cutting its deficit to 24-7.
The Mustangs remain at home to face Los Amigos (2-1) next Friday.
::
BOYS' WATER POLO
Laguna Beach 15, Goleta Dos Pueblos 9: Colton Gregory had seven goals and two assists for the Breakers in Friday's Santa Barbara Tournament of Champions quarterfinal match at Dos Pueblos High.
Zach Cord had three goals, and James Nolan scored twice. Caden Capobianco made 10 saves.
Earlier Friday, the Breakers beat San Diego Cathedral Catholic 8-7. Gregory, Will Clark and Marshall Eichenauer each scored twice.
Laguna Beach (4-0) plays Los Angeles Loyola in a tournament semifinal match at 10 a.m. Saturday at Santa Barbara High.
::
GIRLS' TENNIS
Costa Mesa 13, Santiago 5: Leslie Delgado swept at No. 1 singles for the Mustangs in Friday's nonleague match.
Amber Lee and Alexis Votran swept at No. 1 doubles for Costa Mesa (2-2).
::
GIRLS' VOLLEYBALL
Lakewood 3, Corona del Mar 0: Kendall Kipp had 17 kills and 11 digs for the visiting Sea Kings in a nonleague match that Lakewood won 25-23, 25-23, 25-20 on Friday.
Nikki Senske provided 12 kills, Molly Joyce added seven kills and Michelle Won had nine digs.
CdM (9-10) will host Laguna Beach (2-6) in a Sunset League crossover match on Wednesday at 5:45 p.m.
Twitter: @DailyPilotSport
---
All the latest on Orange County from Orange County.
Get our free TimesOC newsletter.
You may occasionally receive promotional content from the Daily Pilot.