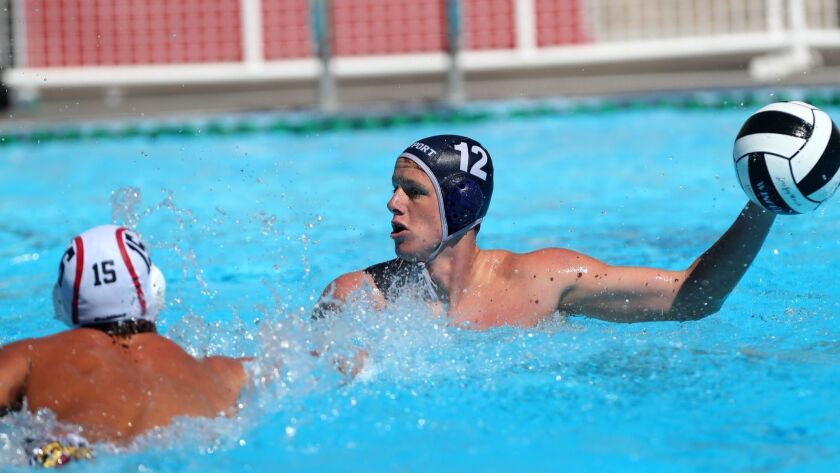 The Newport Harbor High boys' water polo team advanced to the South Coast Tournament quarterfinals after a pair of wins at home Thursday.
The No. 2-seeded Sailors beat Capistrano Valley 22-2, then got past Dana Hills 18-6.
Tommy Kennedy had six goals for Newport Harbor (12-1) against Dana Hills, and Eli Leighty scored four. Jack White had three goals, while Makana Sanita, Ike Love, Jonny Rimlinger, Sam Allen and Jake Leighty had one goal each.
Newport Harbor plays The Bishop's School of La Jolla in a tournament quarterfinal game Friday at 6 p.m. at Newport Harbor. The Bishop's School upset Laguna Beach 14-11 in another second-round game.
GIRLS' TENNIS
Corona del Mar 15, Edison 3: Janie Marcus, Roxy MacKenzie and Shaya Northrup all won two singles sets for the visiting Sea Kings in Thursday's Sunset Conference crossover match.
The doubles teams of Reece Kenerson and Jane Paulsen, as well as Alden Mulroy and Ashley Thomas, each swept for CdM. Dylan Matesky and Tori Varela won two doubles sets.
The Sea Kings (4-2) host Huntington Beach on Tuesday in another crossover match, while Edison (4-5) plays at Newport Harbor.
Costa Mesa 17, Orange 1: Megan Tran and Sophia Catania swept in doubles without dropping a game for the Mustangs in Thursday's Orange Coast League away match.
Rachel Pham swept in singles for Costa Mesa (7-2, 2-0 in league), which has won six straight matches.
Costa Mesa plays Calvary Chapel on Tuesday at Costa Mesa Tennis Center.
Los Alamitos 13, Laguna Beach 5: Freshman Sarah MacCallum won twice in singles for the visiting Breakers in Thursday's Sunset Conference crossover match.
Laguna Beach fell to 1-4.
GIRLS' VOLLEYBALL
Ocean View 3, Westminster 1: Alyson Nguyen had 30 assists and 13 digs to lead the visiting Seahawks to a 22-25, 25-14, 25-9, 25-18 win in Golden West League play on Thursday.
Ocean View (15-3, 5-0 in league), ranked fifth in the CIF Southern Section Division 7 poll, is on a nine-match winning streak.
Helen Reynolds led the Seahawks with 15 kills. Kelli Greiner added 16 digs.
Laguna Beach 3, Fountain Valley 0: The host Breakers opened Wave League competition with a 25-16, 25-21, 25-14 win on Thursday.
Cambria Hall led the Breakers (5-7, 1-0 in league) with 11 kills. Luisa LoFranco had nine kills and Ella Tyus added eight kills.
The Barons (6-8, 0-1) were led by Phoebe Minch, who had nine kills and 16 digs. Rachel Lucie had 24 digs and Juliette Bokor provided four blocks.
Estancia 3, Orange 0: The host Eagles earned their first Orange Coast League victory on Wednesday by a score of 25-13, 25-12, 15-25, 25-21.
Louise Chupeau had eight kills and 12 service aces for the Eagles (8-16, 1-2 in league). Maddie Murray added nine kills and four aces.
GIRLS' GOLF
Newport Harbor 216, Corona del Mar 277: Cathy Tong earned the individual medalist honor with a three-over-par 39 for the Sailors in the Battle of the Bay rivalry match at Newport Beach's Big Canyon Country Club on Thursday.
Nicole Nesbitt had a 41 for Newport Harbor.
Edison 192, Fountain Valley 200: Chaemin Kim was the individual medalist after shooting a one-over-par 36 on Thursday, helping the Chargers hand the Barons their first loss of the season in a nonleague match at Mile Square Golf Course in Fountain Valley.
Edison improved to 8-4, while Fountain Valley fell to 11-1.
::
Twitter: @DailyPilotSport
To report scores or newsworthy items, contact the sports staff listed below:
David Carrillo Peñaloza, Sports Editor
(714) 966-4612, david.carrillo@latimes.com
Twitter: @ByDCP
Fall: football, girls' golf
Winter: boys' basketball, boys' soccer
Spring: baseball, boys' golf
::
Matt Szabo, Sports Reporter
(714) 966-4614, matthew.szabo@latimes.com
Twitter: @mjszabo
Fall: boys' water polo, girls' tennis
Winter: girls' soccer, girls' water polo
Spring: boys' tennis, swimming, lacrosse
::
Andrew Turner, Sports Reporter
(714) 966-4611, andrew.turner@latimes.com
Twitter: @ProfessorTurner
Fall: girls' volleyball, cross-country, field hockey
Winter: girls' basketball, wrestling
Spring: boys' volleyball, track and field, softball
---