Pratto's right at home with Huntington Beach baseball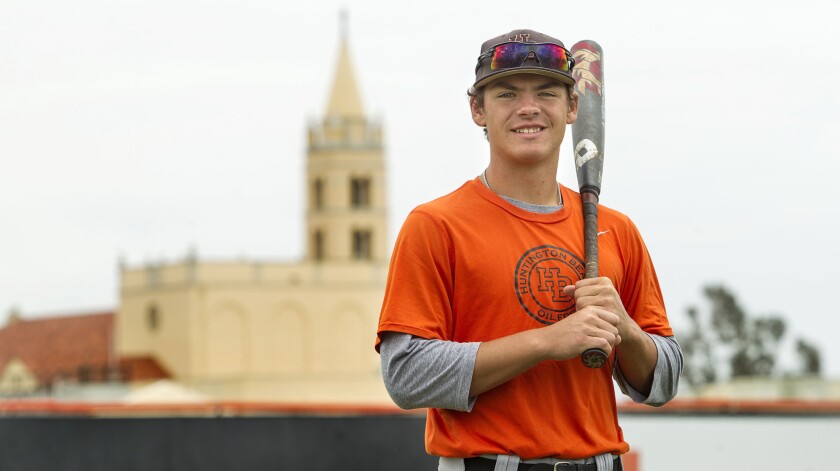 Two years ago, coach Benji Medure found it odd to see one player around his Huntington Beach High baseball team late in the season.
His name was Nick Pratto. He didn't even play for Medure at the time, let alone go to the school.
Pratto knew many of the players, a handful of which he teamed up with in the summer of 2011 to bring a Little League World Series title to Huntington Beach. Two summers later, Pratto was the lone player out of the 13 from that Ocean View Little League team that enrolled at a high school outside of Huntington Beach.
Pratto, a left-handed first baseman and pitcher, chose to go to Mater Dei as a freshman.
"I knew him growing up as a Little Leaguer. I always knew he was a little bit different than everybody else," Medure said. "He wanted a little bit of a change. Maybe he felt like Mater Dei was just a good chance to be away from all of the Little League World Series kids. He wanted to just establish himself as him, and not as a member of the Little League World Series team. I wouldn't say I was surprised [that he went to Mater Dei]. I guess I was more disappointed than anything, because I wanted him on our team."
As much as Pratto was around the Oilers at the end of the 2015 season, Medure said he never thought Pratto would come play for him one day.
Pratto did come to watch the Oilers play in the CIF Southern Section Division 1 championship game that year. Almost three weeks earlier, his Mater Dei team lost in the wild-card round.
What Pratto witnessed the Oilers accomplish was something no other baseball team at Huntington Beach had done before, and that's win a section title. Seeing his former Ocean View Little League teammates be a part of another historic run enticed Pratto.
"I remember shaking his hand afterward, and he congratulated me," Medure said. "I know he wanted to feel what we felt."
A week after the Oilers beat Newhall Hart 3-1 in the section final, Medure learned a former Ocean View Little League player was on his way to Huntington Beach.
Pratto was transferring to Huntington Beach for his junior year. He didn't waste much time, telling Medure why he was making the move.
"After he got his transfer paperwork in, we met on the whole thing, and he told me, 'I'm coming here to win a ring, and I want to win two rings. I want to win my junior year and my senior year,'" Medure said.
This is Pratto's last chance to win it all, as the postseason begins next week, the first round is on Thursday. The Oilers (26-4, 13-2 in Sunset League) expect to earn the top seed in Division 1 on Monday, when the section releases the playoff pairings.
Pratto has won on almost every level, from a Little League World Series, to gold medals with the U.S. under-18 national team the last two years, but what he covets is a section crown. He has never come close, losing with Mater Dei in the first round as a freshman and in the wild-card round as a sophomore, and with Huntington Beach in the second round as a junior last year.
Getting another shot at it with his childhood friends means a lot to Pratto.
"This is what I want, this is my goal, and we're going to do everything we can to come out on top," Pratto said.
"It wasn't the right fit for me at Mater Dei. My friends have always been at Huntington Beach. It was a nice way to come back and kind of join the old group, and give it one last ride."
Pratto is one of six current Oilers who played on the Ocean View Little League World Series team, and he and Hagen Danner are the most recognizable. You might have watched them on national TV as 12-year-olds six years ago.
In the future, you will most likely see Pratto and Danner playing in the big leagues. The two 6 feet 2, 200-pounders are expected to go in the first round of the Major League Baseball Draft on June 12.
Many scouts consider Pratto to be the best left-handed hitting senior in the country, and he's a standout defensively at first base. He batted .318 with seven home runs and 19 runs batted in during the regular season. Pitchers rarely challenged Pratto, walking him 28 times, hitting him three times, and mostly throwing him off-speed pitches.
Last week, Pratto knocked two off-speed pitches into the gap, leading the Oilers to two big wins. Pratto's two-run triple to left-center field in the 11th inning lifted Huntington Beach to a 2-0 win at Marina on Wednesday, clinching the outright Sunset League title. Three days later, in the Boras Classic state tournament final at UCLA's Jackie Robinson Stadium, Pratto drove in two runs with a double to right-center field in the fifth inning of the Oilers' 4-1 win against San Jose Bellarmine Prep.
Danner started against Bellarmine Prep and had a no-hitter going in the seventh. The senior right-hander can pitch, play catcher, and hit. He's 10-0 with a 0.92 earned-run average, striking out 80 and walking 16 in 53 innings. As a batter, Danner has a .363 average with 12 home runs, a Huntington Beach single-season record, and 37 RBIs.
Jeff Pratto, Ocean View Little League's former manager, said his son and Danner have two great options after high school.
"It's just a matter of do you want to choose college, or do you want to choose pro?" said Jeff, whose son committed to USC in the summer going into his freshman year, around the same time Danner committed to UCLA. "At this time, [Nick has] pretty much made his mind up. If everything works out like he hopes it will, he wants to pursue a pro option. But if he slipped down in the draft somewhere, you know, USC is a great option also."
Nick Pratto will most likely never swing a bat for USC.
Since age 7, Jeff said his son has pretty much had a singular goal in life: become a major leaguer. The draft is a month away, and Pratto has a good friend and former SoCal Rebels travel ball teammate in Mickey Moniak to lean on for advice.
Moniak went No. 1 overall in last year's draft. And Pratto and Danner went to Moniak's draft party in San Diego County.
"All the kids who played on his travel ball team … got together and went over on that day, got to kind of like share that moment with him. That was pretty cool," Pratto said. "There were cameras everywhere, people everywhere, [all] trying to pull him every which way, and he handled it really well. He's an extraordinary player, but he's also a good person.
"When I looked around, I was like, 'This is what I want to be doing a year from today.'"
Pratto and Danner might as well have the same draft party. Jeff said his son and Danner are being advised by the same Wasserman group that represents Moniak.
Before any partying on draft day, Pratto wants to celebrate on the field with his teammates 10 days before the draft. The section championship game this year is at Dodger Stadium on June 2.
"Any [postseason] is exciting, but [it] being my last year, I'm going to make the most of it, especially with this group of guys," said Pratto, who is 3-0 with a 1.15 ERA, adding that he might start on the mound in the first round on Thursday. "I thought [transferring to Huntington Beach] was the best thing I've ever done. I'm totally content with where I'm at. I joined a great group of competitive guys. I think we have the type of talent [that] we can do something special in this little run we're going to take."
Medure is glad to have Pratto around during this time of the year, this time as one of his players.
"I always wanted to have the opportunity to coach him, because I felt like I could do some good with him, maybe not with his on the field game, but with his off the field game," Medure said. "I thought we were a good staff to kind of help him develop. I was super excited to be able to make him an Oiler. That kind of talent doesn't come around very often."
Nick Pratto
Born: Oct. 6, 1998
Hometown: Huntington Beach
Height: 6 feet 2
Weight: 200 pounds
Sport: Baseball
Year: Senior
Coach: Benji Medure
Favorite food: Ribs
Favorite movie: "Moneyball"
Favorite athletic moment: "Winning a gold medal this past summer with Team USA [in the under-18 division at the COPABE Pan American AAA Championships in Mexico]."
Week in review: Pratto helped the Oilers to three wins last week. His two-run triple in the top of the 11th inning lifted Huntington Beach to a 2-0 win at Marina on Wednesday, clinching the outright Sunset League title. In the Boras Classic state tournament final at UCLA's Jackie Robinson Stadium on Saturday, Pratto drove in two runs with a double to right-center field in the bottom of the fifth inning of the Oilers' 4-1 win against San Jose Bellarmine Prep.
Twitter: @ByDCP
---
All the latest on Orange County from Orange County.
Get our free TimesOC newsletter.
You may occasionally receive promotional content from the Daily Pilot.