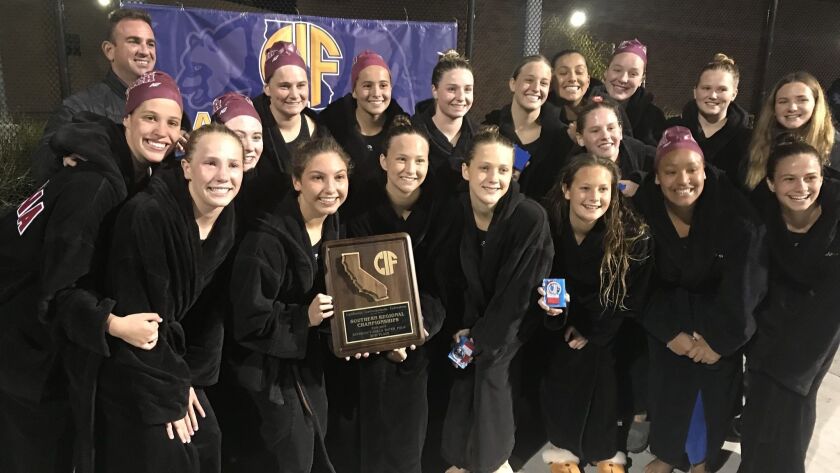 Reporting from Santa Ana —
The Laguna Beach High girls' water polo team already won its biggest match of the season on Feb. 16, when the Breakers rallied to beat Corona del Mar 9-8 in sudden-death overtime for the CIF Southern Section Division 1 title.
As it turned out, the Breakers were unable to win one final tournament one week later to complete the season.
No. 3-seeded Orange Lutheran upset top-seeded Laguna Beach 11-8 in the final of the CIF Southern California Regional Division I tournament on Saturday night at Segerstrom High.
"We came here to win, for sure, but it was more important for us that some girls got to play," Laguna Beach coach Ethan Damato said. "I thought we battled all game, like we always do. Things didn't go our way … It was tough. [Orange Lutheran] played really well tonight. Obviously, they were hungry.
"I told the girls earlier today that we were champions. Nobody can take that from us. We wanted to win tonight, and I think there are some girls that are upset, but I think everybody understands that we had a great season. We lost two games this year and we were in the finals of almost every tournament, except [the] Santa Barbara [Tournament of Champions]. I thought we had an amazing season. I'm really proud of them."
Laguna Beach (31-2) had defeated Foothill 8-7 in a tournament semifinal match earlier Saturday. Molly Renner scored three goals and Tea Poljak added two scores.
The Breakers led Orange Lutheran (26-8) by a score of 5-4 early in the third quarter. But the Lancers, who had beaten Corona del Mar 7-2 in the semifinals earlier Saturday, began to rally.
Hannah Palmer scored two six-on-five goals and Delaney Palmer also scored in the rally for Orange Lutheran, which took a 7-5 lead.
Emma Lineback's six-on-five goal narrowed Laguna Beach's deficit to 8-7 early in the fourth, but an outside strike by Orange Lutheran senior Brooke Hourigan and another six-on-five strike by Hannah Palmer gave the Lancers more breathing room.
"It really was just for us," said Hourigan, a Newport Beach resident, of winning the tournament. "[Orange Lutheran coach] Steve [Carrera] put no pressure on us, and it was nice to win one last thing just for us. It was for all of the seniors, all of the girls, and [it was nice] to see us overcome struggles … It was definitely a second chance [after losing to CdM in the CIF Southern Section Division 1 semifinals]."
Anna Pearson led Orange Lutheran with four goals, and Hannah Palmer had three.
Lineback scored two goals for Laguna Beach, while Poljak, Kenedy Corlett, Bryn Gioffredi, Claire Kelly, Rachael Carver and Cici Stewart had one goal each.
Goalkeeper Quinn Winter made four saves for Laguna Beach, which was able to exit with its head high.
"It could have been really easy for them to not come here and battle today, and feel like they had nothing to prove," Damato said. "We had a good win over Foothill earlier today and played our butts off tonight."
Twitter: @mjszabo
---