Marina girls' divers ready for success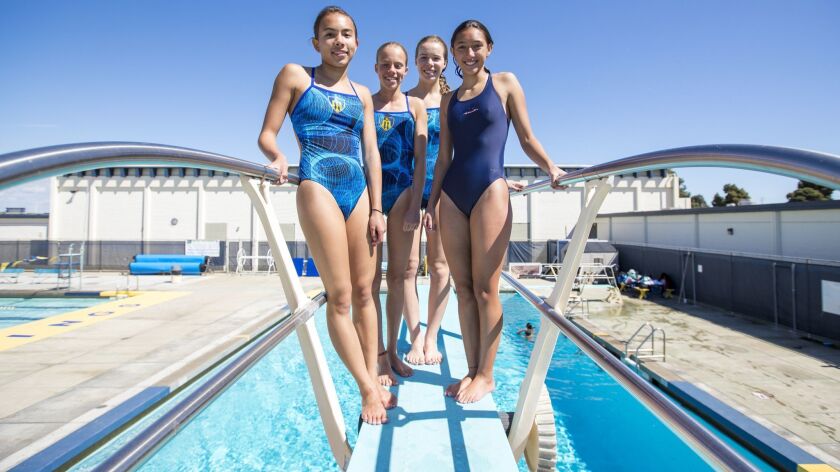 The Marina High girls' diving team is young this season.
Out of the four varsity divers, none are seniors. And junior Jenna Nelson is the only returner who qualified for the CIF Southern Section Division 1 finals last year.
Yet coach Kaeden Kraft sees potential in the group, which also includes sophomores Maya Nugent and Natalie Lummus and freshman Aliya Babouset.
"They've all worked super-hard this year, so we've been able to get a lot of technical work in," Kraft said. "They've been more open than my past teams to learning the harder, scarier dives, so that's helped a lot."
Kraft is in his eighth season as diving coach at Marina. He is hopeful that this quartet will deliver the Vikings' first girls' diving Sunset League title since his first year in charge in 2011.
Early in the season, Nelson, Nugent and Lummus have all already gotten their CIF consideration scores. Marina hosted Ocean View in a dual meet this week and is preparing for the first of five Sunset League meets, which is at Marina on Thursday.
Los Alamitos and Edison are the other diving programs in the league, Kraft said. Los Alamitos is the defending champion in both boys' and girls' diving.
"A lot of us are contenders for CIF this year," Nugent said. "We've got to rock it. If we consistently dive well, we have a chance."
Each of the girls has taken different paths to the team. Nelson, who placed 21st in Division 1 last season, is in her third year diving for the Vikings. She was on varsity last year, along with Nugent.
But Lummus only started diving last summer. Before that, her sport was cheerleading.
"It's really fun," Lummus said of diving. "It's all mental. Cheerleading is really hard on your body, but it helped me in diving, with flips and everything."
Babouset is the only freshman of the group, but Nelson said she has a lot of potential. She also just picked up diving this year.
"I like learning new things," Babouset said. "A lot of sports are kind of repetitive, but this one is different a lot."
Kraft, the founder of the HB Divers club program, said that Los Alamitos had a pretty strong lead on the league all last year in girls' diving. His young Vikings will see if they can change that.
Sunset League boys' lacrosse starts next week
A rarity occurred in the Sunset League boys' lacrosse standings last year. Edison, Newport Harbor, Huntington Beach and Los Alamitos all tied for first in league with a 5-3 record.
The four-way tie ended Newport Harbor's run of two straight outright league titles. The Sailors will see if they can get back on top starting next week.
Newport Harbor plays at Huntington Beach on Wednesday at 7 p.m. in both teams' league opener.
Edison, meanwhile, opens league with a home game against Marina on Thursday at 6 p.m. The Vikings are still looking for their first win after an 0-4 start to the season.
CdM All-American tennis tournament returns
The 19th annual Corona del Mar All-American Invitational Boys' Tennis Tournament starts Friday. Host Corona del Mar is the only local school competing in the two-day, 16-team tournament.
The tournament is considered the top high school boys' tennis tournament in the country. Palisades High won the title last year, with Harvard-Westlake finishing second.
The tournament finals are scheduled for Saturday afternoon at Palisades Tennis Club in Newport Beach.
Twitter: @mjszabo
---
All the latest on Orange County from Orange County.
Get our free TimesOC newsletter.
You may occasionally receive promotional content from the Daily Pilot.