In a different life, Megan Chelf would star on the balance beam instead of the pitch.
The Corona del Mar High girls' soccer player said she would like to take up gymnastics. She has no formal training in that sport, although she has been known for doing a backflip after scoring a goal.
"I want to start gymnastics so bad," Chelf said with a laugh. "I think it would be so fun, doing all of those flips. I watch gymnastics videos all night. I swear. Me and my mom [Rebecca] have gone to a gym and tried to ask them what I can do, and they have no idea."
In soccer, opposing teams rarely have an idea how to stop Chelf. That has been evident throughout her junior season.
Chelf has been on fire for the Sea Kings. She has 20 goals and six assists, meaning that she has accounted for 84% of CdM's 31 goals this season.
She sometimes just wills herself to get to the ball and put it in the back of the net. She wants to be the difference-maker.
Bryan Middleton, Corona del Mar High coach
It was hard to see this coming for the 5-foot-4 Chelf, who is a very experienced club soccer player with the SoCal Blues. She has won three straight Elite Clubs National League championships with the Blues, but in club she plays right fullback.
Blues coach Greg Baker has coached Chelf in club since she was 8 years old, half her life. She started playing club on the Newport Beach-based Breakaway team at that time with three other girls from Newport Beach, all of whom are still her Blues teammates. Emily Mickelsen is a senior at CdM, while Jen Alvarado and Lily Shea are juniors at JSerra and Mater Dei, respectively.
"I know she's small, but [Chelf] does not stray away from physical contact whatsoever," said Baker, the JSerra girls' soccer coach. "She's very athletic as far as her leaping ability. She jumps over girls six inches taller than her, no problem. She scores a bunch of headers for us. She wins balls out of the back with her head all the time. She's fearless. You would never think so, with her size, but she's completely fearless."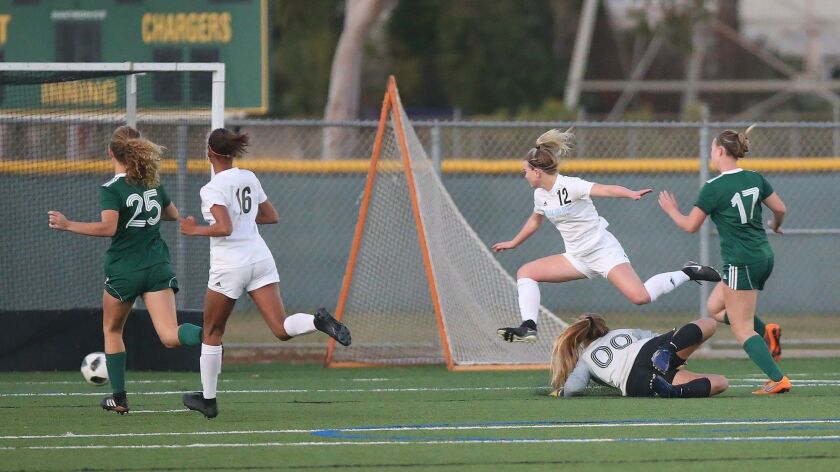 Scoring goals in high school soccer, then, has proven a lot of fun for Chelf. She has already more than doubled her total of nine from last season. Chelf's 20 goals has broken CdM's previous single-season record of 17, which Ally Brahs set in the 2010-11 campaign.
"I didn't think it was impossible, but I never really thought that I would be leading the team in goals and break the record," Chelf said. "It's super-humbling, especially because I play defense and so I don't really score in club. When I come here [to high school soccer] and score a lot, it's so cool, just because I don't get that opportunity in club. It just feels really good."
Brahs went on to play at the University of Washington. Chelf is headed to a different Pac-12 school, Arizona. One of her favorite goals is a header off a corner kick.
"In the box, even with her size, she has the tenacity and the ability and the desire to put the ball away," CdM coach Bryan Middleton said. "She sometimes just wills herself to get to the ball and put it in the back of the net. She wants to be the difference-maker.
"Her soccer IQ and athletic ability allow her to be fearless on the soccer field. Many moments, she knows how to control her body to manipulate the situation to be in her favor on winning that 50-50 ball, winning the tackle or winning the ball in the air."
Chelf has helped the Sea Kings enjoy a successful season so far. CdM is 11-2-4 overall and 1-1-1 in the Surf League. The Sea Kings are in second place in the league at the halfway point.
Their only two losses this season have been to teams ranked ahead of them in CIF Southern Section Division 1, No. 2 Los Alamitos and No. 7 Newport Harbor.
The Sea Kings lost 2-1 to the Griffins on Tuesday after earning a 1-0 win at Edison to start league on Jan. 10. Chelf scored the match's only goal in the third minute.
Los Alamitos leads the league with a 2-0-1 record, but the Sea Kings believe they can still contend. The Griffins feature two of Chelf's club teammates, midfielder Tabitha LaParl and goalkeeper Reezyn Turk.
CdM's aspiring gymnast still just might just help the Sea Kings leap the Griffins in the league standings.
"Her timing is very good," Baker said. "And she is not scared."
::
Megan Chelf
Born: June 6, 2002
Hometown: Newport Beach
Height: 5 feet 4
Sport: Soccer
Year: Junior
Coach: Bryan Middleton
Favorite food: Cheeseburger
Favorite movie: "Pretty Woman"
Favorite athletic moment: Winning the ECNL national championship three years in a row with her club team, SoCal Blues.
Week in review: Chelf scored her 20th goal of the season in the third minute as CdM won 1-0 at Edison in a Surf League opener on Jan. 10.
Twitter: @mjszabo
---