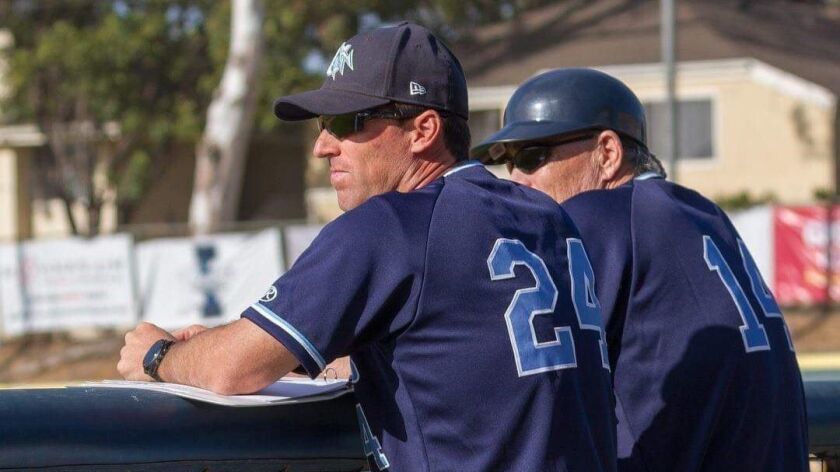 Sports Editor
Right before John Emme walked off the Corona del Mar High baseball field at the end of the season last month, he looked around.
The game marked his final one as the Sea Kings' coach and he envisioned the program's future.
"Whoever is lucky enough to take over, I think everything is in great shape," Emme said, before naming an assistant he wanted to see succeed him at CdM. "I'm rooting for Kevin McCaffrey, but we'll see what the administration decides. He'd be a phenomenal guy to take over, but I don't get a vote."
CdM picked Emme's guy. McCaffrey said on Tuesday that he has taken over for Emme, who guided the Sea Kings for the past 21 years.
The 38-year-old McCaffrey spent last season as an assistant under Emme. In many ways, McCaffrey was in line to replace Emme.
McCaffrey remembers the conversation he and Emme shared in a dugout about a year ago quite well. At first, he didn't take Emme too seriously.
McCaffrey and Emme were on the same staff for one game, the Ryan Lemmon Senior Showcase in Irvine. The two coached the Pacific Coast League All-Stars, McCaffrey represented University, where he was the head coach, and Emme CdM. The conversation took place at the game for seniors.
"[Emme] said, 'Hey! We have a P.E. opening [at CdM]. Would you have any interest in coming over?'" said McCaffrey, who at the time also shared the athletic director duties at University. "I thought he was just talking. It turned into we went out to lunch [the following month], and, you know, it was for real. [Leaving University for CdM] was one of the toughest decisions I've ever had to make because I absolutely loved [University] and it was so good to me [for 11 years]. But it got to the point of, you know, athletics are really important at CdM and [the Sea Kings] really value them, support them.
"When we were out to lunch, [Emme] just mentioned that, 'I'm not sure how much time I have left.' He just mentioned, 'I love competing against you. You guys are always prepared and you guys play the game the correct way, and we would love to turn over the program over to someone like that.'"
McCaffrey, almost halfway into his first year of teaching at CdM, learned Emme planned to retire after the 2018 season. A couple of months before Emme announced to his players in March that this would be his final year, McCaffrey said Emme told him of his decision.
I knew I wanted to put my name in the hat. I was hoping that they would give me that opportunity
Kevin McCaffrey, Corona del Mar High baseball coach
McCaffrey said he didn't ask Emme why he was retiring. Emme, 54, said it was just time.
For McCaffrey, he knew this opportunity could be his second to be a varsity baseball coach. His first was in 2017, when he guided University to a 6-20 overall record and last place in the league at 2-13.
"I knew I wanted to put my name in the hat. I was hoping that they would give me that opportunity," said McCaffrey, who also coached baseball as a varsity assistant at Laguna Hills, his alma mater, as well as Beckman and University. "But the main focus at that point was, you know, we had a good group of guys. [We wanted to] finish the season strong and we had something special going on. Everything was devoted to finishing the season and doing right by John."
The Sea Kings placed second, falling two games short of winning Emme's seventh league title. In the second round of the CIF Southern Section Division 2 playoffs, Emme's coaching career with CdM ended in a 3-1 loss at home to No. 3-seeded Yucaipa.
Emme, who led the Sea Kings to CIF Southern Section Division IV titles in 1999 and 2004, finished with 335 career wins at CdM. Twenty of those wins he picked up this past season.
The Sea Kings went 20-7 overall, two of those losses came against league champion Beckman, and 12-3 in the league. Top-seeded Beckman played Yucaipa in the section final, losing 8-1.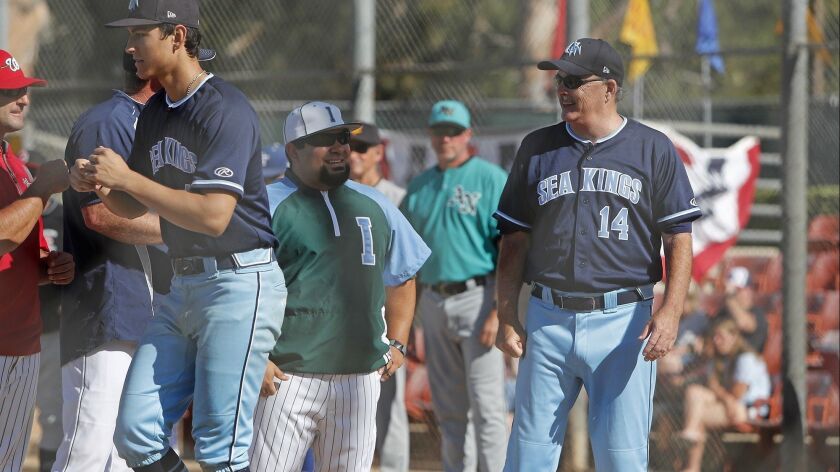 While the team lost three standouts — shortstop J.T. Schwartz, bound for UCLA, pitcher Chazz Martinez, bound for UC Santa Barbara, and outfielder Preston Hartsell, bound for USC — to graduation this month, McCaffrey likes the talent returning next year. There's pitcher Tommy Wilcox, first baseman Luc Stuka and infielder Reece Berger, who will all be seniors in 2019, and incoming junior designated hitter Kieran Sidebotham and incoming sophomore third baseman Blake Butcher.
Emme said last month that CdM would be in good hands with McCaffrey because "he knows the game" and "he's great with kids." McCaffrey can fire up teenagers. In his short time at CdM, McCaffrey started the "Kings Krew" student section to support the school's sports teams.
McCaffrey said he will have some veteran help next season when the Sea Kings move to the Sunset League's Wave Division, which will also feature Newport Harbor, Marina and Laguna Beach. McCaffrey said Mike Gerakos, who stepped in this season as University's baseball coach when McCaffrey left for CdM, has joined his staff. Gerakos, a former UC Irvine baseball coach, is McCaffrey's mentor.
McCaffrey will also get advice from his father when they have dinner after games. Tom McCaffrey spent 16 years as a varsity head coach, with stints at El Toro, Playa del Rey St. Bernard and Santa Monica.
"He just does an amazing job with the pitchers and he's just such an amazing person," Kevin McCaffrey said of Gerakos. "He's going to make us better."
As far as Emme, a teacher at CdM, coming out to help McCaffrey, for now that's out of the picture.
"He said he's going to take a couple of years and just do the travel thing," said McCaffrey, adding that Emme wants to visit every Major League Baseball stadium. "He said if he gets the itch to coach again that he'll let me know. I told him the door is open for him."
Twitter: @ByDCP
---