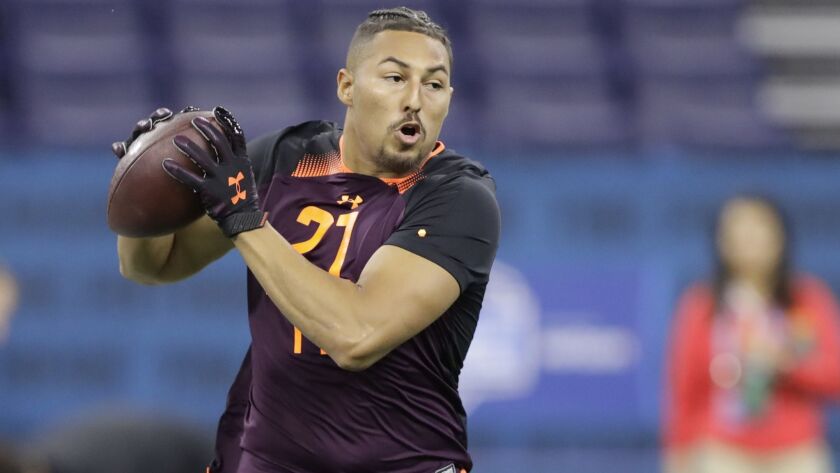 The 44th and latest Mr. Irrelevant, the final pick in the NFL Draft, is not as unfamiliar with Southern California as some of his predecessors.
Caleb Wilson, a tight end who the Arizona Cardinals made the 254th and final pick in this year's NFL Draft, played college football at UCLA. He graduated from Serra High in Gardena, though he has moved around a bit as his father Chris, has been a coach in the NFL. Chris Wilson was the defensive line coach for the Philadelphia Eagles when they won Super Bowl LII in 2018.
Caleb Wilson arrived in Orange County on Thursday afternoon as part of the Irrelevant Week festivities started by Paul Salata and now run by his daughter, Melanie Salata Fitch. The idea is to celebrate the final pick like he is the first, and there are undoubtedly some fun activities planned for Wilson.
"I think we've got a great week for him," Salata Fitch said. "We're excited to celebrate him. He's out here with 18 family members, not as much as the Tongan [Tevita Ofahengaue] that came with 63, but we've got housing for them. We're ready to move them around and have them have a nice week too."
Wilson's celebration begins Friday night at the Balboa Bay Resort with the All-Star Lowsman Trophy Banquet, which will feature various people roasting and toasting him. The event will be emceed by John Ireland.
Wilson will not get to sleep in on Saturday, though. He'll be headed to a GRIT Cycle class at 7 a.m. in Costa Mesa, raising money for the charity SPIN (Serving People in Need). A beach day will then take place at 10:30 a.m. at 30th Street in Newport Beach. Mr. Irrelevant will be playing games with underprivileged kids from SPIN as well as SOY (Save Our Youth), and a barbeque will follow.
Later Saturday will be "Boats, Bites and Brews on the Bay," which Salata Fitch said will be part-Duffy boat cruise, part-pub crawl at various local restaurants and bars in Newport.
Wilson will attend Mariners Church in Irvine on Sunday at 9 a.m., before going to the Los Angeles Angels baseball game against the visiting Oakland Athletics that afternoon. Wilson will take the mound, but don't expect to see him there before the game.
"He's throwing out the last pitch in the game, as opposed to the first pitch," Salata Fitch said. "It's irrelevant."
On Monday, Wilson will take a tour of the 20th Century Fox studios in the morning and head to Disneyland in the afternoon. His day will end at the "Monday Night Football" celebration at Balboa Bay Resort, starting at 5:30 p.m. It's a free event that's also supposed to be a welcome party, but it's irrelevant, right?
The event will also include cheerleaders, barbecue and live music. Wilson will be presented the key to the city of Newport Beach.
"The mayor and police chief will welcome him," Salata Fitch said. "I think the fire chief will give him an empty box of fireworks, because fireworks are illegal in Newport."
Wilson has an in-studio interview at the NFL Network in Studio City on Tuesday at 1 p.m. before he departs back for Arizona.
"We're ready," Salata Fitch said. "Put me in, coach. Let's start."
::
Support our sports coverage by becoming a digital subscriber.
For more sports stories, visit latimes.com/socal/daily-pilot/sports or follow us on Twitter @DailyPilotSport.
Twitter: @mjszabo
---