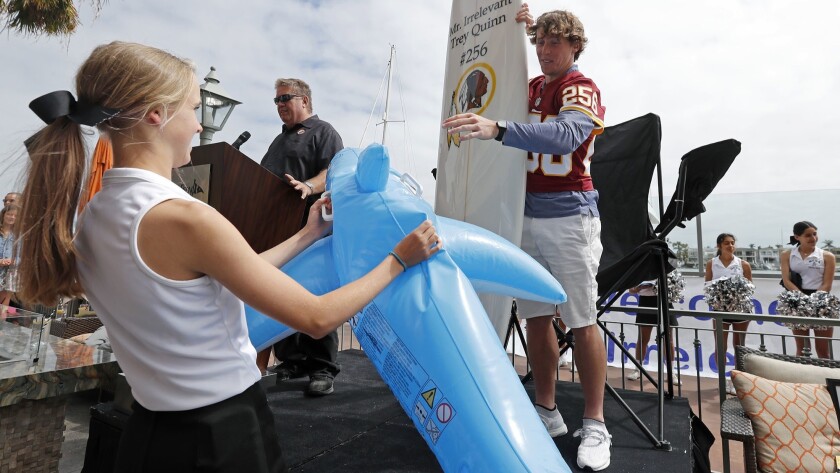 Fans held signs in support of Trey Quinn, the No. 256 and last pick in the 2018 NFL Draft, on Saturday at the Balboa Bay Resort as Irrelevant Week kicked off with a "Welcome to Newport" party.
"Quinn for the win!" one read. Another posed a math equation.
"256/256 = #1," that sign read.
"I don't have my calculator," someone said. "Is that right?"
The math holds up, though it was a bit of wishful thinking.
Quinn, a receiver out of SMU, was indeed the last pick, not the first pick, of the draft by the Washington Redskins. But the 43rd Mr. Irrelevant plans to have a good time during his four days in Southern California.
He had a full day Saturday, taking part in a spin class session at GRIT Cycle in Costa Mesa before heading to the beach in Newport for a barbecue at 30th Street. The welcome party came in the afternoon, and Quinn and his supporters were headed to Classic Q Billiards and Sports Club in Newport on Saturday night for additional festivities.
"It's a nice deal that they've got going," said Quinn, who is in town on Father's Day weekend along with his parents, Dave and Angie, older sister Kaylin and younger brother Carter. "These next couple of days are going to be fun and packed to the max. I don't think I'll have much time to sleep and relax, but I'm down for it. I'm ready."
Quinn, from Louisiana, enjoyed surfing on Saturday morning. He said he caught three waves. The beach is not totally unusual to Quinn, as he said he's been to beaches in Florida and Alabama and he trains in San Diego. But surfing was one of the most fun activities he has experienced.
"It was mental visualization," he said. "Before I got out into the water, I visualized me hitting the wave. I think that's the first step. The second step is just doing it, and the third step is success. It was fun."
The number of gifts he received at the welcome party was much more than three, after his boat on the harbor dropped him off at A&O Kitchen + Bar. Cheerleaders from Costa Mesa High were there to greet him as he made his way on stage, before sitting in a big black beach chair and getting ready to receive his gifts.
The microphone wasn't working at the start of the festivities, though as emcee Tony Lopez noted, that was irrelevant. Quinn still got many gifts, like the key to the city from Newport Beach Mayor Pro Tem Will O'Neill.
"He at least has Newport hair, right?" O'Neill joked, noting Quinn's longish, dirty blonde mane.
Newport Beach assistant fire chief Jeff Boyles presented Mr. Irrelevant with an underdog Dalmatian stuffed animal and a plastic fire helmet, a Newport Beach Fire Department water bottle and finally a first aid kit.
"[He'll need it] when he runs those drag routes and gets hit by those linebackers," Boyles said.
Police chief Jon Lewis presented Quinn with a framed "Get Out of Jail Free" card, before noting that it had expired on June 15, the previous day. The day seemed to be irrelevant.
Quinn also got a personalized surfboard, which was presented along with an inflatable shark. The "left shark" became a meme in 2015, when a dancer had funky moves during Katy Perry's halftime performance at Super Bowl XLIX. Quinn, who had 114 receptions for 1,236 yards and 13 touchdowns for SMU during the 2017 season, wouldn't mind helping the Redskins reach the big game for the first time since 1992, nearly four years before he was born.
Many other gifts were given to Quinn on Saturday, including a bevy of T-shirts from local businesses and a watch that came with a personal note from NFL Commissioner Roger Goodell. But Quinn said his favorite might have been the Mickey Mouse ears. He'll use them Sunday, when he goes deep sea fishing before heading to Disneyland for the first time.
"I'll be able to rock those [Sunday]," he said. "I'll have fun with those."
Monday's Irrelevant Week activities include the annual All-Star Lowsman Trophy Banquet, which will be back at the Balboa Bay Resort at 6 p.m.
Twitter: @mjszabo
---