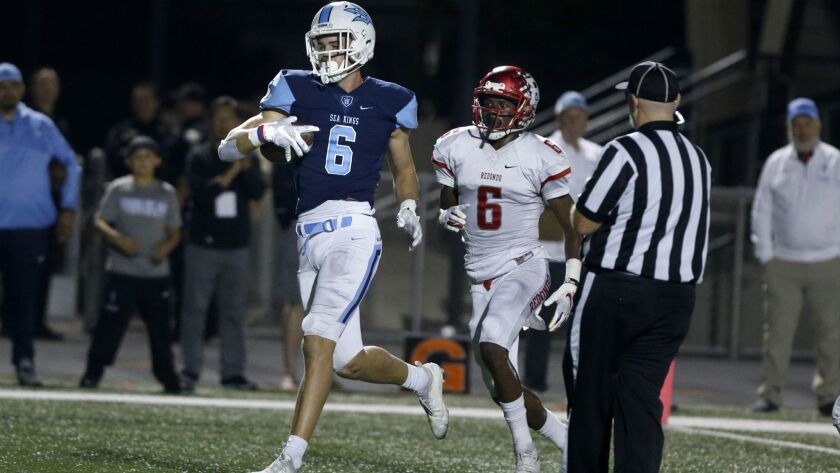 Corona del Mar High junior wide receiver John Humphreys has committed to Stanford University for football, he announced Thursday via Twitter.
Humphreys posted his decision with the hashtags "#CardClass20" and "#FearTheTree." The four-star recruit had received offers from 20 colleges.
The Daily Pilot Dream Team Player of the Year for football, Humphreys caught 103 passes for 1,783 yards and 28 touchdowns in 2018, all CdM football single-season records. He is already the Sea Kings' career leader for catches (176), receiving yards (3,117) and receiving touchdowns (46).
"What went into my decision was just the balance of education and football at Stanford," said Humphreys, who stands 6 feet 5 and weighs 205 pounds. "You're going to play football and trying to win a national championship level, and Pac-12 championship level, and also being able to just attend one of the best universities in the nation.
"Most of the people who are at Stanford are high achievers, and they want to be successful and great at what they do. Also, the family atmosphere at Stanford, for sure. All of the guys care about each other."
Humphreys said he was impressed when he went to watch a spring football practice at Stanford two weekends ago, adding that he has good relationships with Cardinal receivers coach Bobby Kennedy and offensive coordinator Tavita Prichard.
Humphreys is the second Sea King to commit to a Pac-12 school this month. Junior quarterback Ethan Garbers committed to the University of Washington on March 4.
Together, the duo helped CdM go 11-2-1, win a share of the Sunset League title and advance to the CIF Southern Section Division 4 title game before falling 26-14 to Simi Valley Grace Brethren.
Humphreys' father, Brad, played strong safety for Stanford football, and his mother, Wendy, played volleyball there, as did his older sister Kelsey. But he said that didn't factor into his decision much.
"Obviously, I grew up being a Stanford fan," John Humphreys said. "I've been a Stanford fan ever since I was young, but my parents put zero pressure on me and made it clear that this was my decision."
Twitter: @mjszabo
---