Caleb Wilson brings local flair as latest Mr. Irrelevant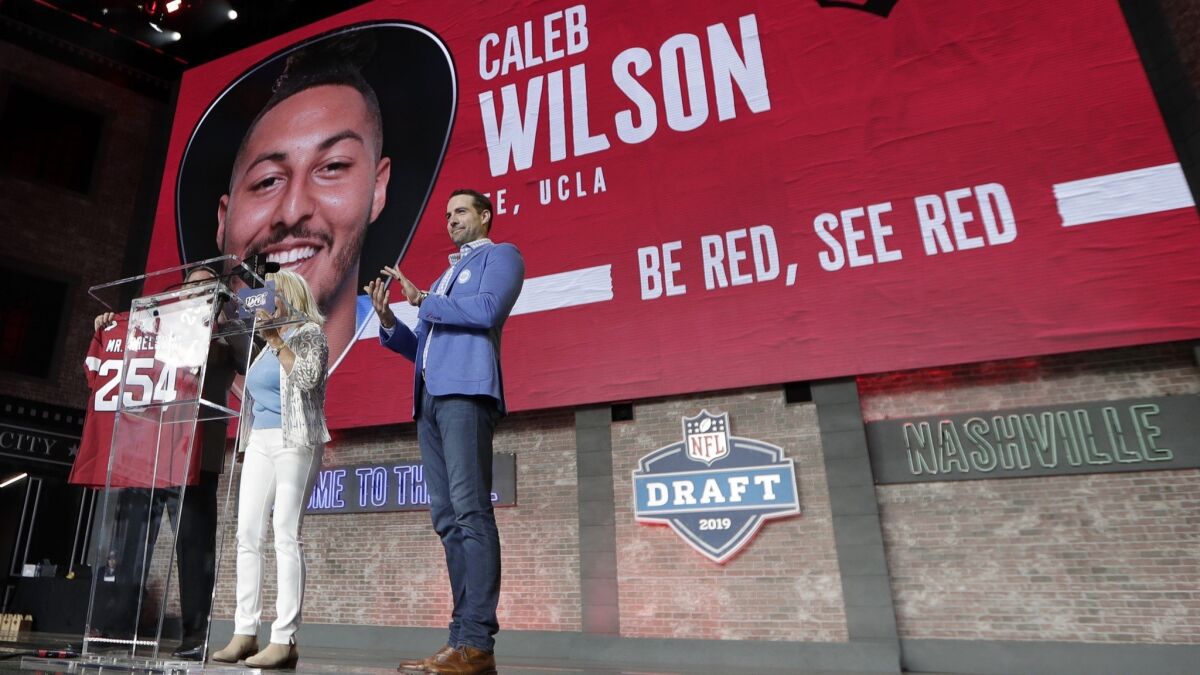 The Irrelevant Week festivities will have a feeling of homecoming this year.
Caleb Wilson, a tight end out of UCLA, was selected by the Arizona Cardinals with the 254th and final pick of the 2019 NFL Draft on Saturday.
"You hear it as a kid, 'There's one percent that will get drafted,'" Wilson said. "Even if it's the last pick in the NFL Draft, just to see my name pop up on the screen and be a part of that one percent, I'll be able to tell my family and friends and kids down the line one day that I was drafted in the NFL Draft.
"That's just an honor, so I'm just excited and ready to prove my value to the Cardinals that they made a good investment with me."
In his senior season with the Bruins, Wilson set single-season school records for a tight end with 60 catches and 965 receiving yards, earning first-team Pac-12 honors.
The "Mr. Irrelevant" tradition began in 1976, when former NFL wide receiver Paul Salata brought the idea forward. He believed that it was a privilege to be taken in the draft at any point.
Irrelevant Week, which will be held from June 28 to July 2 this year, is put on with the intent to celebrate the last pick in the draft as though they were the first overall selection.
The last six Mr. Irrelevants have played in at least one NFL game. The most recent, Washington Redskins wide receiver Trey Quinn, played in three games last season, bringing in nine catches for 75 yards and one touchdown.
The Cardinals also had the first overall selection in this year's draft. They selected Kyler Murray, the Heisman Trophy-winning quarterback out of Oklahoma.
"I'm excited about it," Wilson said of having the chance to play with Murray. "I got to see it first-hand when UCLA played [Oklahoma] to see how talented he was and everything that he can do.
"I watched his games in the playoffs and stuff like that, so I'm definitely excited to help contribute to the team and catch the ball for Kyler or whoever is at the quarterback position."
Wilson, who played high school football at Gardena Serra, played with Josh Rosen for two seasons at UCLA. Asked about the Cardinals' decision to trade Rosen to the Miami Dolphins on Friday, Wilson said, "It's a business. I understand that the Arizona Cardinals had to do what's best for their team and their organization.
"Josh is a close friend and I cherish our friendship, and I know that he will do great things in Miami."
Other locals taken in the 2019 NFL Draft were Edison's Marcus Epps (Minnesota Vikings, 191st pick) and Costa Mesa's Quinton Bell (Oakland Raiders, 230th pick).
Epps played safety at the University of Wyoming, while Bell converted from wide receiver to defensive end for his final season at Prairie View A&M.
::
Support our sports coverage by becoming a digital subscriber.
For more sports stories, visit latimes.com/socal/daily-pilot/sports or follow us on Twitter @DailyPilotSport.
Twitter: @ProfessorTurner
---
All the latest on Orange County from Orange County.
Get our free TimesOC newsletter.
You may occasionally receive promotional content from the Daily Pilot.