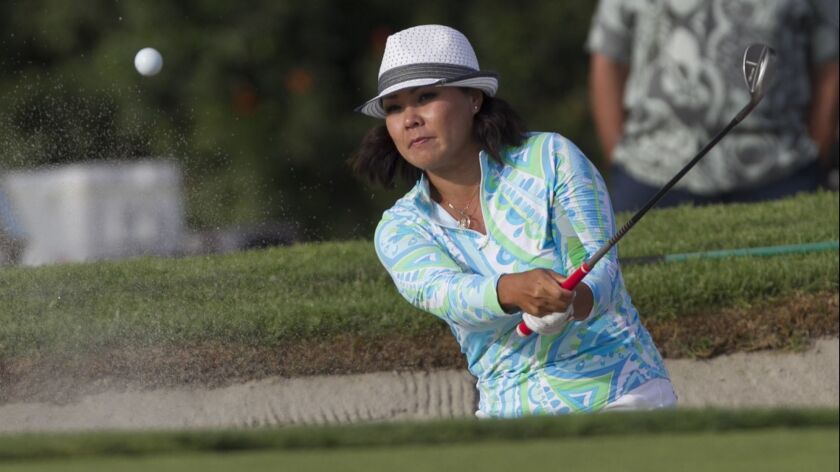 One of the remarkable stories to surface when Gary Woodland won the U.S. Open golf tournament at Pebble Beach on Sunday was that the first-time major champion got a late start in the sport.
Woodland went to Washburn University on a basketball scholarship straight out of high school, but he transferred to Kansas on a golf scholarship after his freshman year of college.
Newport Beach Country Club professional Adam Baumann has a similar background, having played baseball his whole life before picking up golf after high school.
Baumann has now been with the Newport Beach Country Club for seven years, and he will be part of the club's five-man team to compete in the 20th Jones Cup.
The Jones Cup brings five country clubs — Big Canyon, Mesa Verde, Newport Beach, Santa Ana and Shady Canyon — together for a friendly tournament. The tournament moves to Shady Canyon Golf Club in Irvine this year, and it will be held on June 26. Newport Beach tees off first at 12:30 p.m.
Newport Beach plans to get in a practice round on Friday. Baumann already has a few pointers for how he might help his teammates strategize.
"I know that it is going to be more challenging than it would probably be here in Newport, just based on length of course and where to hit it," said Baumann, adding that the Shady Canyon course has more hazards in play. "It's more narrow, more penalizing when you miss shots.
"The greens will probably be running pretty fast, from what I heard, when I was talking to the guys over at Shady. They're going to get them running pretty quick, so putting is probably going to be a huge bonus, if you can putt well."
Greenstripe Media treasurer Michael De Dios will be working the event for his 13th year, and he has seen the competition get better over the years.
It was bound to happen, especially when the Jones Cup opened its doors to include a professional, the women's champion and the senior champion of each respective club. Doing so bred competition between the members to earn a spot on their club's tournament roster.
Ailam Newkirk (women's champion) and Jan-Erik Palm (senior men's champion) have both played in the Jones Cup for Newport Beach before, but this will be the first start at the event for George Schmidt (men's champion).
Newport Beach finished last at two under par in the 2018 tournament at Santa Ana Country Club. Big Canyon won the tournament last year. Captain Robbie Maurer will hope to lead Newport Beach to a stronger showing.
The last time that Newport Beach won the Jones Cup was in 2015, when the team was captained by Tony Letendre.
::
Support our sports coverage by becoming a digital subscriber.
For more sports stories, visit latimes.com/socal/daily-pilot/sports or follow us on Twitter @DailyPilotSport.
Twitter: @ProfessorTurner
---