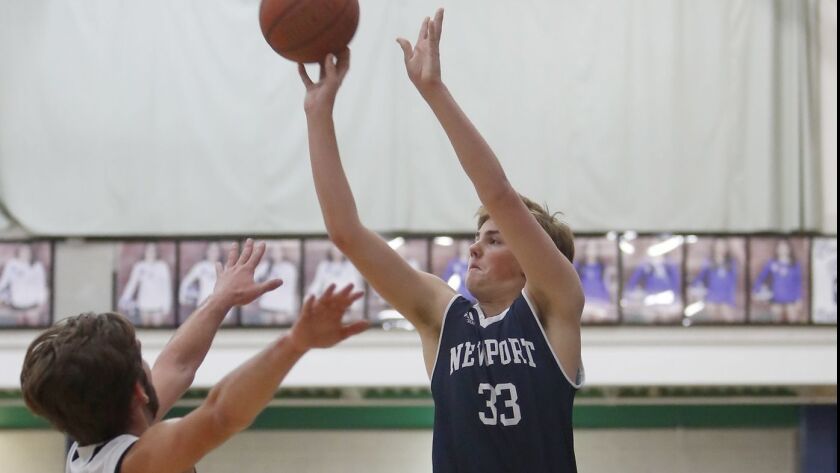 Sports Editor
Reporting from Santa Ana —
There's a good reason why Robbie Spooner has the green light to shoot from behind the arc. The junior can knock down shots for the Newport Harbor High boys' basketball team.
Spooner made five three-pointers and finished with 18 points on Thursday, and at one point he almost outscored the opposing team. With the game out of reach, coach Bob Torribio sat his guard down the stretch as the Sailors were on their way to a 58-25 win over El Dorado in the quarterfinals of the Grizzly Invitational at Godinez High.
The Sailors are going to need the 6-foot-4 Spooner in the next round against Villa Park (8-0), ranked No. 6 in the CIF Southern Section Division 2AA poll. The Spartans advanced to Friday's semifinal game at 7:45 p.m. by blowing out El Toro 91-63.
"When he gets going, you better find him in transition," Torribio said of Spooner, who made five of eight three-pointers.
Point guard Sam Barela, who had seven points and 11 assists, kept finding Spooner wide open in the second half, allowing the Sailors to turn a nine-point game at halftime into a rout.
Spooner opened the third quarter by draining two threes in the first 1½ minutes, and he hit two more during a 34-second span in the fourth quarter. Spooner scored 13 points in the second half, misfiring only once on a three-pointer.
"My teammates just do a great job distributing the ball and getting open shots," said Spooner, who has 10 three-pointers in three games in the tournament.
Newport Harbor, which is off to its first 4-0 start since the 2012-13 season, finds itself in the semifinals of the Grizzly Invitational for the second straight year. The Sailors are looking to reach the tournament championship game for the first time.
Dayne Chalmers contributed 12 points, eight rebounds and two blocked shots against El Dorado (4-1). The UC Santa Barbara-bound volleyball player also delivered a couple of dunks, a two-handed jam early in the second quarter and on an alley-oop pass from Barela late in the third quarter.
The Surf League almost saw another of its teams reach the semifinals of the tournament.
In an earlier quarterfinal game at Godinez, Edison was unable to hold onto a four-point lead in the fourth quarter and lost 52-48 to Yorba Linda.
Kaden Headington led the Chargers (3-1) with 17 points, while Luke Serven had 11 points and Justin Strauss 10.
Cory Knutson, a 6-foot-6 junior, finished with 12 points, eight rebounds and two blocks for Yorba Linda. The Mustangs (6-3) will play Capistrano Valley Christian (3-0) in the semifinals on Friday at 6:15 p.m.
"We weren't very consistent throughout the game," said Edison coach Rich Boyce, whose team had a chance to tie the game with 9.9 seconds to go, but Headington missed a three-pointer. "Credit to [the Mustangs]. They were big, they were physical, and we weren't ready for that."
Twitter: @ByDCP
---