The top-seeded Newport Harbor High boys' volleyball team could very well end up playing a team nicknamed the Sea Kings in the championship match of the CIF Southern Section Division 1 playoffs.
That would be No. 3-seeded Back Bay rival Corona del Mar, the team that shared the Surf League title with Newport Harbor and split two league meetings with the Sailors. CdM is on the other side of the draw, but first things first.
Newport Harbor hosted another team with that Sea Kings nickname, Palos Verdes, in the first round Tuesday. The Sailors withstood a challenge in the third set and swept 25-15, 25-16, 25-20.
"It was good for us, because we've been in a bit of a slump lately," said Newport Harbor senior outside hitter Dayne Chalmers, who had a match-high 14 kills. "We've given up a couple of sets, but I was glad to get this win in three, having guys focused."
Losing sets might be rare for the Sailors (33-1), but losing matches is even rarer. They will play at home again Saturday in the quarterfinals against San Clemente, a five-set winner against Santa Margarita in the first round on Tuesday.
Senior Jack Higgs had 10 kills for the Sailors, and junior middle blocker Caden Garrido had eight kills, while senior outside Blake Ludes added six.
Senior setter Joe Karlous had 45 assists and five digs for Newport Harbor, while senior libero Ryan Schroeder contributed nine digs and two service aces.
Sailors coach Rocky Ciarelli said he was satisfied with his team's overall play. Newport Harbor recorded its third straight win since losing at CdM on April 17.
"We're a pretty solid team, and I thought today everybody did their job pretty well," Ciarelli said. "There are eight seniors, so I think any time you have more seniors, you're more motivated, I would say. I think everybody is motivated, but there's no doubt. You spend a lot of your high school life doing this, so I think when it's your senior year, you realize that, 'Hey, this is something I worked long and hard at and it means a lot to me.' "
Palos Verdes (17-14), the third-place team out of the Bay League, never led past the opening moments of the first two sets. The Sea Kings still battled to avoid the sweep in Game 3.
Newport Harbor took a 6-2 lead, but Palos Verdes rallied to tie the score twice, the second time at 15-15 on a kill by junior middle blocker Kyle Cross. Sophomore middle blocker Luke Hobus, who led the visitors with 11 kills, recorded five of them in the final set as well.
But Newport Harbor responded with a 7-2 run, capped by a rare swinging kill by Karlous. He had the ball set to him by senior middle blocker Alec Patterson. That gave the Sailors a 22-17 lead. Palos Verdes would score three straight points, but Newport Harbor ended the match with three consecutive points of its own.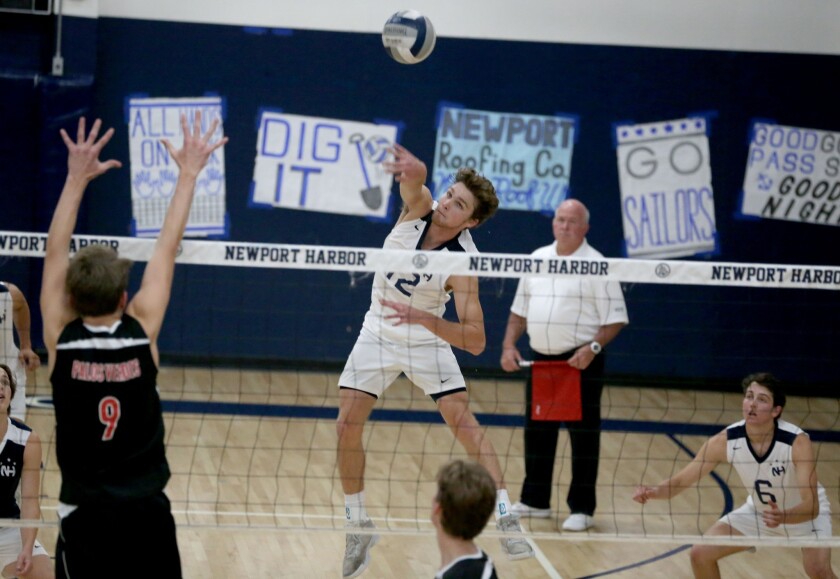 Two of them came on kills by Chalmers, including on match point.
"We kept our focus," Karlous said. "I think that's all we really needed to do, just keep it on our side and don't worry about what's going on over there. Just keep being good in our huddles, knowing that we're all brothers and can get through it.
"We've been in this position before. We've been in this position before. We've been in the playoffs every single year, and we know what we need to do. It's not just for the seniors, it's for everyone on the team. It's not our goal [to win CIF] because it's our last one, it's our goal because it's us. We want to do it right."
::
Support our sports coverage by becoming a digital subscriber.
For more sports stories, visit latimes.com/socal/daily-pilot/sports or follow us on Twitter @DailyPilotSport.
Twitter: @mjszabo
---