Season ends for Newport Harbor Baseball Assn. all-star team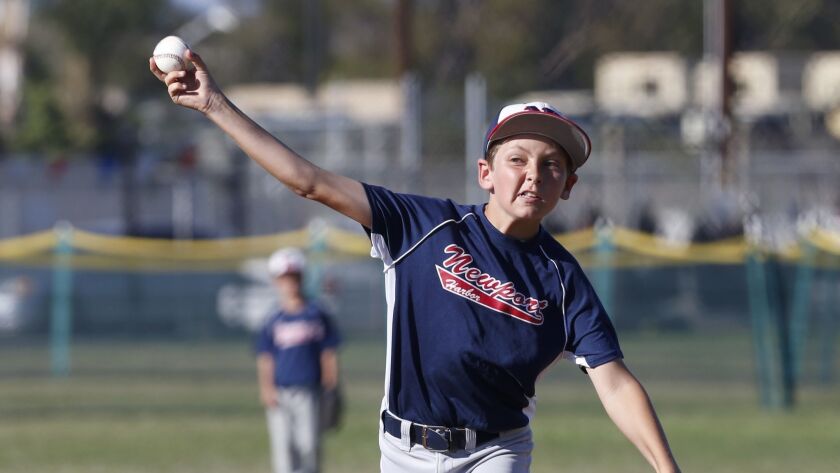 Reporting from Los Alamitos —
Keeping a good attitude was key on Wednesday evening for the Newport Harbor Baseball Assn. 11-and-under B All-Star team, even if the scoreboard might have suggested that would be tough to do.
Sawyer Kearney greeted his teammates as they came into the dugout after a rough first inning of the St. Hedwig PONY Baseball All-Star Invitational game against the Cypress 11-and-under All-Stars.
"It's only 7-0!" Kearney exclaimed to his teammates.
A couple of innings later, NHBA coach Keith DiCarlo injected some humor into the situation.
"Here's the good news," DiCarlo told his team. "We only need [to score] 15 [runs] to keep the game going."
The NHBA 11U B team did not quite accomplish that task in the top of the fourth inning. Cypress earned a 25-0 pool-play victory at St. Hedwig School, in a game shortened to four innings due to the mercy rule.
NHBA finished the tournament 0-3 and failed to advance to Sunday's semifinals. The all-star season is over for the youngsters.
"We're done," DiCarlo said. "Now the kids can hit the beach."
This was the third all-star tournament of the season for the NHBA squad, which gave up seven runs in the first inning Wednesday and 18 runs in the third. Cypress, which improved to 2-0 in pool-play, brought 22 batters to the plate in the third, before NHBA reliever Dylan Leibe got out of the inning by inducing a foul out to third baseman Ayden Knowles.
Cypress pitcher Berris Rowland did not allow a hit in his four innings of work. Tanner Purcell reached on a walk in the first inning, as did Jameson Finney in the second. Purcell got as far as third base but was stranded there.
Rowland struck out eight NHBA batters. Cypress did not have to rally, like it did in its pool-play opener Saturday against the Newport Beach Baseball Assn. 12-and-under B team. Cypress coach Manuel Avendano said his team scored six runs in the bottom of the sixth in that game, stunning Newport Beach for a 10-9 victory.
Cypress hit no home runs Wednesday, but players with doubles included Josh Eich, Kassiah Velasquez, Adam Mayer, Izeah Reyes, Anthony League, Aidan Franco and Dylan Laufer.
"I'm not taking any team lightly," Avendano said. "That's usually the way you lose. We've got to treat every team the same, give it everything we've got. That's my motto for the kids. We'll go out there and take it to them, and at the end of the day, we'll see what the score is."
The score Wednesday was a lot to a little. The NHBA squad stayed positive, however. The team also included Cade Clark, Vaughan Casey, Joe DiCarlo, Luc Mercier, Nicholas Telesco and Colton Kennedy.
Knowles came the closest to getting a hit for NHBA, as his bunt along the third-base line leading off the fourth inning went just foul.
"The hard part about being the 'B' team is that you play teams like this that have been together for a long time, and it makes it really hard," Keith DiCarlo said. "It's hard to play teams that have been around for a long time with a group like mine, which was just thrown together at the last second.
"But you can see how resilient they are. [Cypress] beat us up pretty bad, and even with that, they still want to come out and play, which is super-cool. That's why we do it."
Cypress will play the Newport Beach Baseball Assn. 11U Grey B team in its final pool-play game Saturday at 4 p.m. Both teams are undefeated so far in the tournament.
Twitter: @mjszabo
---
All the latest on Orange County from Orange County.
Get our free TimesOC newsletter.
You may occasionally receive promotional content from the Daily Pilot.