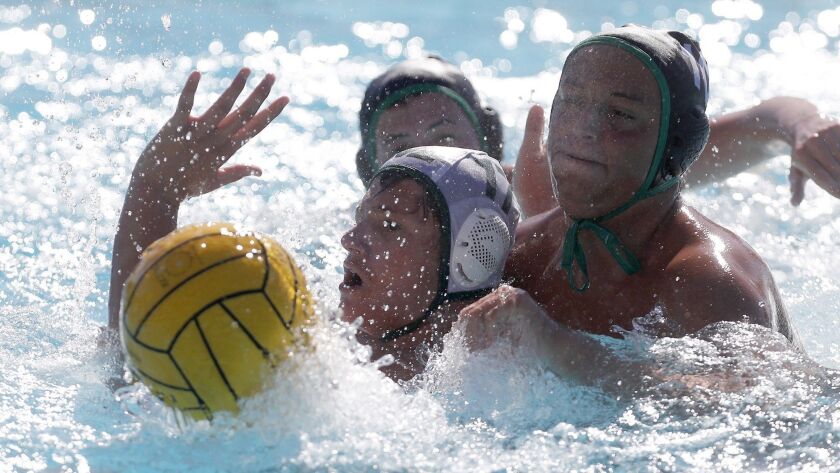 Caedmon Fisher said he showed up for his senior season with the Costa Mesa High boys' water polo team in better shape.
"Right after last season I started lifting every morning, and I didn't stop," Fisher said.
Fisher wants to lead the Mustangs, ranked No. 8 in the CIF Southern Section Division 3 poll, on a postseason run. Last year, Costa Mesa lost in the second round.
But Fisher's motivation is also individual. The left-hander said he wants the Mustangs' single-season goals record, which is currently 161 by Corey Delahunt in 1990.
Fisher, a four-year varsity starter who scored 117 goals as a sophomore and 106 goals last year, is off to a good start. He scored 12 goals as the Mustangs beat Tustin 20-10 in their season opener on Aug. 28.
Costa Mesa had its second match of the season Tuesday at Sage Hill, and Fisher was at it again. He had team-best totals of five goals and four assists as the Mustangs beat the Lightning 17-8 in the nonleague match.
I think it was a little bit unexpected, some of the talent they had, but it's supposed to be expected when you have a coach like Pavle [Filipovic] over there.
Dustin Serrano, Costa Mesa High coach
The Mustangs' other four-year starter, senior Teak Zachary, added three goals. Costa Mesa (2-0) pulled away after a sloppy start to the match in which Sage Hill (2-1) had seven steals in the first quarter.
"We played a sloppy game," said Mustangs coach Dustin Serrano, in his fifth year leading his alma mater with his twin brother, Cody. "I think it was a little bit unexpected, some of the talent they had, but it's supposed to be expected when you have a coach like Pavle [Filipovic] over there [at Sage Hill]. He's a great coach, and you're going to get solid, decent players to play against. We told the boys that they're going to be well-trained, very detailed. We assumed they were going to have a great team."
The Mustangs led just 2-1 after the first quarter, but dominated the second quarter to take a 9-2 halftime lead.
Junior Gabe Gerber and sophomores Gavin Fisher and Anderson Todd each scored twice for the Mustangs, who opened things up on the counterattack. Junior goalkeeper Joey Palmblade had 12 saves as well as two assists.
"They were just looking to counter every single time," Filipovic said. "They're in better shape, for sure. It's still early. I have three new guys who have been playing water polo for a year [Matthew Charles, Ezugo Ononye and Ian Nguyen] … Our guys were just watching what was happening and [Costa Mesa] was just up in the lanes countering.
"That's something that we're going to improve as the season progresses. Obviously, 17 goals is a lot."
Nick Vargo, Will Harrington and Grant Goslin also scored for the winners, who got a team-high four steals from Gerber.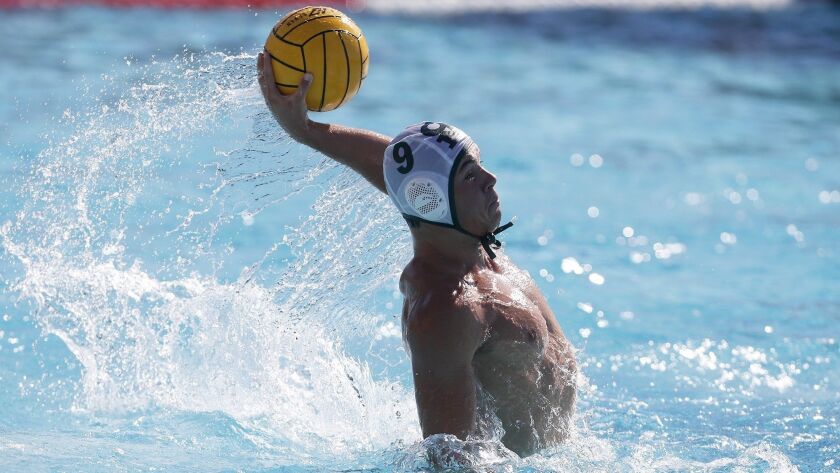 Caedmon Fisher said he expects the counterattack to be a key part of the young Mustangs' attack all season long.
"We have a lot of players who can go under 54 [seconds] in the 100 [yard freestyle] easy, which is not typical for a Division 3 high school," he said.
Senior utility player Adam Watson led Sage Hill with six goals, and sophomore Connor Cohen scored twice. Junior goalkeeper Zach Decker made six saves.
The Mustangs are aiming for their first Orange Coast League title after 12-time defending champion Laguna Beach left the league. Costa Mesa has not won a league title in boys' water polo since it claimed the Golden West League in 2004.
"I'm pretty confident that league is ours this year," Fisher said. "I don't think there's a team that can take league from us this year, but I'm also really bummed. I wanted another shot at Laguna, just to prove I can beat them, but it's all right."
Twitter: @mjszabo
---