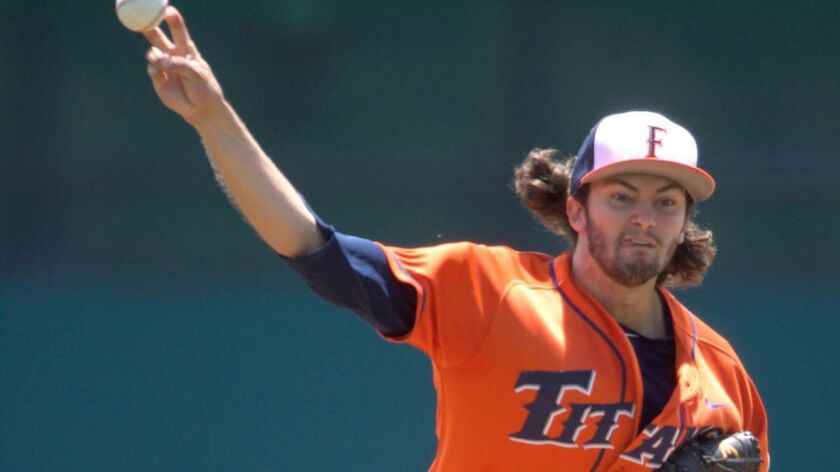 Baseball players from local schools figure to have plenty to say about who wins the Big West Conference Super Regional showdown between Cal State Fullerton and host Long Beach State, beginning Friday at 3 p.m. at Blair Field.
The Dirtbags (41-18-1) have won five of six from the Titans (37-21) during the regular season, but Cal State Fullerton junior pitcher Connor Seabold, a Newport Harbor High product, earned the lone victory for the Titans with a complete-game effort on May 25.
Seabold, a second-team All-American by Collegiate Baseball and a first-team All-Big West performer, tops the combatants with local ties in the first Super Regional meeting between Big West rivals.
Junior first baseman Dillon Persinger (Fountain Valley High and Golden West College), senior outfielder Hunter Cullen (Corona del Mar High) and junior outfielder Chris Prescott (Orange Coast College) are starters for the Titans.
Persinger earned first-team all-conference recognition and went seven for 12 in three victories in the Stanford Regional, in which Cullen had four hits, a home run and three RBIs.
Fountain Valley High product Brock Lindquist, a second-team all-conference pick, starts in right field for the Dirtbags, for whom former Golden West catcher Eli Villalobos is a valuable member of the bullpen.
Jack Pabich (OCC), is a trusted reliever for the Titans, for whom Marina High product Maxwell Gibbs and former OCC standout JT McLellan, a first baseman and designated hitter, have also seen limited playing time.
Evan Larsen, a freshman pitcher out of Corona del Mar High, is redshirting for the Titans after undergoing Tommy John surgery this spring, while senior infielder Jeff Nellis (OCC) is a Long Beach State reserve.
The coaching staffs also includes former UC Irvine assistants Greg Bergeron (Long Beach State) and Chad Baum (Cal State Fullerton), while Titans volunteer assistant J.J. Altobelli is the son of OCC Coach John Altobelli.
Persinger, a former Orange Empire Conference Player of the Year, enters the series hitting .304 with three home runs, 29 RBIs and a team-best 18 stolen bases.
Cullen is batting .278 with six homers and 29 RBIs and is 11 for 11 in stolen-base attempts.
Lundquist is batting .274 with four homers, 26 RBIs and 10 steals. His 21 extra-base hits rank second on the team, and with 44 career doubles in three seasons, he needs just five more to move to No. 3 on the school's all-time list.
Lundquist homered in the home regional, in which the Dirtbags won three straight elimination games, including one-run victories over Texas in the final two, to advance.
Game two of the best-of-three series that will send the winner to the College World Series in Omaha, Neb., is Saturday at noon. Game three, if necessary, is Sunday at noon.
Game one is scheduled to be televised on ESPN2, with games two and three slated to be shown on ESPNU.
Twitter: @BarryFaulkner5
---