Water polo regionals offer second chance for Sailors, Oilers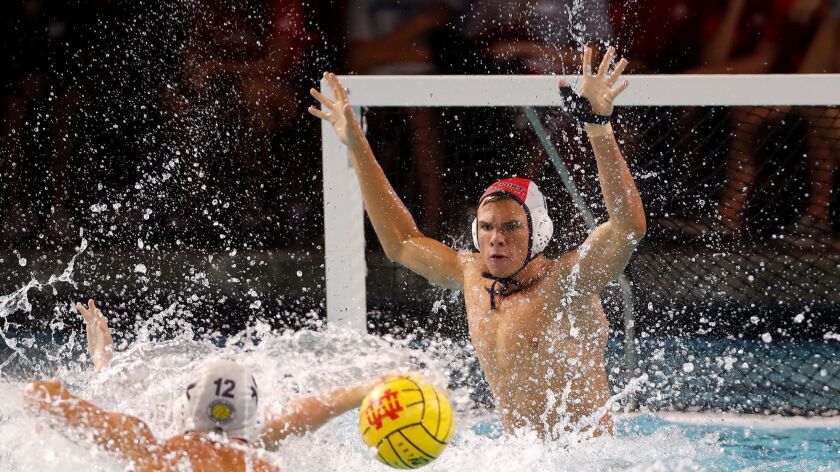 Before this year, a loss in the CIF Southern Section Division 1 semifinals would have been the end of the season for the Newport Harbor High boys' water polo team.
The No. 4-seeded Sailors lost to top-seeded Mater Dei, 9-3, on Wednesday night at Irvine's Woollett Aquatics Center. But the season continues for Newport Harbor. For the first time this season, Division 1 plays the games out to the top eight spots.
The Sailors beat Harvard-Westlake 6-4 in the third-place game Friday at Newport Harbor High. Makoto Kenney and Jack White each scored two goals, while Ryan Brosnan and Tommy Kennedy also scored.
Now, Newport Harbor prepares for the inaugural CIF Southern California Regional tournament, which takes place Nov. 17-18. Newport Harbor and Corona del Mar are the host schools for the tournament.
"It's going to be hard to get them fired up, mentally and physically," Newport coach Ross Sinclair said. "It's a lot for these guys. But I think it's a good thing. Hopefully we can come out and be positive and train hard for another week, give a good showing. We'll see how we go."
By finishing top-four in CIF Southern Section Division 1, the Sailors also will be in Division 1 for the regional tournament. Huntington Beach, which finished eighth in Division 1, should be selected for the regional Division 2 draw. The Southern Section receives four automatic entries for each division, along with three entries from the San Diego Section and one from the L.A. City Section.
The SoCal Regional Division 1 semifinals are scheduled for 11:20 a.m. and 12:30 p.m. on Nov. 18 at CdM, with the Division 2 title match at 4 p.m. and the Division 1 title match at 5:30 p.m.
Brackets for both divisions will be released by the CIF State office on Sunday evening.
Rolfing resigns at Laguna Beach girls' soccer
Longtime Laguna Beach High girls' soccer coach Bill Rolfing has resigned, he said this week.
Rolfing said that former Breakers boys' freshman coach Ben Helm has been hired as his replacement. Dan Pask is staying on as the JV girls' coach.
Rolfing said he thought the time was right to walk away after a successful season in 2016-17, which included a 10-0-0 Orange Coast League mark and the program's third Orange Coast League title in his 13-year tenure. Laguna Beach advanced to the CIF Southern Section Division 4 quarterfinals for just the third time in program history.
Overall, Laguna Beach was 123-111-58 in Rolfing's tenure as girls' head coach. He also was the boys' head coach from 1979-83.
"Accomplishing a 10-0-0 record in league and a 20-win season last year, the timing was really good," Rolfing said. "It was time for traveling and family time, and taking a breath. I'm not saying I'm not necessarily going to coach again, but it was a good time to [step away]."
HB's Hyham commits to Marist
Huntington Beach High girls' water polo senior goalie Marina Hyham has committed to play at Marist College of New York, she announced Friday.
Hyham is a top returning player for the Oilers this winter. Last year, she was a second-team Daily Pilot Dream Team selection.
Twitter: @mjszabo
---