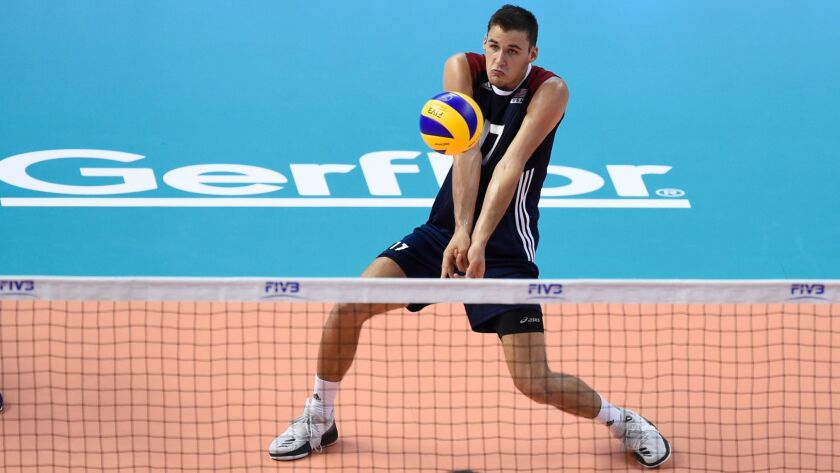 Like many incoming college juniors, T.J. DeFalco is spending his summer abroad. But there is nothing touristy about his itinerary.
Instead, the former Huntington Beach High standout is representing the U.S. national men's volleyball team in the final round of the Federation Internationale de Volleyball World League tournament in Curitiba, Brazil.
Still a teenager (he turns 20 in October), the 2016 American Volleyball Coaches Assn. National Collegiate Player of the Year is the youngest member of Team USA, which plays either France or Serbia in a semifinal match on Friday.
And while much of the experience of competing at the highest level his sport has to offer is unfamiliar, the high-flying outside hitter is anything but over his head.
"He is going to be a definite force to be reckoned with," said Team USA teammate and former UC Irvine All-American Carson Clark, who is nine years DeFalco's senior. "He is a really, really good player who is very talented. He is growing and getting better every day."
DeFalco, who led Huntington Beach to a 121-2 record in his three varsity seasons after arriving from Fallbrook, has already achieved a great deal on the court. The Oilers were undefeated in his junior and senior seasons.
In addition to NCAA national player of the year laurels, he was the Mountain Pacific Sports Federation Player of the Year after leading the 49ers to regular-season and MPSF Tournament crowns in 2017.
He made the World League training roster in 2015 and competed with Team USA at the U-19 World Championships in 2015.
In 2014, he was named tournament MVP and Best Spiker after leading the American youth national team to the title at the NORCECA Under-19 Continental Championship.
Along with partner Lucas Yoder, he was third at the 2013 FIVB Beach U-19 World Championships.
DeFalco is appreciative of his current opportunity in the World League, an experience he terms unreal, awesome, and even a little overwhelming.
But having logged some quality playing time for Coach John Speraw (he had two kills off the bench in a four-set win over Serbia on Wednesday), he said last week at the national team's training headquarters in Anaheim that he believes he is up to the challenge.
"To get to train with these guys every day, go through what they go through, and travel with them to different countries is a dream come true," DeFalco said. "But confidence is not one of my short suits. I'm the lowest man on the totem pole here, but there is a reason they have allowed me to be here. I just plan to work hard and do my thing."
DeFalco was born in Missouri, but moved with his family to the Inland Empire when he was 9. A former youth golfer who aspired to be the next Tiger Woods, DeFalco said he was exposed to volleyball when he tagged along with his older sister to her club practices.
He began playing club volleyball at age 13 and began excelling when his family moved to Fallbrook, a San Diego suburb.
"I loved it right away," DeFalco said of volleyball. "I always wanted to play. Then when I was one of the kids out there playing, the team aspect really caught my attention."
A fiery competitor, DeFalco said he is emotionally invested in every point.
"If I could beat teams, 25-0, I would," he said. "I want to go that hard."
DeFalco's Long Beach State squads have reached the NCAA semifinals the last two seasons and he is anxious to pursue the 2018 national championship next spring. But he is also intent on making his mark on the international scene.
"My goals are to take volleyball as far as it will let me go," he said. "I want to be the best I can be for as long as I can. Right now, I'm just grinding my butt off to see how far I can take it."
Twitter: @BarryFaulkner5
---