Locals perform well at Colorado Sparkler softball tournament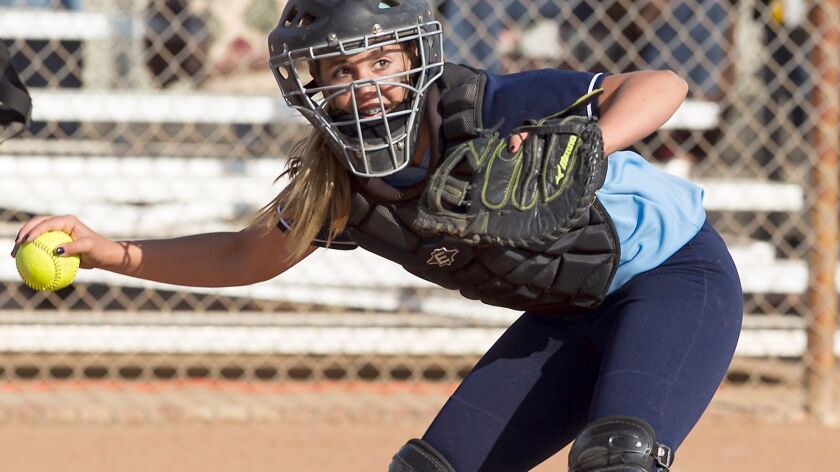 WESTMINSTER, CO – For parents, it may seem like there are no days off.
For the athletes, there is no offseason.
At least there is an understanding that they are all in this together. This is the fabric of the softball community, one that runs far deeper than any single person's passion project.
It is through club softball that futures are made and lasting bonds are formed. The endless miles and long hours connect the families, who gravitate to the same place on a given weekend.
The club calendar is coming to a close. At present, the entirety of the junior softball universe has planted itself in the state of Colorado. College coaches are turning up in bulk to take in the Colorado Sparkler.
Dozens of pools have been formed, and those in attendance are invested in multiple teams. It is the nature of the beast.
Kraig and Emily King jumped in with both feet when their daughter, Ryan, started playing travel ball in 2008. Friendships have been forged, such as Ryan's relationship with Amber Baldwin.
For years, Ryan has caught Baldwin. The best-friend battery will soon be on its way to compete together at Middle Tennessee State. They played together at Marina High.
Even as they wait for their college careers to begin, they are both playing for the same club team, the Firecrackers-Lutterloh. They teamed up on a complete-game shutout in their team's first game of the tournament.
Baldwin has won both games that she has started, and the team is 3-1 overall.
Mike Lutterloh is the coach of their team, one which has reached bracket play in Bracket D of the Super 48.
The depth of club softball in California is made evident with a simple roll call – 14 of 15 players on the Firecrackers-Lutterloh fall roster had a college commitment.
Kraig King is coaching a team in the Colorado Sparkler Junior. His 14U Open team has won its first four games. Paige Shafer, a freshman center-fielder for Marina this year, was a late addition to the team. She has been a boon to the team, playing in right field and immediately undertaking a leadership role.
"We went to PGF (Premier Girls Fastpitch) and qualified in Vegas, the first week that she was there," King said. "She had the winning hit that gave us a PGF berth. She stepped right in, pressure-filled situation, and she didn't blink an eye."
Shafer went three for five, scoring four runs with one stolen base, a walk, and one RBI on the first day of the tournament. She played center field for the Vikings, but that position was already occupied by a talented and inspirational athlete in her own right.
Outfielder Amanda Morris, who is set to join Las Flores Tesoro, is having a strong season while battling diabetes. She is hitting .436 with seven home runs and 33 RBI in 62 games. Through Wednesday, she had a home run with three RBI and four runs scored in pool play.
"She's diabetic, and she doesn't let that slow her down," King said. "She leads the team in home runs."
Marina is set to benefit from the crop of talent on this streaking team, too. The third baseman, Briana Gonzalez, is an in-coming freshman for the Vikings.
Gonzalez went three for six with a double, two RBI, and three runs scored in the team's first two victories. She was asked to play in an All-Star showcase on Wednesday. For the season, she is batting .396 with three home runs and 56 RBI.
"Briana Gonzalez is my No. 4 hitter," King said. "Big, strong kid. Currently, she's at third base. I think at Marina, she will eventually be the shortstop because she's that good of an athlete."
"She's a terrific third baseman. She has a cannon of an arm and hits for power."
Tanna Schweitzer and Piper Reed did not allow a run in the first two games for King's Firecrackers team in pool play.
There are six Marina Vikings in Colorado playing for the Firecrackers organization. Emily Rush and Shayla Thomas are playing for 16U teams, while Julia Carreon is playing in the 18U division with the Lakewood Firecrackers.
PGF Nationals is coming soon. It will mark the pinnacle of the club season, running from July 22 to Aug. 5 in Huntington Beach.
The Firecrackers-Rico, who have already received a berth into Nationals, are stocked with elite local players. The roster includes Edison's Riley Wester and Rachel Abboud, Huntington Beach's Allee Bunker, and Los Alamitos' Mary Iakopo, Kaitlin Parsons, Jenna Kean, and Ryan Denhart.
Former Oilers Anna Kufta (Maryland), Alyssa Horeczko (Stanford), and Arizona-bound Ivy Davis previously played for Tony Rico's 18U team.
Andrew.Turner@latimes.com
Twitter: @ProfessorTurner
---
All the latest on Orange County from Orange County.
Get our free TimesOC newsletter.
You may occasionally receive promotional content from the Daily Pilot.