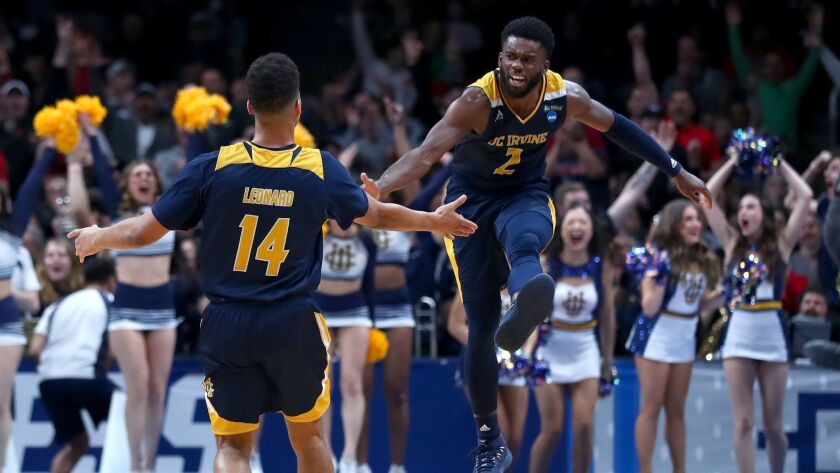 Reporting from San Jose —
In a season already historic, UC Irvine added its biggest piece yet Friday.
The Anteaters beat Kansas State 70-64 in the opening round in the South Region for the school's first NCAA tournament victory.
Max Hazzard and Evan Leonard both scored 19 points for Irvine, which is seeded 13th.
The Anteaters (31-5) extended their winning streak to 17. They will meet Oregon on Sunday at approximately 6:40 p.m. with a chance to move on to the Sweet 16.
Consecutive three-pointers by Leonard gave Irvine a 53-51 edge with 8:28 remaining, and the Anteaters never relinquished the lead.
Elston Jones added 11 points off the bench, and Robert Cartwright had 10.
After Leonard hit a jumper for the game's first points, the Anteaters fell behind by as many as 10 twice in the first half.
But down 28-18, they surged back with a 9-0 bolt keyed by Jones, a reserve forward. The senior began the run with a three-point play and finished it with a pair of layups.
With the score 28-27, Irvine had a chance to take its second lead in the closing minutes of the half, but Hazzard missed two three-point tries, Eyassu Worku a three-pointer and Jonathan Galloway a put-back on two empty possessions.
After Kansas State's Mike McGuirl made two free throws, the Anteaters finally caught the Wildcats — 30-30 — on a three-pointer by Hazzard at the first-half buzzer.
The Anteaters are the lone California team remaining in the tournament after St. Mary's lost Thursday to Villanova, 61-57.
Jeff Miller writes for the Los Angeles Times.
---