SCR's 'Red' delves into the challenges of artist Mark Rothko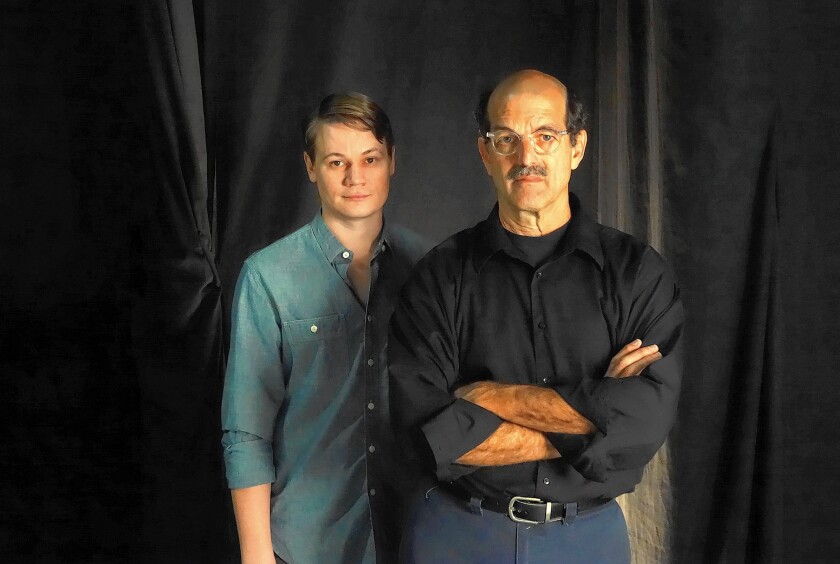 Painter Mark Rothko faced a series of struggles: He left Russia when he was 10, his father died seven months after the family arrived in Portland, Ore., he dropped out of Yale after two years and bouts of heavy drinking destroyed his health. He committed suicide at age 67 in 1970.
But his prolific works of large, abstract canvases with occasional hints of color had a profound influence on artistic styles, and Rothko, who refused to be defined by any art movement, is considered one of the most famous postwar American artists.
In playwright John Logan's Tony Award-winning drama "Red," the plot centers on Rothko and his assistant and touches on themes like the nature of art and what drives an artist.
"Red" is set in 1958 as New York artist Rothko has received the art world's largest commission to create a series of murals for The Four Seasons restaurant in the new Seagram building on Park Avenue. Rothko works feverishly with his young assistant, Ken, in his studio on the Bowery. But when Ken gains the confidence to challenge his mentor, Rothko feels a vulnerability as he faces the mission of creating a definitive work.
South Coast Repertory founding artistic director David Emmes said what drove him to want to direct "Red" is that it addresses the complexity of pursuing a passion while facing the reality of making a living. The play runs through Feb. 21 at the Costa Mesa theater's Segerstrom Stage.
Emmes said he also has always had an interest in the visual arts and is an admirer of Rothko's.
He said when he reread Logan's script, he found the play to be a "remarkable inside look" into the creative process and the often competing demands of creativity and commerce.
"I think the play draws us wonderfully into the world of creativity and its process, and it brings a discussion of what an artist's responsibilities are," Emmes said. "It's a really compelling piece."
To translate the script into a compelling play, Emmes said he first had to secure the right cast and that included actor Mark Harelik for the role of Rothko.
Harelik, described by Emmes as "gifted and one of the best American theater actors," has done six previous productions over his long association with South Coast Repertory, including leading roles in "Cyrano de Bergerac" and "Tartuffe." His credits also include the original Broadway production of "The Light in the Piazza."
The two-person play also stars Paul David Story, who is making his SCR debut as Rothko's assistant, Ken. Story has also appeared on Broadway.
The original play opened in London seven years ago featuring Alfred Molina and Eddie Redmayne. The production, with its two leads, transferred to Broadway and was awarded the 2010 Tony Award for Best Play.
The challenge of the two-character play, Emmes said, was to ensure that each scene has a context where the actors can explore the dramatic needs of the play, which features heated moments between the two.
Emmes said he was confident in Harelik and Story's ability to explore the aspects of the painter and assistant relationship.
"I thought this required great artistry, and it's a big mountain to climb," Emmes said. "You need someone who has the stamina and energy to hit the summit."
Emmes, who read Rothko biographies and conducted research on the painter, said he wants audiences to gain a deeper insight into how difficult it is for an artist to make his or her way in the world.
As Rothko is often quoted as having said, "When I was a younger man, art was a lonely thing. No galleries, no collectors, no critics, no money. Yet it was a golden age, for we all had nothing to lose and a vision to gain. Today it is not quite the same. It is a time of tons of verbiage, activity, consumption."
*
IF YOU GO:
What: "Red"
When: 7:30 p.m. Tuesdays and Wednesdays, 8 p.m. Thursdays, 2:30 and 8 p.m. Saturdays, and 2:30 and 7:30 p.m. Sundays, until Feb. 21
Where: South Coast Repertory's Segerstrom Stage, 655 Town Center Drive, Costa Mesa
Cost: Ticket prices vary
Information: (714) 708-5555 or visit scr.org
--
Kathleen Luppi, kathleen.luppi@latimes.com
Twitter: @KathleenLuppi
---