What's in a fair theme? Fun, for one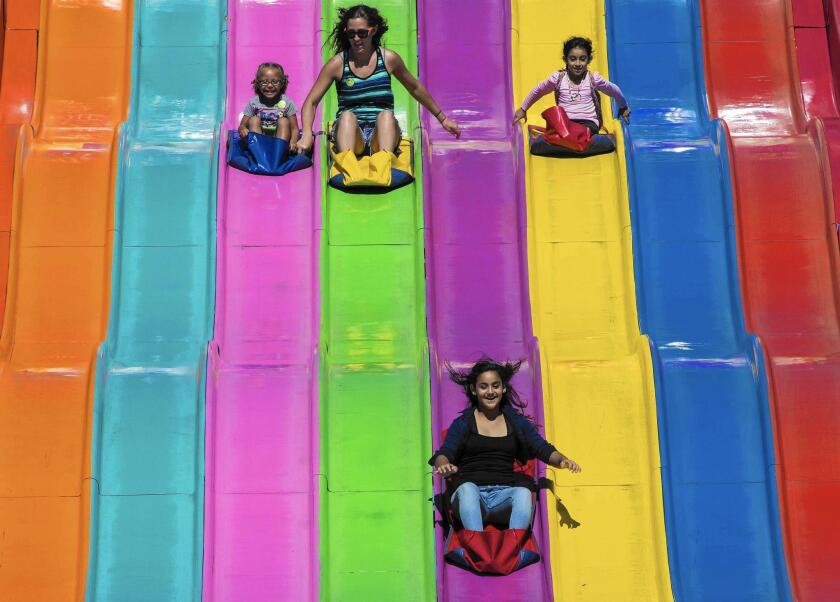 What's a fair without a theme?
Some slogans might sound goofy, off the wall or cute and descriptive, but they all aim to define the party and provide something specific to rally around.
Slightly creepy? "We're Puttin' A Bug In Your Ear" was the Orange County Fair's 1996 salute to insects.
Spot-on appropriate? "It's the Wheel Thing" was its 1993 tribute to the 100th anniversary of the Ferris wheel.
Somewhat confusing? The number of years devoted to "Hawaiian Holidays."
Somewhat repetitious? 1979: "A Touch Of Country"; 1980: "A Touch Of Country"; 1981: "There's Still A Touch Of Country."
Join the conversation on Facebook >>
The theme of this year's OC Fair, which begins Friday in Costa Mesa, is "Get Your Fair Face On."
This theme tries to capture the true experience of a fairgoer, fair officials said, whether it's the face of a person right before taking a bite of funnel cake or the expression of a child who just won a huge stuffed animal. These faces are what define the fair, organizers say.
Michele Richards, the fair's vice president of business development, believes a fair face has no limits. Ideally, she explains, the theme is meant to express "the look of the fair when people come to visit."
Past themes have had more of an emphasis on food and farming, both of which are huge aspects of any fair. For example, the 2011 "Let's Eat!" and 2003's "Red, Ripe and Rockin' — The Year of the Tomato" both expressed the values of food and harvest time.
For years, the fair has introduced a plethora of foods of the fried variety — Oreos, avocados, Kool-Aid — and displayed freshly grown fruits and vegetables with pride.
Last year's "One Big Party" theme was a nod to the 125th year of the Orange County Fair, a monumental moment to celebrate and "party." An ice museum and a live butterfly exhibit were among the many attractions.
With each year comes a different theme, but who dictates how the OC Fair will be presented?
According to Robin Wachner, the fair's communications director, the theme often is decided in a "collaborative manner" involving the fair's ad agency, internal graphics department and other staff members. They will brainstorm to come up with a concept that suits that year's fair and all its festivities.
With fairgoers in mind, a theme is selected to be interactive and used throughout the fair's run, Wachner added. The fair usually incorporates it in various contests.
This year's theme will be the focus of a nightly mosaic of guests' photos of their "fair faces."
Patrons can submit photos of themselves through social media or the fair's website at ocfair.com/ocfairface. The images will be uploaded to the site, and every night at 8:30, the video screen in front of the Hangar will show an image of two people on a ride. A closer look will reveal that the image is made up of hundreds, maybe thousands, of smaller ones of visitors enjoying the fairgrounds.
Such creativity isn't the sole province of Orange County. Interesting fair themes from elsewhere include "Cows Just Wanna Have Fun!" (Merced County Fair, 2012), "Race to the Fair" (San Diego County, 2011, to celebrate the car culture), "Suesscentennial Celebration" (San Diego County, 2004, in celebration of the 100th anniversary of Dr. Seuss' – Theodore Geisel's – birth) and "A Fair to Remember: Celebrate the World's Fairs & Balboa Park" (San Diego County, 2015).
Davis County, Utah, took cute liberties with the key word "fair" as well, with "Fairadise" and "The Fair Necessities."
"Dare to Fair" is Los Angeles County's choice this year.
So, why a theme?
They're just plain fun.
"Fairgoers love that we have themes and are thrilled when they're revealed," Wachner said.
::
Some past Orange County Fair themes
1952-53: "Port-O-Plenty"
1959: "Better Living Through Agricultural, Industrial and Educational Living"
1960-63 and 1965-67: "Hawaiian Holidays"
1973-76: "Good Old Days"
1982: "The All-American Fair"
1983: "Everything's Coming Up Rosy"
1985: "It's Wild and Woolly"
1988: "We're Beefin' It Up"
1990: "Very, Berry Extraordinary"
1997: "We're Goin' Tropical" and "Nuttin' But Fun"
2000: ""Hot! Hot! Hot!"
--
What: Orange County Fair
Where: OC Fair & Event Center, 88 Fair Drive, Costa Mesa
When: Friday through Aug. 14. Noon to midnight Wednesdays through Fridays, 10 a.m. to midnight Saturdays and Sundays
Cost: $12 general admission; $7 for senior citizens 60 and older and children ages 6 to 12; free for children 5 and younger
Information: ocfair.com or (714) 708-1500
--
Writers Debbie Zucco and Michael Miller contributed to this report.
---