The DP 103: Who made news and lent influence in 2015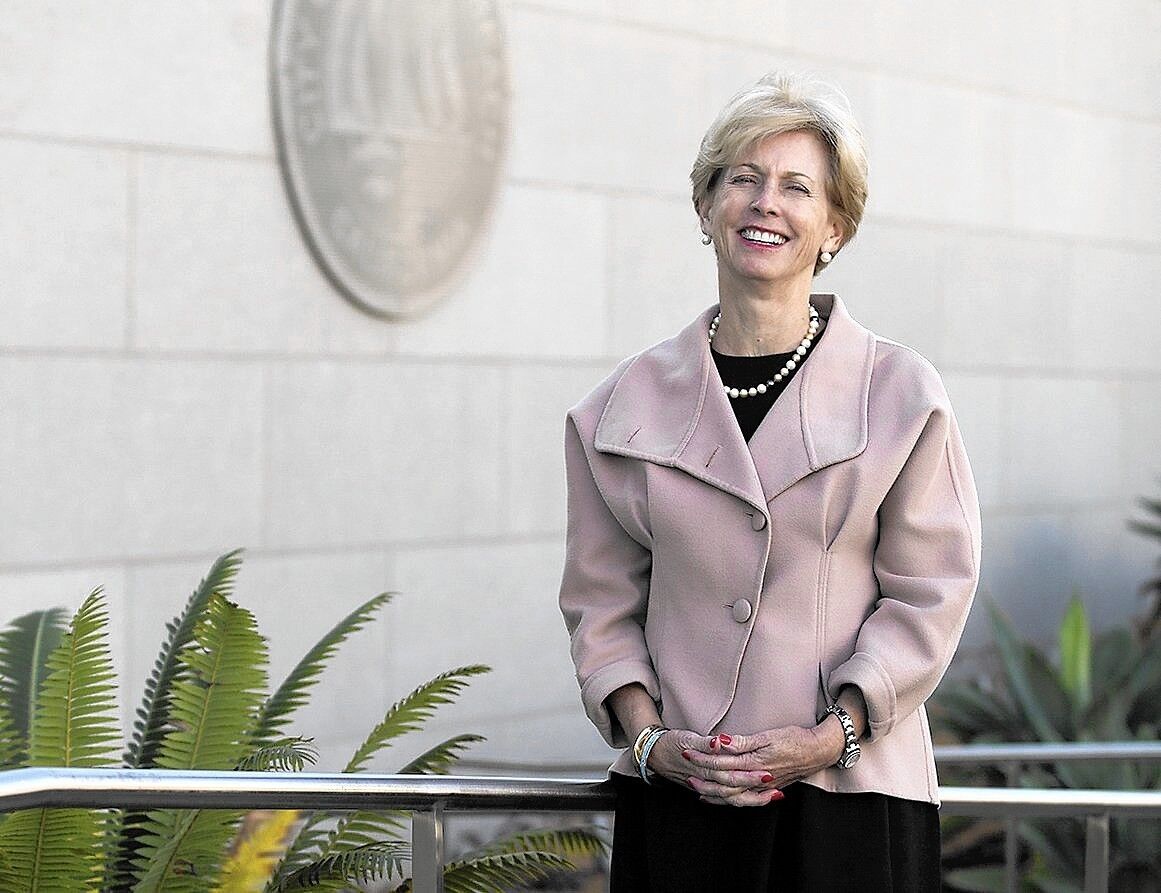 Newport Beach Mayor Diane Dixon.
(File Photo / Daily Pilot)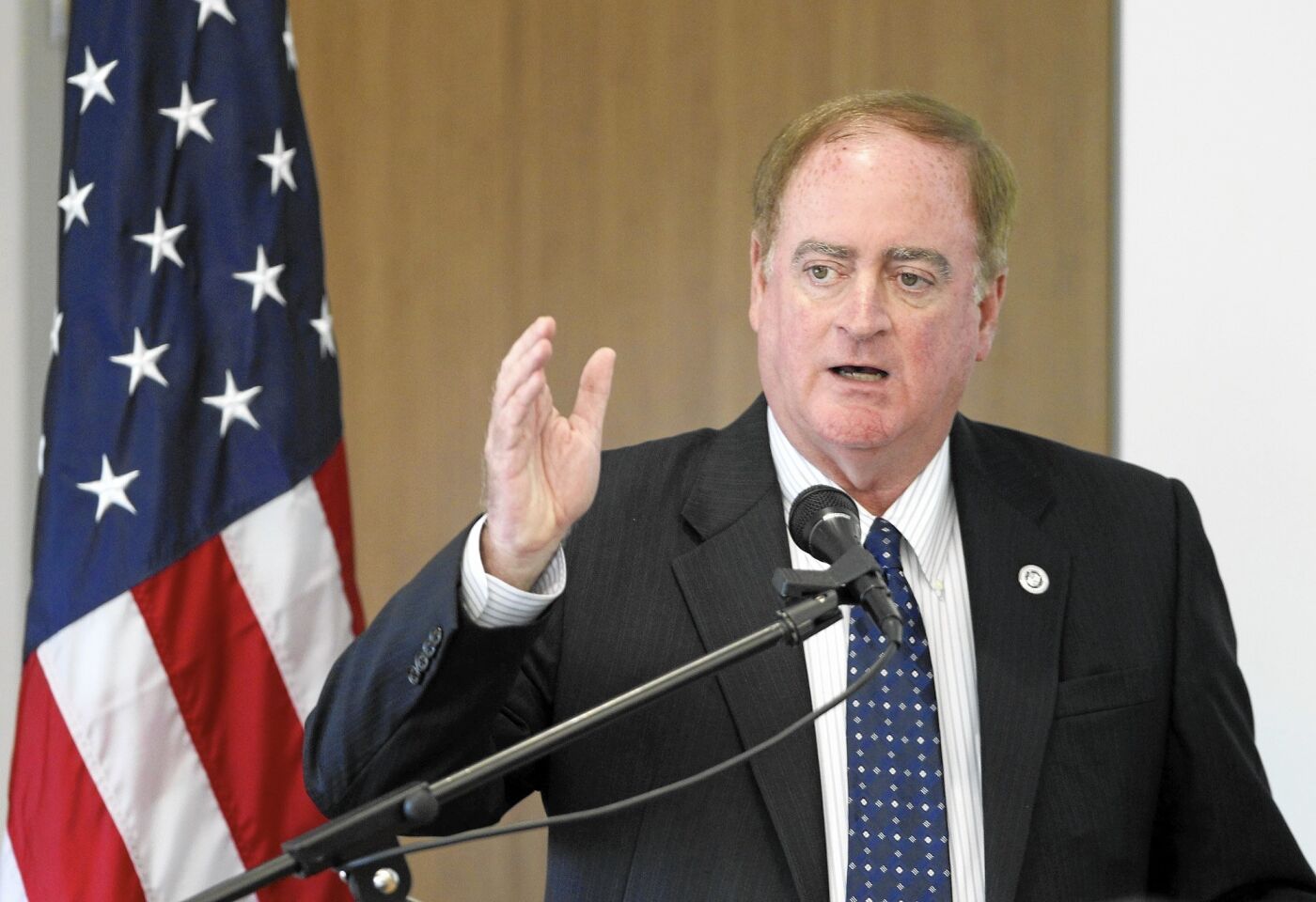 DP No. 2 Keith Curry: Newport Councilman Keith Curry speaks during an immigration panel at Concordia University.
(KEVIN CHANG / Daily Pilot)
DP No. 3 Scott Peotter: Newport Beach City Council candidate Scott Peotter talks to members of the Newport-Mesa Tea Party during a candidates forum at the Halecrest Park Swim and Tennis Club in Costa Mesa.
(Bradley Zint / Daily Pilot)
DP No. 6 Steve Mensinger: Steve Mensinger welcomes members of the 1st Battalion 5th Marine Regiment to the 2nd annual Mayor's Marine Dinner at Mesa Verde Country Club in Costa Mesa.
(Kevin Chang / Daily Pilot)
DP No. 4 Katrina Foley: Katrina Foley speaks during a City Council candidates forum at the Neighborhood Community Center in Costa Mesa.
(KEVIN CHANG / Daily Pilot)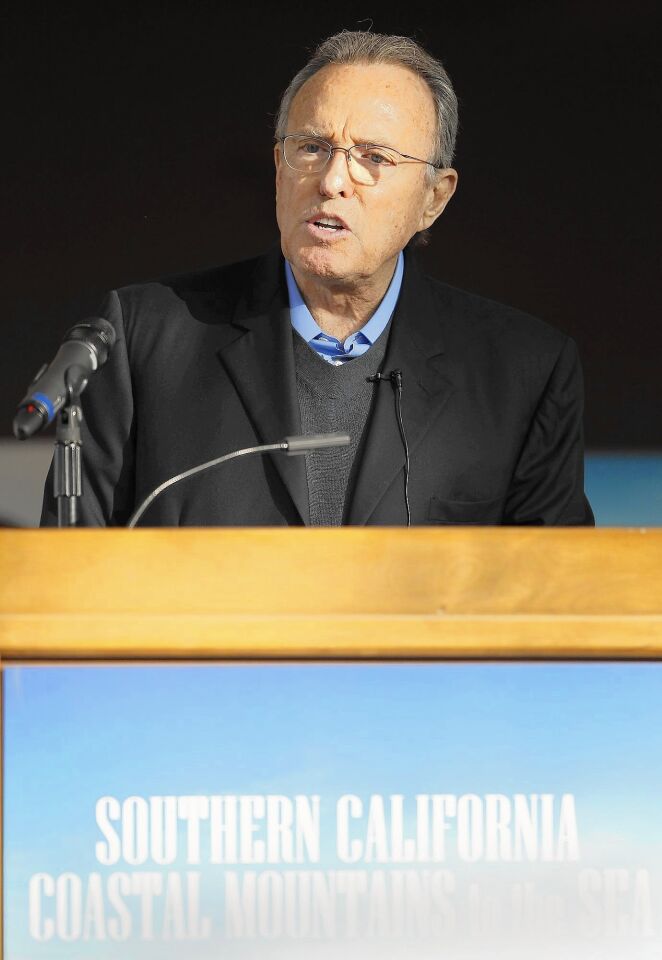 DP No. 8 Donald Bren: Donald Bren, chairman of the Irvine Co., speaks during a book release party for "Southern California Coastal Mountains to the Sea: A Celebration of Open Space on the Historic Irvine Ranch" in 2011 at Bommer Canyon in Irvine.
(KEVIN CHANG / Daily Pilot)
DP No. 9 Paul Watkins: Newport Beach Chamber of Commerce gave the "Citizen of the Year" award to Paul Watkins, center, a real estate lawyer and active member of the Chamber of Commerce.
(Kevin Chang / Daily Pilot)
DP No. 10 Kathy Esfahani: Alison Walske, left, a 5th grade teacher at Adams Elementary, and Kathy Esfahani exchange words during a communtiy protest regarding the decision by Newport Mesa Unified School District to put a fence around the school on Feb. 5.
(SCOTT SMELTZER / Daily Pilot)
Here is the annual Daily Pilot 103, a list of those who made news and lent influence in 2015.
Named are the year's newsmakers, as well as those who stayed out of the limelight but still made an impact. Thanks go to everyone who suggested names.
Of course, there are more people who make a difference than there are spaces on the list but there is no way to include them all. Please tell us who we forgot by commenting online or sending in a letter to the editor at
dailypilot@latimes.com.
1.) Diane Dixon: The Newport Beach mayor and her Team Newport allies ushered in a year of political challenges to the status quo — some would say for the better, others would argue unnecessarily, but all would agree that 2015 was the end of business as usual.
2.) Keith Curry: The Newport Beach councilman accused Team Newport of grandstanding for political gain, particularly when it came to ordering an expensive audit of the Civic Center.
3.) Scott Peotter: The Newport councilman circulated an email critical of the U.S. Supreme Court ruling on gay marriage, drawing criticism from civil rights advocates — and some on the council — but he ultimately avoided censure.
4.) The Rev. Canon Cindy Voorhees: Despite her congregation losing its church on Via Lido, the St. James the Great Episcopal leader kept her flock together as they held services in the park and at a local museum.
5.) John Caldecott: Newport-Mesa Unified's former H.R. director was fired after alleging officials miscalculated pension formulas; he then won a court ruling ordering that related documents be made public.
6.) Steve Mensinger: Costa Mesa's mayor presided over the city's ever-present political battles regarding everything from sober-living homes and relocating motel families to new residential development and approving a new library.
7.) Katrina Foley: The Costa Mesa councilwoman, who often countered with the council majority, negotiated extra assistance to displaced motel families and continued her advocacy for Costa Mesa High School athletics and arts.
8.) Donald Bren: The Irvine Co. chairman continued to refresh signature properties, while also introducing conservation measures like hybrid-powered buildings and water-sipping apartment plumbing.
9.) Paul Watkins: The longtime Newport Beach attorney and volunteer was named citizen of the year.
10.) Kathy Esfahani: A leader within the Costa Mesa Affordable Housing Coalition, she helped lead protests against a decision that will displace long-term tenants of the Costa Mesa Motor Inn without adding any new low-income housing for them.
11.) Mark Serventi and Greg Pappas: The co-owners of Newport Beach's Woody's Wharf challenged in court a city-ordered ban on dancing and extended hours.
12.) Chris Yelich: The principal at Banning Ranch developer Brooks Street Builders agreed to a California Coastal Commission directive to go back to the drawing board and scale down the proposed residential development.
13.) Steve Ray: The executive director of the Banning Ranch Conservancy stepped up the grass-roots campaign for preservation and campaigned against the proposal to build homes.
14.) Anton Segerstrom and Sandy Segerstrom Daniels: The managing partners of C.J. Segerstrom & Sons (South Coast Plaza) continued the family legacy after the passing of the company's beloved founder, Henry Segerstrom.
15.) Rob Sharpnack: Costa Mesa's new police chief was selected from inside the ranks.
16.) Joyce LaPointe: The Costa Mesa Police Department veteran became the CMPD's first female lieutenant.
17.) Jay Johnson: The Newport Beach police chief announced his retirement.
18.) Russell Turner: UC Irvine men's basketball coach led the Anteaters to their first NCAA Tournament berth.
19.) Jay Humphrey, Rick Huffman and Cynthia McDonald: The Costa Mesa First founders began circulating a ballot proposal that would require voter approval for major developments.
20.) Amy Senk: The thorough, accurate and dedicated Corona del Mar Today editor plans to stop blogging Jan. 1.
21.) Tom Hatch: Costa Mesa city CEO.
22.) Dave Kiff: Newport Beach city manager.
23.) Scott Poster: Newport Beach fire chief.
24.) Dan Stefano: Costa Mesa fire chief.
25.) Sandy Genis: Costa Mesa councilwoman.
26.) Jim Righeimer: Costa Mesa mayor pro tem.
27.) Gary Monahan: Costa Mesa councilman.
28.) Tony Petros: Newport Beach councilman.
29.) Duffy Duffield: Newport Beach councilman.
30.) Kevin Muldoon: Newport Beach councilman.
31.) Edward D. Selich: Newport Beach councilman.
32.) Frederick Navarro: Newport-Mesa superintendent.
33.) Dana Black: Newport-Mesa school board president.
34.) Karen Yelsey: Newport-Mesa school board.
35.) Vicki Snell: Newport-Mesa school board.
36.) Walt Davenport: Newport-Mesa school board.
37.) Martha Fluor: Newport-Mesa school board.
38.) Judy Franco: Newport-Mesa school board.
39.) Charlene Metoyer: Newport-Mesa school board.
40.) Howard Gillman: UC Irvine president.
41.) Dennis Harkins: Orange Coast College president.
42.) Michael Beals: Vanguard University president.
43.) Erwin Chemerinsky: UC Irvine Law School dean.
44.) Jacob Haley: Principal, Costa Mesa High School.
45.) Ernesto Munoz: Costa Mesa public services director.
46.) Matt Harper: State assemblyman.
47.) Mike Scheafer: Costa Mesa Sanitary District board president.
48.) Gary Sherwin: Visit Newport Beach CEO.
49.) John Moorlach: State senator.
50.) Michael Halt: Principal, Estancia High School.
51.) Sean Boulton: Principal, Newport Harbor High School.
52.) Kathy Scott: Principal, Corona del Mar High School.
53.) Deborah Davis: Principal, Back Bay High School.
54.) David Martinez: Principal, Early College High School.
55.) Bob Wilson: Departing Vanguard University athletic director.
56.) Robert Braithwaite: Hoag Hospital CEO.
57.) Dr. Allyson Brooks: Medical director of Hoag Women's Health Institute.
58.) Gerardo Mouet: Orange County Fair Board chairman.
59.) Nick Berardino: Orange County Fair Board member.
60.) Ashleigh Aitken: Orange County Fair Board member.
61.) Stan Tkaczyk: Orange County Fair Board member.
62.) Douglas La Belle: Orange County Fair Board member.
63.) Barbara Bagneris: Orange County Fair Board member.
64.) Sandra Cervantes: Orange County Fair Board member.
65.) Robert Ruiz: Orange County Fair Board member.
66.) Kathy Kramer: Orange County Fair and Event Center CEO.
67.) Rob Dimel: Costa Mesa Police Officers Assn. president.
68.) Shawn Dewane: President, Mesa Water District.
69.) Robert Dickson: Costa Mesa Planning Commission chairman.
70.) Steve Rosansky: Newport Beach Chamber of Commerce CEO.
71.) Ed Fawcett: Retired Costa Mesa Chamber of Commerce CEO, president
72.) Kyle Woosley: Costa Mesa Chamber of Commerce CEO, president
73.) Linda Leonhard: Corona del Mar Chamber of Commerce CEO.
74.) Tom Johnson and Lynn Selich: Hosts of "Sunday Brunch with Tom and Lynn" on KOCI.
75.) Diane Hill: United Neighbors newsletter publisher.
76.) Geoff West: A Bubbling Cauldron blogger.
77.) Bob McCaffrey: Newport Beach activist.
78.) Dave Ellis: Newport Beach political consultant.
79.) Charlene Ashendorf: Costa Mesa volunteer.
80.) Evelyn Hart: Newport volunteer.
81.) Robin Leffler: Costa Mesans for Responsible Government.
82.) Ann Parker: Costa Mesa community activist.
83.) Julie Mercurio: Moderator, Costa Mesa Public Square Facebook page.
84.) Tom Pollitt: Newport-Mesa Tea Party.
85.) Jean Watt: Newport Beach activist.
86.) Barry Friedland: Costa Mesa Brief.
87.) Mary Spadoni: Costa Mesa community activist.
88.) Mike Glenn: Newport Beach blogger/activist.
89.) David A. Grant: President, Coast Community College District.
90.) George Argyros: Businessman and philanthropist.
91.) Rick Francis and Tammy Letourneau: Costa Mesa assistant city CEOs.
92.) David Girling: Chairman, Newport Beach Harbor Commission.
93.) Diane Daruty: Newport-Mesa Spirit Run director.
94.) Jeff Herdman: Newport activist.
95.) Dean O'Malley: President, Jetpack America.
96.) Dana Rohrabacher: U.S. representative.
97.) The Rev. Sarah Halverson-Cano: Fairview Community Church.
98.) The Rev. Amy Aitken: Costa Mesa, First United Methodist Church.
99.) George Murdoch: Newport general manager of utilities.
100.) Tony Dodero: Cosa Mesa city spokesman.
101.) Kim Pederson: Costa Mesa Parks and Recreation Commission chairman.
102.) Mario Marovic: Stag Bar owner.
103.) Coyotes: Feral canines.
---