Paper covers Newport street after fire in document shredding truck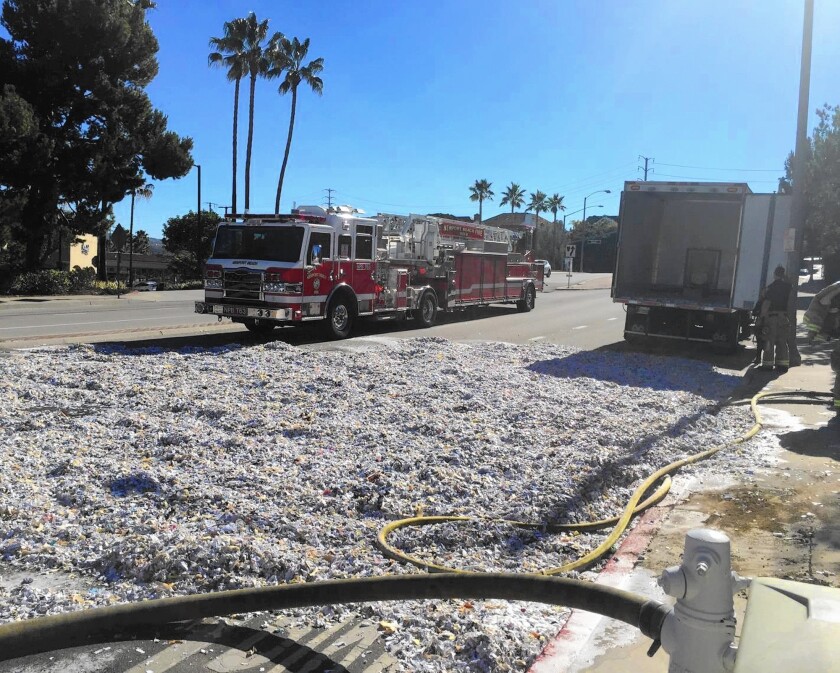 Firefighters dumped about 5,000 pounds of shredded paper onto a Newport Beach street Tuesday so they could douse a blaze that broke out in the back of a mobile document shredder, authorities said.
At about 11:30 a.m., crews were called to Camelback Street, where they learned the truck's cargo was on fire, according to the Newport Beach Fire Department.
Firefighters stopped the flames from spreading to the rest of the truck by dumping the paper onto the roadway and quickly dousing the blaze, fire officials said.
After firefighters raked through the paper to make sure the flames were out, crews finished cleaning up the paper, and all lanes of Camelback Street were reopened around 2:30 p.m., said fire Battalion Chief Brian McDonough.
No one was injured in the blaze.
Investigators are working to determine what caused the fire, but McDonough said it was likely a malfunction of the truck's built-in equipment.
"We think the shredder probably heated up," he said.
---