Yes, you still have to conserve water. But the state's rules might ease soon
While new regulations approved by state water officials Tuesday extended restrictions on urban water use through October, they also instituted measures that could help local water districts that have struggled to meet reduction mandates.
The revised regulations take into account pleas from some districts for more consideration of factors that influence water use in their communities, such as warmer-than-average weather, population growth and "significant investments" in drought-resistant water sources such as wastewater reuse.
"After four years of extreme drought, there is still a need for Californians to keep up their stellar conservation practices," said Felicia Marcus, chairwoman of the State Water Resources Control Board. "This updated regulation acknowledges that need while making adjustments in response to feedback from water suppliers and others. If we continue to receive a lot of rain and snow in February and March, we may scale back the conservation requirements further, drop them or move to another approach."
Some water suppliers will automatically get a break on water-use requirements based on conditions in their areas, while others will have to provide information to support and help determine the size of any adjustment, according to the state water board.
Reductions to conservation standards could range from 2 to 8 percentage points, which could help local suppliers like the city of Newport Beach, whose cumulative water savings from June to December was 20.2%, well short of its state-mandated goal of 28%, data show.
Water suppliers statewide have been ordered to cut water consumption by a cumulative 25% between June and February, compared with that period two years earlier. Individual districts were given their own requirements.
According to state figures, Newport Beach, which serves 66,219 customers, managed a 21.4% reduction in December, up from 15.5% in November, and it has ramped up enforcement efforts to help boost water savings.
Preliminary city numbers show Newport's water savings for January at about 23.2%, which is closer to the target but still not enough to move its cumulative reduction in line with the state goal.
However, the state's regulatory changes could soon provide Newport and other suppliers with some relief.
The state is expected to reduce conservation targets for many Orange County water districts because many of them receive a large portion of their supply from the Orange County Water District's groundwater replenishment system, according to George Murdoch, Newport Beach's utilities manager.
The system, which started operating in 2008, is a water-purification project that can produce up to 100 million gallons of water every day, lessening the county's dependence on imported water from Northern California and the Colorado River, according to the Orange County Water District website.
Though it hasn't been officially determined how much of an adjustment Newport Beach could receive, Murdoch said that based on the city's slight population growth and the use of the groundwater replenishment system, his calculations put the city at a 21% reduction, down 7 percentage points from its current target.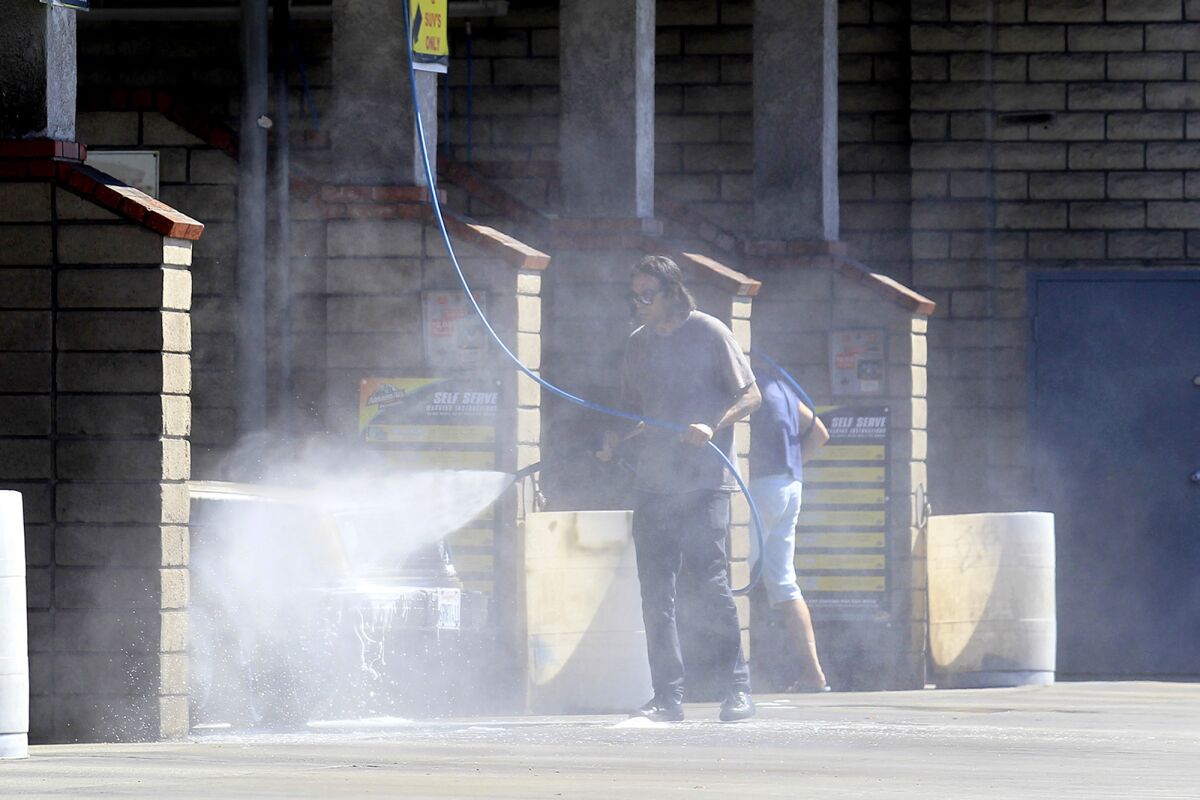 At the city's current rate of conservation, "that would … put us right on target," Murdoch said.
Mesa Water District, which serves 108,000 customers in Costa Mesa and portions of Newport Beach, also could get some relief from the state agency. The water board assigned Mesa a 20% reduction target, but the district managed only a 15.1% cut in December, state data show.
However, preliminary district numbers show it achieved a 39.8% reduction in January, which would put it ahead of its state goal.
Mesa officials in December prohibited outdoor watering for all customers except those living in single-family residences, who are permitted to water on Saturdays. Outdoor irrigation remains the largest source of water use in the district, officials said.
General Manager Paul Shoenberger said he anticipates Mesa Water's goal will be adjusted to about 12%.
"We are confident that through our customers' good actions, we'll be able to meet the new goal as well," he said.
The Irvine Ranch Water District, which serves 390,318 customers in Irvine and portions of Newport Beach, Costa Mesa, Lake Forest, Orange, Tustin and unincorporated areas, reduced its water use by 13.1% in December, according to state figures.
However, the district is surpassing its 16% reduction goal, having cumulatively cut its use by 17.5% since June.
--
Hannah Fry, hannah.fry@latimes.com
Twitter: @HannahFryTCN
---