45% rise in Costa Mesa's homeless population, survey finds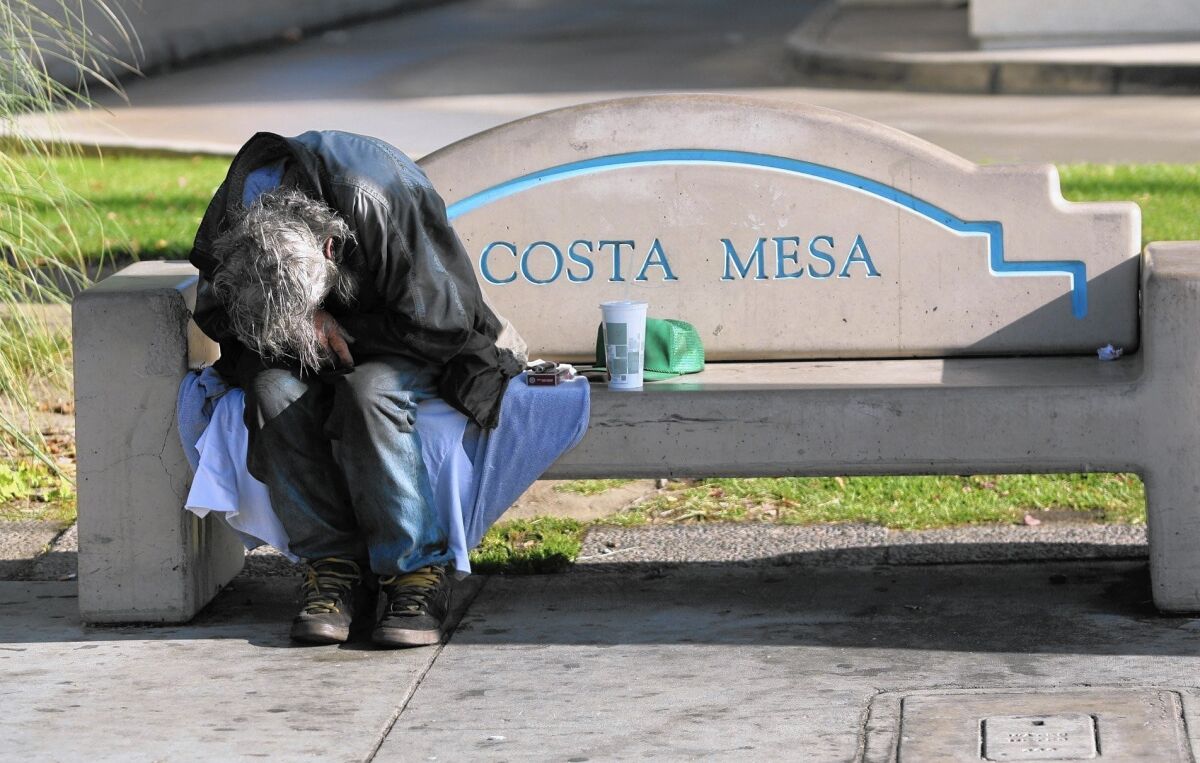 Costa Mesa's homeless population has increased 45% in two years, according to Vanguard University survey results presented to the City Council this week.
Volunteers with the Costa Mesa Christian university's YOU Count program recorded 158 homeless people on Costa Mesa's streets in late October, compared with 109 two years earlier.
City officials, homeless advocates and Vanguard sociology professor Ed Clarke pointed to different explanations for the increase.
Rick Francis, an assistant city chief executive, called the rise "significant," though he added that the number of homeless fluctuates constantly, making it impossible to pin down as people go in and out of temporary housing.
Francis said City Hall believes that dropouts from sober-living facilities and the effects of Proposition 47, a measure passed by California voters in 2014 to reduce some crimes from felonies to misdemeanors, have contributed to the uptick.
Costa Mesa is a regional hub of the sober-living and rehabilitation industry, home to more than one-fourth of all state-licensed facilities in Orange County and to at least 100 more homes where residents live in drug- and alcohol-free settings.
Francis said city officials have seen operators drop off failing clients in local parks.
"They're not always going back to wherever they came from," he said. "We know that's happening.
"When we ask people where they're coming from, they say they were in rehab."
Officials also are seeing a demographic shift in Costa Mesa's homeless population: younger people, addicted to drugs and more aggressive, Francis said.
"They tend to bunch up in motels," he said, and many are resistant to aid.
Homeless people also tend to congregate near retail centers where they can ask for money or steal, Francis said. That's one reason Wilson Park saw an uptick in crime and homeless activity last year, he said. The park is near Harbor Boulevard motels and the Harbor Center.
Many of Costa Mesa's homeless, however, do have ties to the city.
The city's homeless database, last updated Dec. 31, identified 122 people as Costa Mesa residents. That demographic receives the bulk of local aid, Francis said.
Clarke also called Costa Mesa's homeless increase significant, but said it was predictable. Vanguard has been monitoring the homeless population since 2008.
"All communities are dealing with this problem of homelessness," he said. "All communities are creating strategies, and those strategies, I think, are honest and intending to help manage what they see as a problem."
Costa Mesa, he added, could be absorbing homeless people from other cities.
"If it becomes less comfortable to be homeless in one adjacent community, the likelihood is that the population is going to shift," Clarke said.
Rising rents and fewer inexpensive motel rooms — often a last-resort form of housing — also are factors, he added.
Motel residents "are generally poor, lower classes that are struggling to try and keep a housing unit. The number of [motels] available for that population is being restricted to some extent," Clarke said.
He contended that no "coherent strategy" exists countywide to tackle the problem.
"Each municipality is taking on strategies that help them but are not necessarily strategies designed to reduce homelessness," he said.
But Francis told the City Council on Tuesday that though homelessness is on the rise, so is help.
With efforts from City Hall, local churches and nonprofits, 122 people have received housing assistance since 2013, he said. About half of them received their aid last year.
City staff spent 3,550 hours working on homeless issues last year, Francis said. Volunteers averaged 380 hours a month, he said.
Larry Haynes, executive director of Mercy House, a Santa Ana-based homeless assistance nonprofit, complimented Costa Mesa's efforts.
If neighboring cities addressed the problem like Costa Mesa has, he said, "I think regionally we would see an improvement."
---