Concordia University students give, and receive, lessons while tutoring homeless kids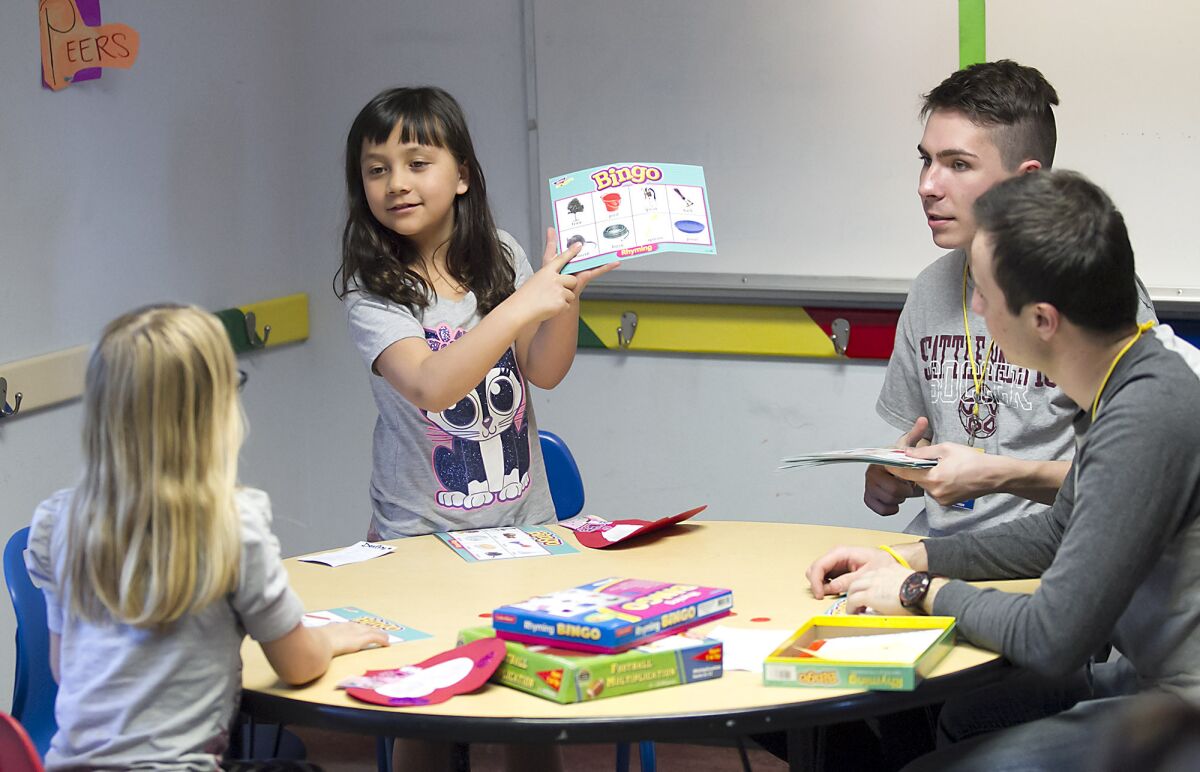 For students at Concordia University in Irvine, tutoring at the Orange County Rescue Mission's Village of Hope gives them a chance not only to teach children but also to learn from them.
Village of Hope, in Tustin, is a transitional living facility for homeless men, women and children from throughout Orange County.
Adults undergo an 18- to 24-month program in which they stay at the facility and participate in counseling, onsite chapel services and job readiness workshops and find and maintain a job outside the rescue mission. Then they search for their own housing.
The 85 children who currently live at Village of Hope are enrolled in the Tustin Unified School District, where they attend classes during the day and return to the village's tutoring center to do homework.
Under a six-year partnership between Concordia and Village of Hope, university students tutor the children in math, science and any other subject the young learners find challenging. The tutors are at the village every afternoon Mondays through Thursdays during the school year.
This week, Concordia students spent an afternoon cutting, folding and decorating red construction paper with the kids so they could make Valentine's Day cards for their families.
At the beginning of the school year, 23 university students signed up to make visits to the facility.
"I signed up because I have interest in being a teacher in special education," Concordia freshman Lizzi Hoover said. "I think the kids didn't have a lot of help for their schoolwork before coming here."
When Village of Hope was launched eight years ago, Orange County Rescue Mission President Jim Palmer knew many of its occupants would be single mothers with children.
"We know how to work with adults," Palmer said. "But children are different. One huge area of need is not just tutoring but structure in the tutoring that's dialed in on each student's specific needs."
According to the National Center on Family Homelessness, homeless children are four times more likely to experience delayed development and twice as likely to have learning disabilities, compared with other children.
When looking for partners to help operate the Tustin tutoring center, Palmer reached out to Concordia, a private Christian university.
He met professors of education Patty O'Connor and Barbara Morton, who Palmer said shared his concerns about the school performance of homeless children.
In 2010, the parties worked out an agreement — Village of Hope children would be aided by after-school tutors from Concordia, while the university's students would receive course credit for their work.
"All Concordia students are expected to serve the community in some way," said O'Connor, who with Morton oversees the tutoring sessions.
Palmer said the tutoring is mandatory for all Village of Hope kids, who range in age from 6 to 18. Most are elementary school age, according to Concordia students.
Concordia senior Anna Valazza began tutoring at Village of Hope in spring 2013 and has returned every school year since.
"There are kids who have been held back a grade, then you see their grades and ability increase because they're in an environment where they are surrounded by a support system," Valazza said. "And they've gone through things like homelessness, hunger, having their parents in jail, physical abuse and other intense situations that no kid should have to go through.
"Awhile back, one of the kids — he must have been in first grade — was struggling to just learn the alphabet and he really wanted to learn how to write his name," Valazza continued. "He finally wrote it at the tutoring center, and when he showed it to everyone there, we all clapped for him.
"These kids have been through a lot of tough experiences that I've never gone through, but they're overcoming it."