Suspension to be lifted for OCC student who recorded professor's anti-Trump comments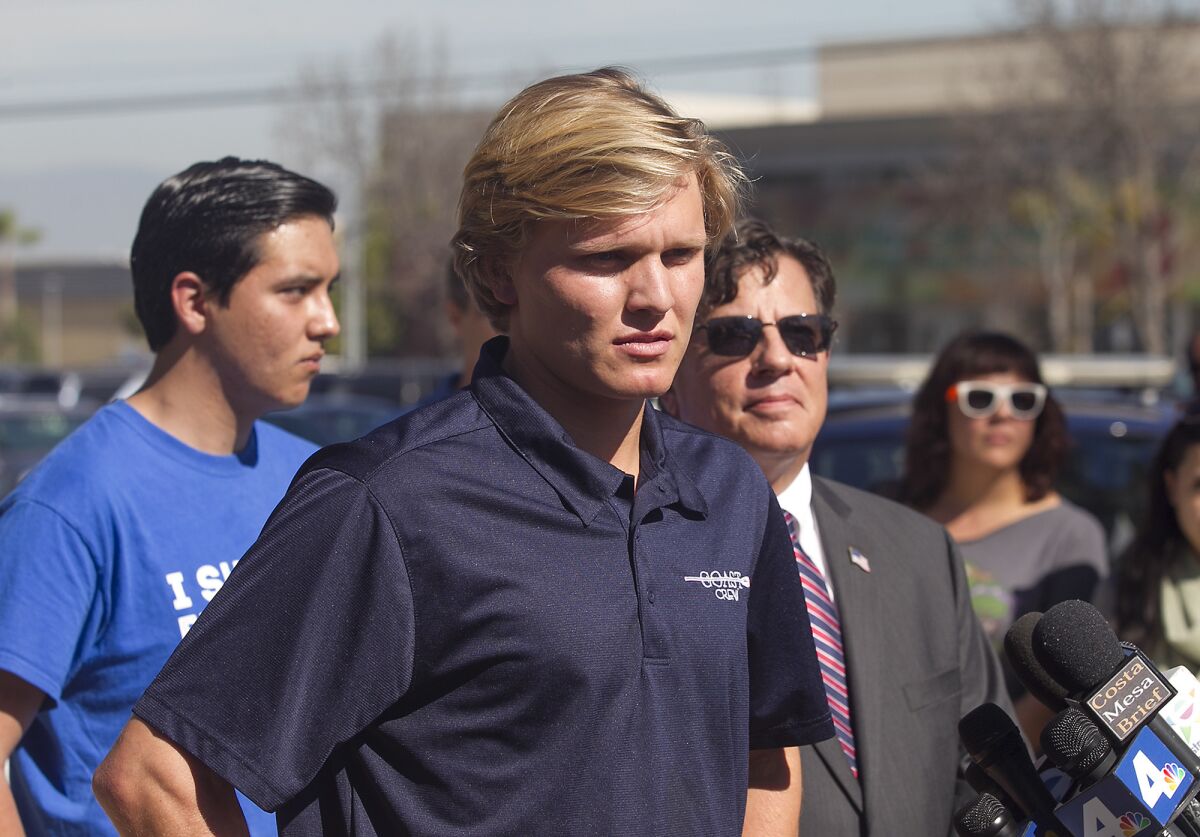 The Coast Community College District board of trustees has directed Orange Coast College to revoke its suspension of a student who secretly video-recorded his human-sexuality professor calling President Trump's election victory "an act of terrorism."
The student, Caleb O'Neil, "will continue to attend classes without interruption," according to a statement released Thursday by Orange Coast College.
The professor, Olga Perez Stable Cox, will not face any discipline and will teach classes this semester, according to the statement.
The statement said the decision was reached Wednesday at a special board meeting where trustees agreed to "bring closure to a chain of events that has led to the distress for many, most especially, an OCC teacher and student."
O'Neil's Nov. 15 recording of Cox was prohibited by the district's Student Code of Conduct and the California Education Code because he didn't have Cox's permission.
But, the OCC statement said, "without condoning the unlawful recording of a lecture, the student's desire to voice his displeasure is understandable."
"The student in this case felt he could not freely share his political views in a classroom, which is why he felt his only recourse was to record a lecture he felt was unfair," according to the statement.
"The teacher in this case felt she was sharing her views and responding to a student who voiced concerns about the political climate," the statement added. "Without condoning what was said, the angst and distress she has felt, as hundreds of hateful and threatening messages were directed at her, is understandable."
"It's time to move forward with increased empathy and understanding of the differences that have and will exist on a campus filled with individuals from an array of backgrounds who bring them a wide range of political views, religious affiliations and ideals," according to the statement.
O'Neil, a 19-year-old freshman business student and registered Republican, appealed his suspension last week. He was quoted by the college Thursday as saying: "I'm so happy. This is what I wanted — to continue in school and row for the crew team. I love OCC."
Joshua Recalde-Martinez, the former president of the Orange Coast College Republicans club who posted the video online, declined to comment Thursday. He said he and O'Neil were waiting to hear from their attorney.
In a letter Feb. 9, Victoria Lugo, interim dean of students at OCC, informed O'Neil of his suspension for one "primary (fall/spring) semester in addition to the summer" and other disciplinary actions, including that he submit a written apology to Cox and write a three-page essay on why he recorded Cox's class, how he feels about his footage going viral online and his reaction to its causing "damage to Orange Coast College students, faculty and staff."
OCC spokesman Juan Gutierrez said Thursday that "all the sanctions are lifted."
"The student has been in class during this process and continues to be in class with no interruptions," he added.
O'Neil and attorney William Becker of Freedom X, a Los Angeles-based law firm dedicated to "protecting conservative and religious freedom of expression," held a news conference Feb. 15 outside the college's administration building to discuss the incident.
O'Neil called Cox "a good teacher" but said she "directly attacked" conservative students like him.
"I was scared I'd have repercussions on my grades because she knew I was a Trump supporter," said O'Neil, who later added that he received an A in the class.
In his notice of appeal, O'Neil, a Newport Harbor High School alumnus, detailed his account of what happened in class Nov. 15, a week after Trump's election: "She ... went into how terrible the election was and how our nation had just been attacked. After two minutes of this, I pulled my phone out and started recording because I was terrified that my grade would drop to a B because I had missed the last Tuesday class for the election. ... She then said that we are back to being in a civil war. I felt as if all the eyes in the room were on me because in the past I have worn Trump gear and my signed Trump hat that I had gotten at the Anaheim rally."
In O'Neil's two-minute video, Cox spoke to her class about Trump and now-Vice President Mike Pence, saying: "Our nation is divided. We have been assaulted. It's an act of terrorism."
Cox, who is gay, referred to Trump as a "white supremacist" and to Pence as "one of the most anti-gay humans in this country."
The incident attracted national media attention after O'Neil shared his video with the Orange Coast College Republicans.
It created a nationwide debate between those who said Cox had academic freedom to express her views in a private setting and those who argued that her statements went too far.
Twitter: @VegaPriscella