Newport backs golf course operator's drive for a 50-year lease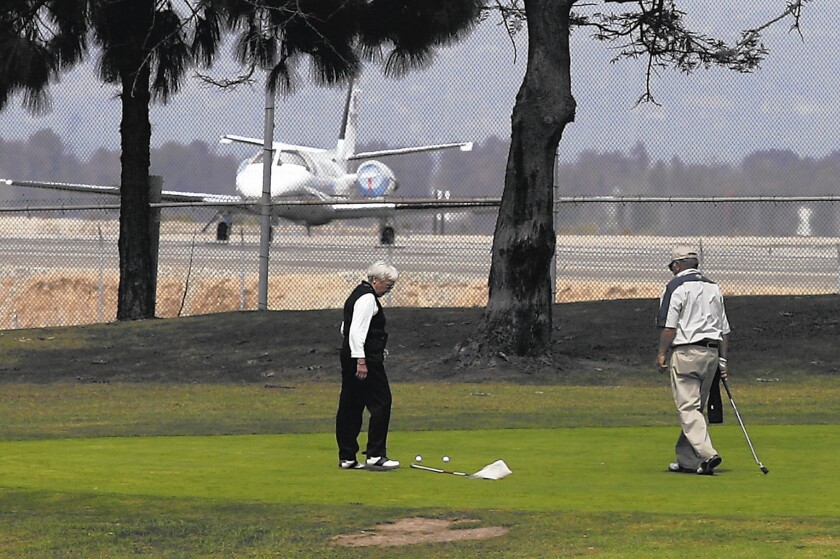 Newport Beach city leaders on Tuesday issued a letter urging the Orange County Board of Supervisors to give the new operator of Newport Beach Golf Course an extended lease.
The move aims to help the operator, Newport Beach businessman William "Buck" Johns, make improvements to the aging property while furthering the city's desire to keep growth at adjacent John Wayne Airport at bay.
Johns, president of Inland Energy Inc., asked the city to support his efforts to obtain a 50-year lease for the 18-hole golf course at 3100 Irvine Ave., which is partly owned by the county. Johns also will have to acquire an extended lease from the Irvine Co., which owns a portion of the land.
"The golf course is an important amenity for the region, as well as providing an important buffer against efforts that would expand existing runways at John Wayne Airport," Newport Beach Mayor Diane Dixon wrote in the letter to the county. "It has always been important to our community that the airport remain within the same footprint that it exists today."
The course has been operating in the space south of the airport, known as the "clear zone," for 40 years. In the past several years, revenue began to decline and expenses increased, resulting in a profit of just $80,000 in 2012 and a loss of $130,000 in 2013. Losses also were projected for 2014 and 2015, according to county documents. Financial figures for those years were not immediately available Wednesday.
In December, the Board of Supervisors voted to give Johns the remaining five years of the golf course's 10-year lease after the shareholders of NBGC LLC agreed to sell their interest in the course to his company.
According to Johns, a 50-year lease would enable him to start improvements to the greens and fairways, driving range, pro shop, restaurant, parking area and events room that are expected to total $4.6 million.
"The basic layout of NBGC has served it well for nearly 40 years, but its recent decline in maintenance and management has left it in need of serious refurbishment," Johns' proposal to the county states. "The basic components necessary for a successful facility are all there — a well-laid-out 18-hole, par-59 executive design, spacious driving range, restaurant and bar, pro shop and large parking lot. However, all of these components need refurbishment and, in some cases, outright replacement."
The upgrades are expected to begin this year but will need to be financed over a longer period to be economically viable, Johns wrote to the city.
Johns did not respond to a phone call seeking additional comment.
It is not clear when the Board of Supervisors might take up the issue.
---