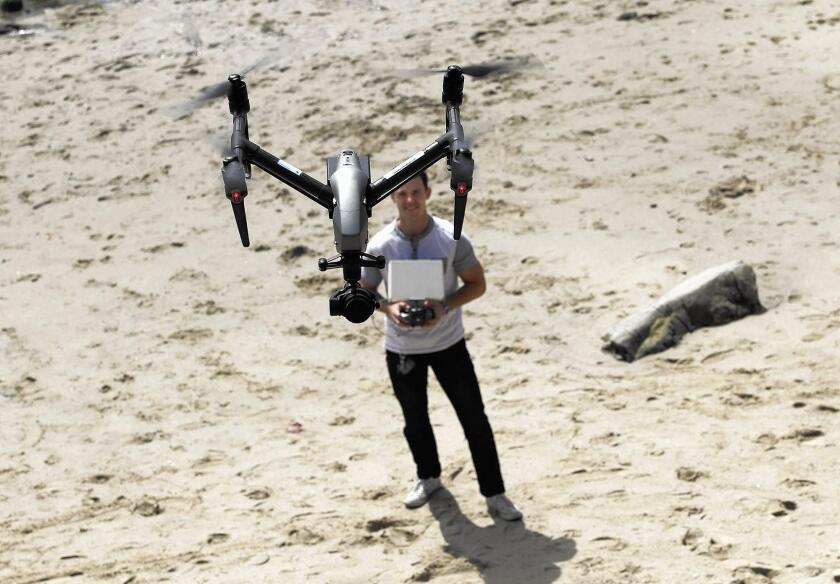 The proliferation of drones is prompting Laguna Beach and other Orange County cities to consider regulating use of the remote-controlled aircraft — which have a number of commercial uses but also generate safety and privacy concerns.
For real estate agents, drones can provide breathtaking images of the coastline and the more intimate interiors of a house. For filmmakers shooting commercials or movies, the coast can be a popular spot.
The Laguna Beach City Council earlier this week backed off from enacting an ordinance after a few commercial operators balked at its proposed regulations, characterizing them as overreach.
Join the conversation on Facebook >>
Laguna Police Chief Laura Farinella had proposed the ordinance after receiving several drone-related complaints in the last few years, including reports of the aircraft hitting people, disturbing pets and hovering near people in the buff, she said.
Farinella said she received one call from a resident who reported drones flying over an outdoor shower where his kids bathe.
"If someone is flying a drone close to you, I don't have a law that says someone can't do that," she told the council.
But the commercial drone pilots at the meeting said the problems cited by the city are covered under Federal Aviation Administration rules and suggested that all that's needed is more education.
"We share, as business owners, as commercial drone operators, your concerns about the people who are flying like idiots," Joseph Cockrell, a certified commercial drone pilot, told the council. "They make the rest of us look bad."
Farinella and the other city officials said they understood but wanted a mechanism for backing up the FAA rules.
"I do agree we have a problem here," said John Barrett, a Laguna Beach filmmaker and certified drone pilot. "The problem is not with the drones themselves. It's the fact our local police officers cannot enforce [FAA regulations]."
Huntington Beach encountered similar pushback from commercial operators when city staff in September proposed a drone ordinance, which the council denied, Assistant City Manager Ken Domer said Friday.
"It was prescriptive," Domer said of the proposed law, drafted in anticipation of the Breitling Huntington Beach Airshow to protect safety. Among other rules, the ordinance would have given the police chief authority to designate no-fly zones because of privacy or safety concerns.
Huntington Beach staff is providing feedback to the Assn. of California Cities — Orange County, which is developing a model ordinance that cities could use as a framework and tailor accordingly.
The association could not be reached for comment Friday.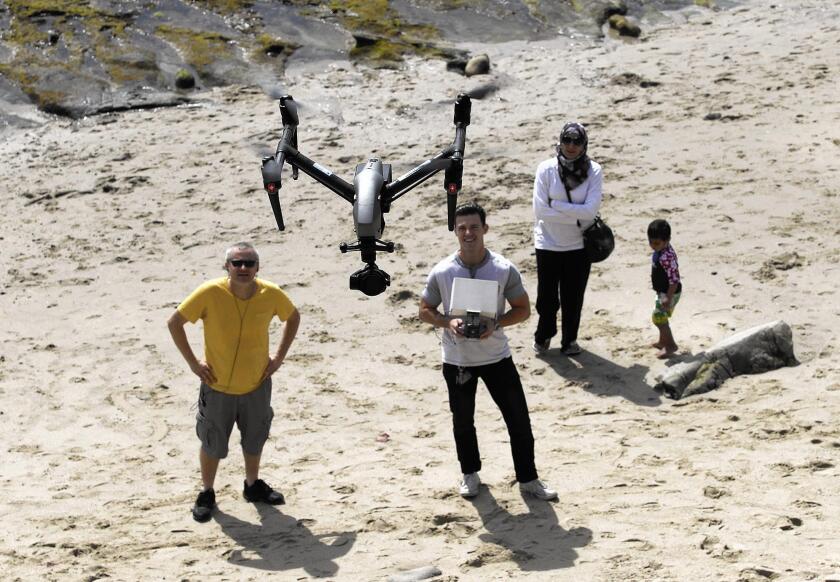 Consistency across jurisdictions is important, Domer said.
"If each city had its own unique drone ordinance, that would be confusing for drone operators," Domer said.
Costa Mesa doesn't have an ordinance specifically pertaining to drones, but it allows owners of electric-powered or radio-controlled model aircraft to operate their devices in a specific area of Fairview Park, provided they obtain proper permits.
Owners of drones, which can weigh as little as 8 ounces and as much as 55 pounds, must register them with the FAA, at a $5 charge.
Commercial operators must obtain a drone pilot's license from the FAA and adhere to guidelines that include keeping the crafts in their sightlines; flying them no more than 400 feet off the ground during daylight hours, or 30 minutes before sunrise to 30 minutes after sunset; yielding the right of way to other aircraft; and not flying over people.
Recreational operators aren't beholden to the daylight guideline but are expected to yield to manned aircraft, keep drones at or below 400 feet and not fly over people, stadiums or sporting events or emergencies, such as fires.
In an interview, Farinella said some drones locally have prevented operators of fire-retardant-dropping aircraft from doing their jobs.
Anyone who operates a drone unsafely or in violation of FAA regulations can face a civil fine of up to $27,500 per violation, FAA spokesman Ian Gregor wrote in an email.
The FAA has initiated several dozen enforcement actions nationwide, Gregor said.
"Our preference is generally to try to educate the pilot about safe operations," Gregor said. "If we can educate on the front end, we don't have to take enforcement action after the fact. However, we do not hesitate to take a strong enforcement action when the circumstances warrant it."
Noise from drones was also an issue for Mayor Toni Iseman.
"All of a sudden I could not hear the ocean," Iseman told fellow council members, referring to a specific incident. "All I could hear was the buzzing of the drone."
"If you are hearing the drone, someone is flying that drone illegally," Barrett said.
Drones are not allowed to fly over private property without permission, he added.
Laguna's council voted to have Mayor Pro Tem Kelly Boyd and Farinella meet with licensed drone pilots to see what can be done about drone misuse.
According to the rejected proposed rules, no drone user would have been able to operate the craft in a way that endangers life or property, interferes with a parade or motorcade, or threatens birds.
In addition, recreational drone flights would have been prohibited above certain areas such as Heisler Park, Treasure Island Park near the Montage Laguna Beach and all city beaches.
Currently, Laguna requires a permit for the taking of commercial photos, and drones are included under that requirement.
Twitter: @AldertonBryce
---