Law firm threatens to sue Costa Mesa, saying council election system dilutes Latino vote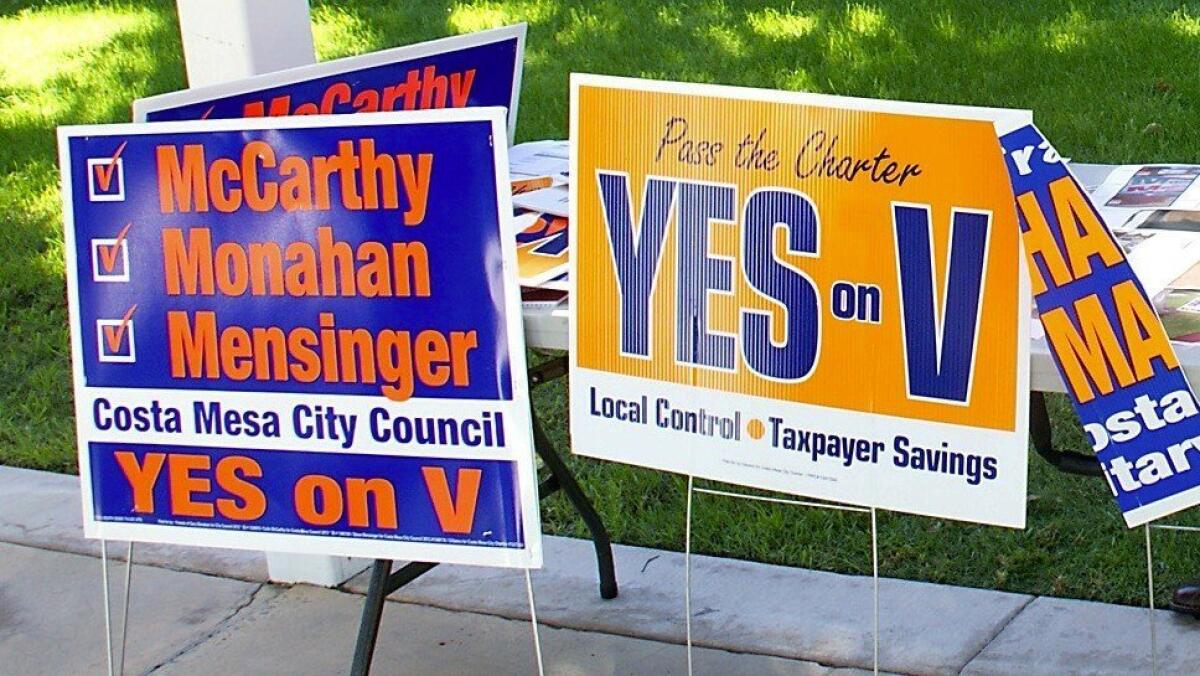 A Malibu-based law firm has threatened to file a voting-rights lawsuit against Costa Mesa unless the city scraps its at-large election system, according to a letter obtained by the Daily Pilot this week.
Costa Mesa city officials said they're still weighing the best way to move forward after receiving the letter from attorney Kevin Shenkman of the firm Shenkman & Hughes, which has been involved in several similar lawsuits in Southern California.
In his letter, Shenkman claims that at-large voting in Costa Mesa — in which City Council members are elected by a vote of the whole city rather than by district — violates the California Voting Rights Act of 2001 by diluting the ability of local Latino residents "to elect candidates of their choice or otherwise influence the outcome of Costa Mesa's council elections."
Should Costa Mesa not voluntarily move away from at-large elections, "we will be forced to seek judicial relief," Shenkman warned in the letter, which the city received Dec. 21.
City officials have been in contact with the law firm regarding the letter, according to Costa Mesa spokesman Tony Dodero, and council members discussed the issue in a closed session March 15.
Council members are expected to decide how to respond at a meeting next month, most likely April 19, Dodero said.
Two primary paths are open to the council: Move to district-based elections, in which council members would be elected to represent specific areas of the city based on where they live, or dig in its heels and risk a legal fight.
Mayor Steve Mensinger said he couldn't comment directly on the contents of the letter.
"The council is studying the issue currently in closed session," he said. "I don't think anybody's opposed to making sure elections are more inclusive."
Costa Mesa's next City Council election is scheduled for November.
The Newport-Mesa Unified School District uses district-based voting for its board elections, as do the Mesa Water District and the Coast Community College District.
Much like California Voting Rights Act lawsuits filed elsewhere, Shenkman alleges that voting in Costa Mesa's council elections is "racially polarized," with Latino voters supporting different candidates than the majority of the electorate. The power of Latino voters to elect their preferred candidates is diminished by the at-large system, Shenkman argues.
He said no Latino candidate has been elected to the Costa Mesa City Council, even though, as of the 2010 Census, Latinos made up about 36% of the city's population.
Shenkman said in an interview that he has met with local Latino residents who have "the attitude that their vote doesn't matter, so why bother registering (to vote)? Why bother turning out to vote?"
"You can certainly describe that as voter apathy, but when the system is set up such that their vote won't matter, then that voter apathy is really a very rational choice," he said.
California Voting Rights Act lawsuits have been filed or threatened against several other cities in Orange County, including Anaheim, Garden Grove, Fullerton and San Juan Capistrano.
All have since taken steps to move to district-based elections.