Newport's ExplorOcean merges with Discovery Cube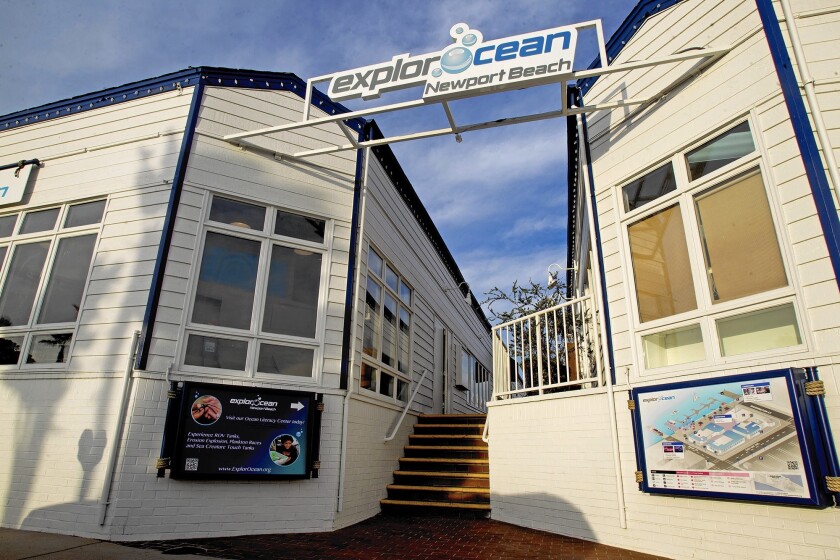 ExplorOcean, a marine educational center in Newport Beach, and Santa Ana-based Discovery Cube Orange County announced Tuesday that the two nonprofits have merged — a move some say could stimulate the marathon revitalization effort for the Fun Zone in Newport's Balboa Village.
As a result of the merger, ExplorOcean will become a satellite center for Discovery Cube, which could enable the organizations to expand their audience and energize ExplorOcean's prime Newport Harbor location known as the Fun Zone, which has struggled with its identity in recent years. Leaders of both organizations said the plan is to give the area a boost through exhibits and programs geared toward ocean-oriented STEM (science, technology, engineering and math) education.
"Both Discovery Cube and ExplorOcean have a shared mission to inspire students and families, educate them and create a positive impact on the community," said Joe Adams, chief executive of the Discovery Science Foundation, which raises money for Discovery Cube. "We see this as an opportunity to bring what we do best at Discovery Cube, creating exhibits and science-based educational programs, and infuse that with the programming at ExplorOcean to create a lasting legacy that everyone in the community will be proud of."
Seeing an opportunity to more rapidly expand their educational programs, ExplorOcean leaders began working on a partnership with Discovery Cube, formerly known as the Discovery Science Center, about eight months ago, said ExplorOcean Chief Executive Linda Mayer.
ExplorOcean served 40,000 students last year through field trips, in-class programs, exhibits, summer camps and a boat for hands-on ocean experiences.
Discovery Cube, which recently unveiled a 115,000-square-foot expansion in Santa Ana, draws about 600,000 people each year.
"It was a natural partnership to consider," Mayer said. "Discovery Cube has been very successful in the establishment of their STEM education programs, and they're looking to enhance their ocean-based programs. We have a great location and great ocean education programs, so our missions are aligned."
In 2005, ExplorOcean — formerly known as the Newport Harbor Nautical Museum — bought nearly two acres in Balboa Village, including the center's current building, the boardwalk and the marina.
ExplorOcean, the second-largest landowner in the area behind the city of Newport Beach, has been a key player in the transformation of the Fun Zone from a 1950s-style seaside carnival to a marine-focused educational facility featuring an Ocean Literacy Center.
ExplorOcean had planned to build a complex with an expanded Ocean Literacy Center with 4-D attractions, interactive exhibits and an ocean education curriculum to supplement marine studies in school districts across California, but it abandoned the plan in 2014.
"What we had to do as an organization to get the buildings entitled was too expensive for a nonprofit," Mayer said. "We decided it was best to focus on our mission and invest in our education programs."
Preservationists have lamented that all that's left of the nostalgic Fun Zone are the Balboa Bar ice cream treats, the vintage arcade and the iconic Ferris wheel, which sits in its original location overlooking the harbor.
The Scary Dark Ride is now administrative offices, the bumper car area is now part of the Ocean Literacy Center, and the carousel has been replaced by picnic tables to accommodate a nearby restaurant.
But ExplorOcean officials have insisted that a marine-focused educational center will bring the Fun Zone into the next generation.
ExplorOcean and Discovery Cube are expected to release their plans for the Fun Zone area by this summer.
The city's master plan for Balboa Village identifies ExplorOcean and the nearby Balboa Theater as institutional anchors that are crucial to the area's vitality. This month the city entered an exclusive negotiating agreement with Lab Holding LLC, the developer behind The Lab and The Camp in Costa Mesa, to work on a proposal to rejuvenate the theater property.
"The path has been a struggle, a challenge," Mayor Diane Dixon said of efforts in the area. "We want to honor the nautical history of Newport Beach and marry it with the future of oceanographic research, science and education."
---