240 apartments at newly named Baker Block called a key housing project for Costa Mesa
An in-the-works development that will add 240 apartments east of the 55 Freeway in Costa Mesa now officially has a name: Baker Block.
A few dozen people gathered Wednesday to unveil the name and celebrate the progress of the project at 125 E. Baker St.
Baker Block is a cooperative effort by CityView, an investment management and development firm, and Red Oak Investments, an urban redevelopment company.
Wednesday's ceremony took place at the project site in front of block walls and spires of rebar that will one day make up the project's six-story parking structure.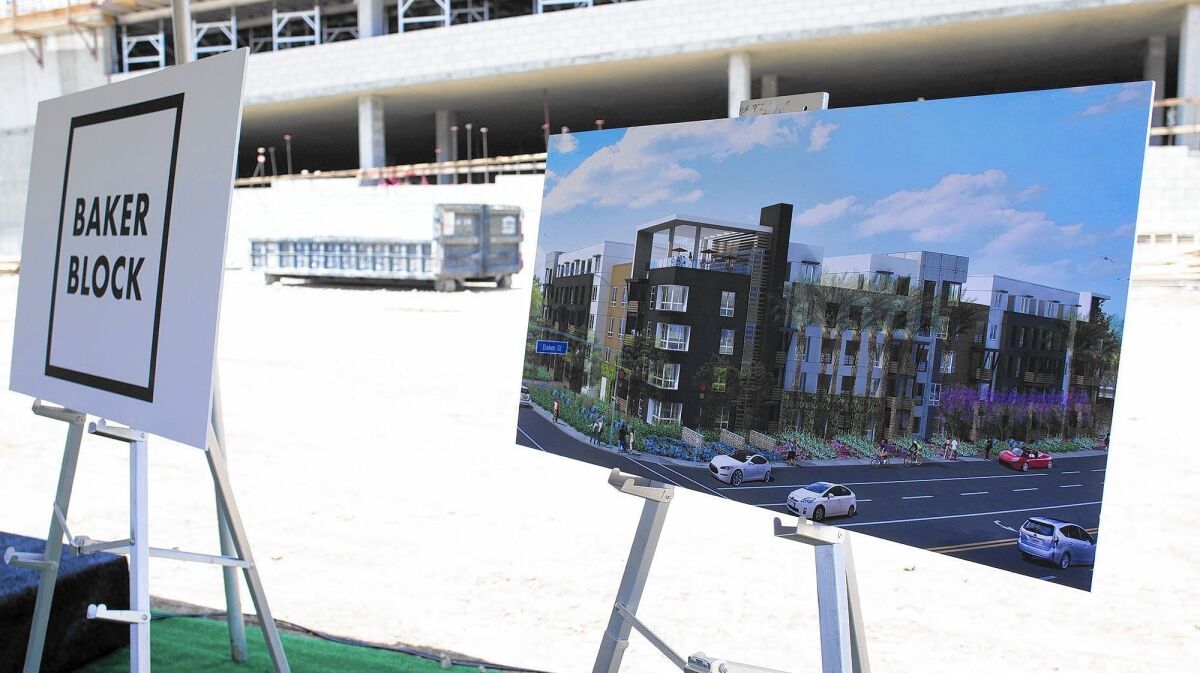 "What we're doing today … is much more than just bricks and mortar and framing and engineering and design," said CityView Chairman and co-founder Henry Cisneros, a former secretary of the U.S. Department of Housing and Urban Development. "It's creating a place where people can live."
When completed in mid-2017, Baker Block will include 240 apartments on 4.17 acres at the intersection of Baker and Pullman streets. The land previously was home to an office building known as West Airport Center.
Baker Block also will have amenities including a rooftop deck, a fitness center and a conference room, officials said.
"This is going to be what I call a 'cruise ship' of housing in the community," said Costa Mesa Mayor Steve Mensinger.
The project is the only Costa Mesa residential development east of the 55 in the business park area adjacent to John Wayne Airport.
Though work on it is moving ahead in earnest, the journey to Wednesday's ceremony wasn't always smooth.
The project attracted criticism as it wound through the city's planning process. Opponents argued that it was inappropriate to place housing in an area dominated by business parks and light industry.
Some business owners along Pullman Street and Briggs Avenue, across from Baker Block, said they were worried that the apartment complex would increase traffic and decrease their land values.
Costa Mesa First, a political action committee, has noted that Baker Block — because of its size and need for a zoning change — is the type of development the group's proposed growth-control initiative would have sent to local voters for approval had the initiative been law at the time.
The initiative will be up for a vote on the November ballot.
Mensinger, however, said the project will provide much-needed housing in Costa Mesa.
"Henry Cisneros said it best: 'You can't have job growth and not have housing,' " Mensinger said after the ceremony. "So we have to decide what we want to be. If you want to have good employers in your city, you want to have good incomes, you have to have housing. This meets those demands."
---