Organic pesticides, herbicides gain momentum in local schools, cities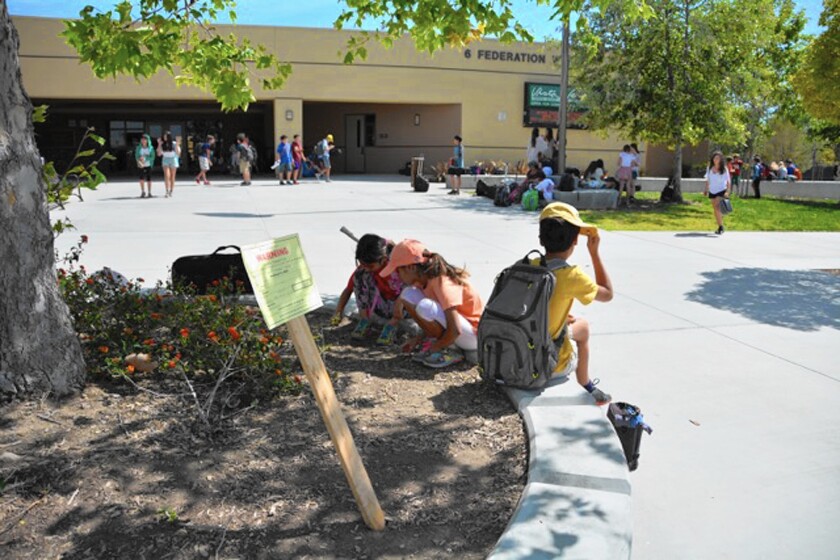 It's not easy to change something that's been done for years, but the Irvine Unified School District is exploring organic pesticides, herbicides and other lawn treatment options and is inviting others to see how they can do the same.
Irvine Unified and Non Toxic Irvine — a group that wants organic landscaping methods in parks, neighborhoods and schools — plan to present an organic lawn care workshop June 2, facilitated by Chip Osborne, president of Massachusetts-based Osborne Organics, and Jay Feldman, executive director of Washington D.C.-based nonprofit Beyond Pesticides.
The event at Irvine City Hall will welcome city employees and professional landscapers from throughout Southern California.
Among those planning to attend are the Newport-Mesa Unified School District's director of maintenance and operations, Rich Rebenstorff, and two other staff members.
Since August, Newport-Mesa has been using more mechanical methods — trimming or pulling weeds — and less herbicide application at the district's schools, especially on sidewalks, fence lines, parking lots and the spaces between buildings, according to Rebenstorff.
Larger areas like sports fields also are being treated mechanically, but district staff wants to look at alternatives, including pesticides and herbicides that are based on organic compounds instead of synthetic chemicals. Non Toxic Irvine and other activists fear the latter may have harmful health effects.
"People are becoming more vocal on the use of pesticides in schools, so we want to be innovative and address those concerns," Rebenstorff said. "As more product development is advancing, we're exploring those options, hence, why we're attending these workshops."
Staff members for the city of Newport Beach also plan to attend.
"As a parent, I am grateful for IUSD's willingness to listen to our concerns and put students' safety first," said Kathleen Hallal, a member of Non Toxic Irvine. "Change is hard, and both the school district and the city are showing themselves to be great leaders in Orange County in their openness to practicing less-toxic ways of maintaining beautiful grounds."
In February, the Irvine City Council approved the use of organic pesticides and herbicides on all city-maintained landscaping, including at parks, athletic fields and public buildings.
Irvine Unified's schools are using herbicides and pesticides generally recognized as safe by experts and the U.S. Food and Drug Administration, according to Joe Hoffman, the district's director of maintenance and operations.
Irvine Unified staff and Non Toxic Irvine have been discussing pesticide issues for about a year, Hoffman said.
A team consisting of the district, Non Toxic Irvine and a UC Irvine biologist has made Plaza Vista and Vista Verde schools in Irvine prototype sites where only methods such as weed trimming, pulling and mulching are used on the grounds.
Non Toxic Irvine has persuaded Irvine Unified and several homeowners associations to stop using certain products containing glyphosate, which the World Health Organization deems a "probable carcinogen."
According to Hoffman, Irvine Unified stopped use of the weed killer Roundup, which contains glyphosate, in April 2015. The product is the most commonly used herbicide in the country, according to the Environmental Protection Agency.
Newport-Mesa has refrained from applying Roundup since at least last summer, Rebenstorff said. He said organic herbicides are being tested at the district headquarters in Costa Mesa before they can be taken to schools.
For some Newport-Mesa parents, the new direction is a relief.
"You see these signs and you read that chemicals are being applied to the playground and fields kids are playing on every day, and over time it starts to bother you," said Stefan Jeremias, whose children attend Woodland and Kaiser elementary schools.
Costa Mesa residents Jesse and Christy Logue, whose 9-month-old and 4-year-old daughters will eventually attend a Newport-Mesa school, became more concerned after seeing that their friend's 2-year-old had peeling skin. The friend also lives in Costa Mesa and her family spends a lot of time at parks on weekends, Jesse Logue said.
"[The baby's] feet looked blistered, like if you got a bad sunburn," Logue said. "So they think there might be a correlation" to landscaping treatments used in the parks, he said.
Christy Logue said she supports Newport-Mesa staff attending the June 2 workshop.
"There's so many alternatives, and until people know that there are better options, we're just being creatures of habit," she said.
The June 2 workshop will be held from 8 a.m. to 1 p.m. Municipal employees and professional landscapers can sign up at nontoxicirvine.org.
---