State Supreme Court to hear Banning Ranch lawsuit Wednesday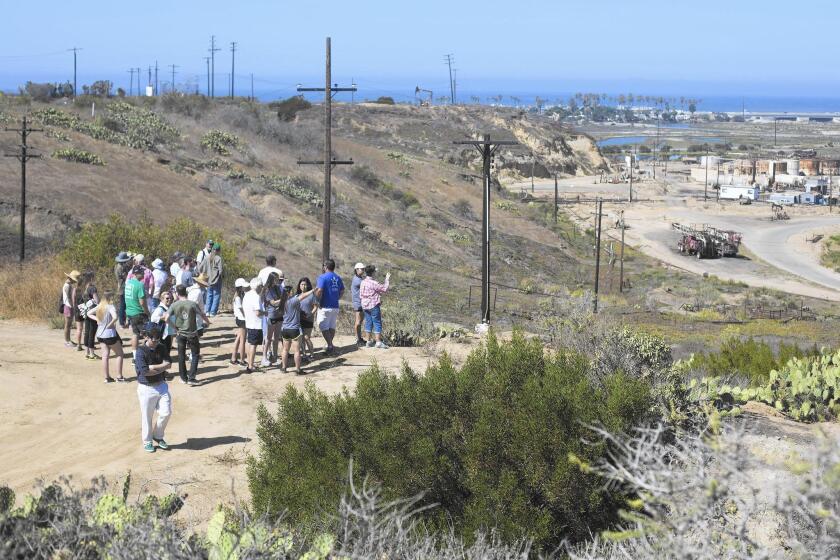 The California Supreme Court is scheduled to hear arguments Wednesday in San Francisco on a preservation group's lawsuit challenging the Newport Beach City Council's approval of a proposed development at Banning Ranch.
The Banning Ranch Conservancy, which seeks to preserve the sprawling coastal property in West Newport as open space, alleges the city violated its own general plan when, in 2012, the council approved a large residential and commercial development for the area.
The group contends the general plan prioritizes open space in West Newport and that city officials failed to work with the California Coastal Commission to prioritize sensitive habitat areas. The conservancy also alleges the project's environmental impact report was inadequate.
At the time, developer Newport Banning Ranch LLC sought to build 1,375 homes, a 75-room hotel and a commercial area on about 95 acres of the 401-acre property, which has been an active oilfield since the 1940s.
Newport Banning Ranch's plans were downgraded by September this year, when it looked to build 895 homes as well as the 75-room hotel, a 20-bed hostel and 45,100 square feet of retail space on 62 acres.
The Coastal Commission rejected that plan, and in November the developer sued in Orange County Superior Court, challenging the denial and requesting damages of at least $490 million.
The Banning Ranch Conservancy lawsuit was filed in Superior Court soon after the council's decision in 2012.
The following year, a county judge ruled in the conservancy's favor. City officials challenged that ruling, which sent the matter to state appeals court.
In May 2015, an appellate judge ruled in favor of the city and the developer.
The conservancy then appealed to the state Supreme Court, which agreed to review the case.
Banning Ranch Conservancy Executive Director Steve Ray said his group was always prepared for the lawsuit to reach the state's highest court.
"That was truly the only place where we could hope to win," Ray said. "We built our case upon arguments that will resonate in the Supreme Court."
He said the conservancy's ultimate plan is to acquire the property — whose market value is a matter of dispute — and manage it for public use.
Newport Beach City Attorney Aaron Harp contended that the city did an "exhaustive" environmental analysis of the property and that the court should defer to the city to interpret its own general plan.
A spokesman for Newport Banning Ranch LLC declined to comment.
The sides will receive 30 minutes each on Wednesday to speak to the court's seven justices.
The hearing is scheduled to begin at 9 a.m. It will be broadcast live on the court's website, courts.ca.gov/supremecourt.htm.
Twitter: @BradleyZint
---