Statue of fallen lifeguard Ben Carlson unveiled near Newport Pier
Exactly two years after Ben Carlson made what would be his final rescue as a Newport Beach lifeguard, his family, friends and fellow guards on Wednesday unveiled a statue in his likeness that will watch over the shoreline, just as Carlson did in life.
The Ben Carlson Memorial Statue, made of marine-grade stainless steel, now sits in McFadden Square near the Newport Pier, just steps from the Benjamin M. Carlson Lifeguard Headquarters, named in his honor in 2015.
Thousands of people packed McFadden Square on Wednesday evening to remember Carlson's legacy and honor his heroism. The crowd cheered as a gray sheet was pulled away to reveal the 9-foot-tall statue, which depicts Carlson clutching a rescue tube and fins in his left hand while his right hand shades his eyes as he gazes toward the ocean. His board shorts seem to ripple in the ocean breeze.
A big-wave surfer and skilled waterman, Carlson, 32, cherished the 15 years he spent protecting visitors and locals as a lifeguard in Newport Beach, according to his family and friends.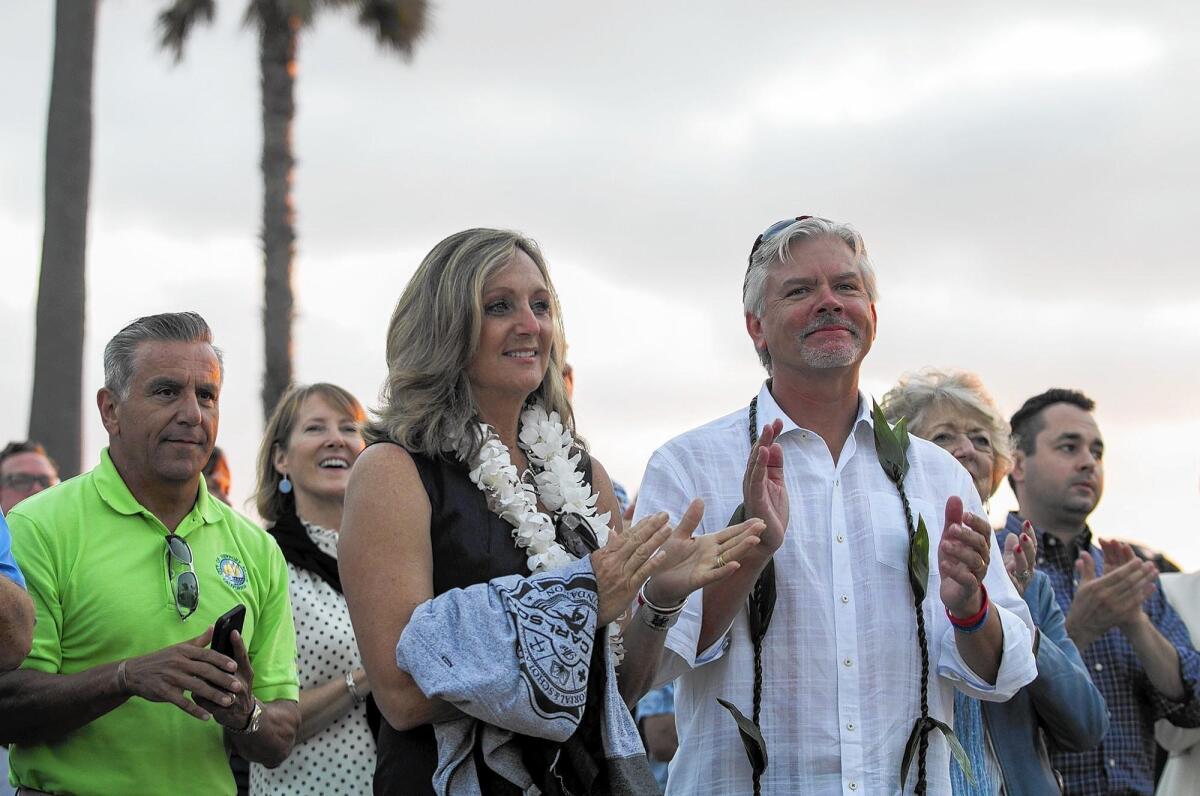 Carlson was well-liked among all who knew him, but he also was modest and never sought accolades, his friends said.
"If he were here watching this, he'd be laughing hysterically and pointing at us all," Skeeter Leeper, who worked alongside Carlson as a lifeguard, said during the ceremony.
The statue reaches a height of 11 feet on its stand, encircled with greenery and several plaques honoring the families and businesses whose donations brought the statue to fruition, as well as roughly 200 lifeguards who served with Carlson in his final year.
Jake Janz, an artist and Carlson's brother-in-law, designed the statue using 3-D imaging technology.
The journey to the statue's completion began two years ago, on July 6, 2014, when Carlson made a decision to leap off a rescue boat near the Newport Pier to save a distressed swimmer.
Lifeguards said Carlson acted without hesitation as he jumped into the surf and handed the swimmer a buoy.
Almost immediately, the ocean churned and a large wave slammed them underwater. The swimmer surfaced and made it safely to shore, but Carlson did not.
After a grueling three-hour search, his body was found near the Newport Pier. That day, Carlson became the first Newport Beach lifeguard to die in the line of duty in the department's nearly 100-year history.
Carlson's death resonated in a city with deep ties to its waterfront.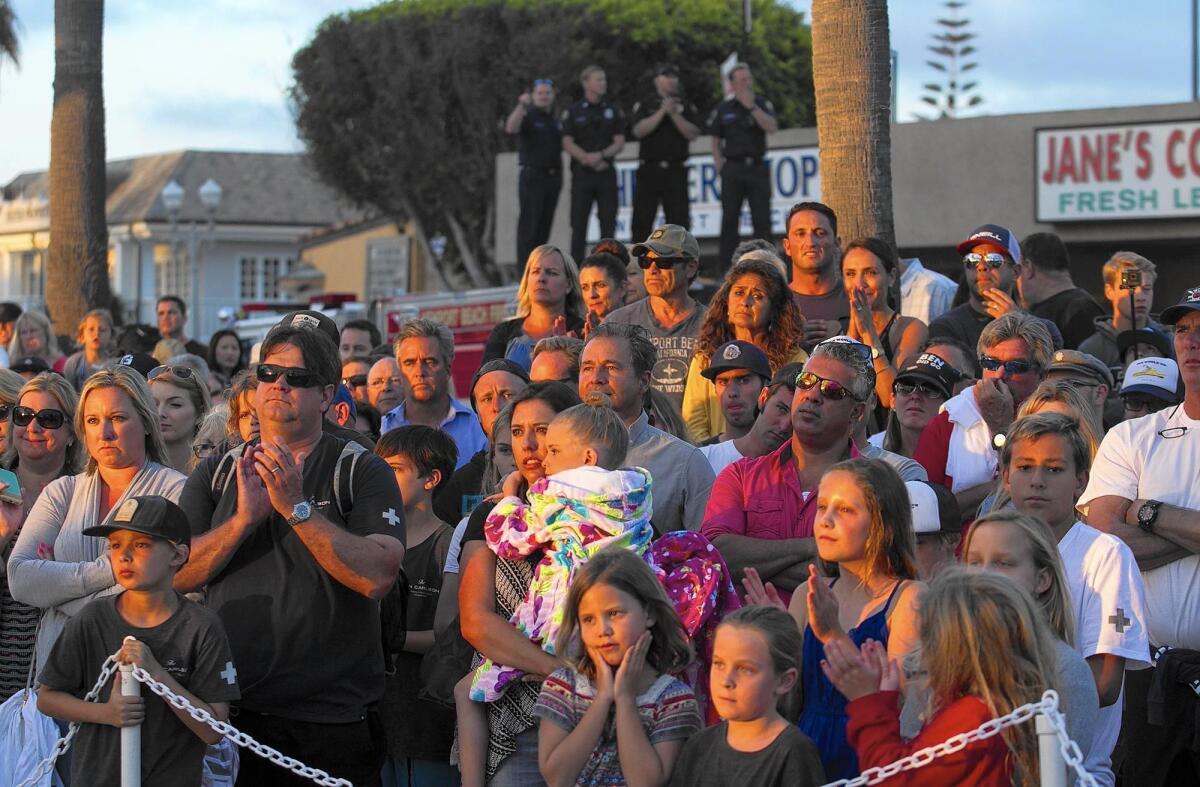 "He has taught us all to respect the ocean now more than ever," said Newport Beach lifeguard captain Rob Williams. "Ben and all of us are lifeguards for life and, in this case, lifeguards forever."
Carlson's family and friends formed the Benjamin Carlson Memorial & Scholarship Foundation after his death to promote awareness of ocean safety, help youths learn to swim and better understand the complexities of the ocean, and to raise money for college scholarships. So far, the foundation has awarded five scholarships totaling $40,000.
The foundation, made up of lifeguards, members of Carlson's family and his friends, came up with the idea for the statue to preserve the late lifeguard's legacy and act as a reminder of the dangers of the ocean for all who visit Newport Beach.
"Our family believes we will see Ben again someday. But until then, having this statue that we can all visit and remember him by lifts our spirits and means the world to us," said Carlson's sister Stephanie Janz. "Thank you for letting Ben forever stand in the city that he loved so much and remain in our hearts a hero."
---