Gunwhale microbrewery focuses on 'coastal ales,' bold beers with a strong vibe
Gunwhale Ales, a new Costa Mesa-based microbrewery and taproom, is having its grand opening Nov. 19-20.
The 3,710-square-foot facility, which includes an outdoor patio, at 2960 Randolph Ave., Unit A, will be open from 11 a.m. to 8:30 p.m. Saturday and Sunday. The weekend festivities will also feature prizes, tours of the brewing operations and the Bear Flag Fish Co.'s food truck.
Gunwhale calls its brews "coastal ales" done in a brewing style that mixes European farmhouse tradition and "bold, West Coast styles that California made famous." Its focus is on yeast-driven Saisons, hoppy pale beers and other sour ales.
Gunwhale is opening with six varieties on tap. They include Chickabiddy, a farmhouse ale with a floral and mandarin citrus hop aroma; Landloper, a Saison with an aroma of hay and spice; and Jig Strike, a hoppy pale ale.
The business was founded by self-proclaimed beer geeks Justin Miller, former executive chef at Pizzeria Ortica in Costa Mesa who grew up in Newport Beach and Maui; J.T. Wallace, a Newport Beach native with a manufacturing background who focuses on the brewery's production; and Bobby Fitzgerald, a San Diego native and former product developer for Sony who handles Gunwhale's sales, branding, design and packaging.
Derek Testerman, formerly of Beach City Brewery in Huntington Beach, is the head brewer.
"A lot of heart and soul went into this place," Fitzgerald said during a preview event Thursday. "Literally, we built it with our own bare hands."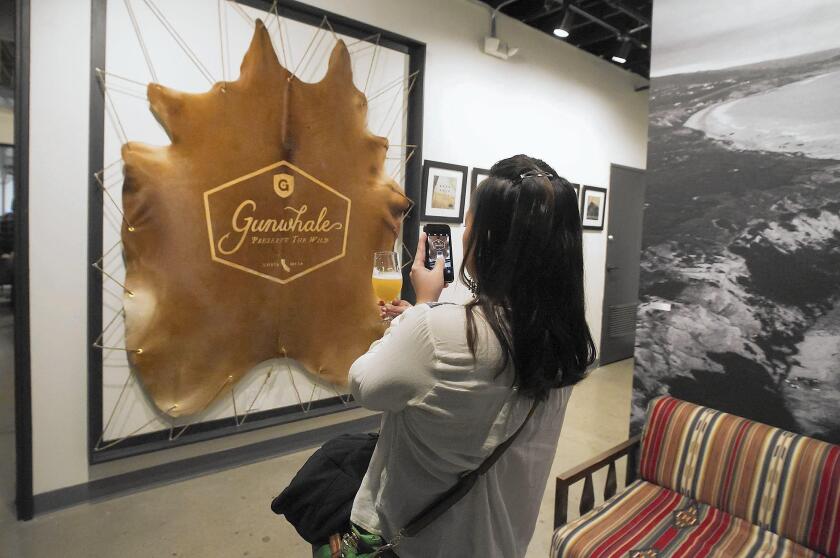 He pointed to the bar of finished wood, more than 100 years old, found in Old Towne Orange. Adding to the rustic decor were hanging ferns. Mounted on the wall was an antelope head, and nearby were tools a lumberjack, sailor or farmer might use: a pitchfork, saw, ropes with various knots. Outside, the patio was dotted with tree trunks being used as tables.
The brewing production room, located behind the bar, features a giant hanging American flag — size-wise, think of the opening scene from "Patton."
Fitzgerald said their goal is to make beer that's inspired by Orange County and "represents the lifestyle of what it's like to live here."
The name Gunwhale refers to the upper edge of a boat's side.
"We think our name is a curious, unique and memorable one, but we were most inspired by its use in the Old West," the company said in a statement. "The saying 'loaded to the gunwhales' meant overflowing and was slang for having tipped back a few too many fermented beverages."
Gunwhale is Costa Mesa's second locally based microbrewery, following the 2014 opening of Barley Forge Brewing Co. across the street.
---------------------
FOR THE RECORD
A previous version of this post stated that Gunwhale is Costa Mesa's second brewery. In fact, it is the city's second locally based microbrewery.
---------------------
Gunwhale's taproom is open Tuesday through Sunday. In addition to beer, the business serves tea and cold brew coffee from local vendors. Other than snacks, like chips and pretzels, Gunwhale does not serve its own food, but will have a Bear Flag Fish Co. food truck occasionally on site.
Twitter: @BradleyZint
---