A twist in the race for Assembly's 74th District as Karina Onofre edges ahead of incumbent Matt Harper in primary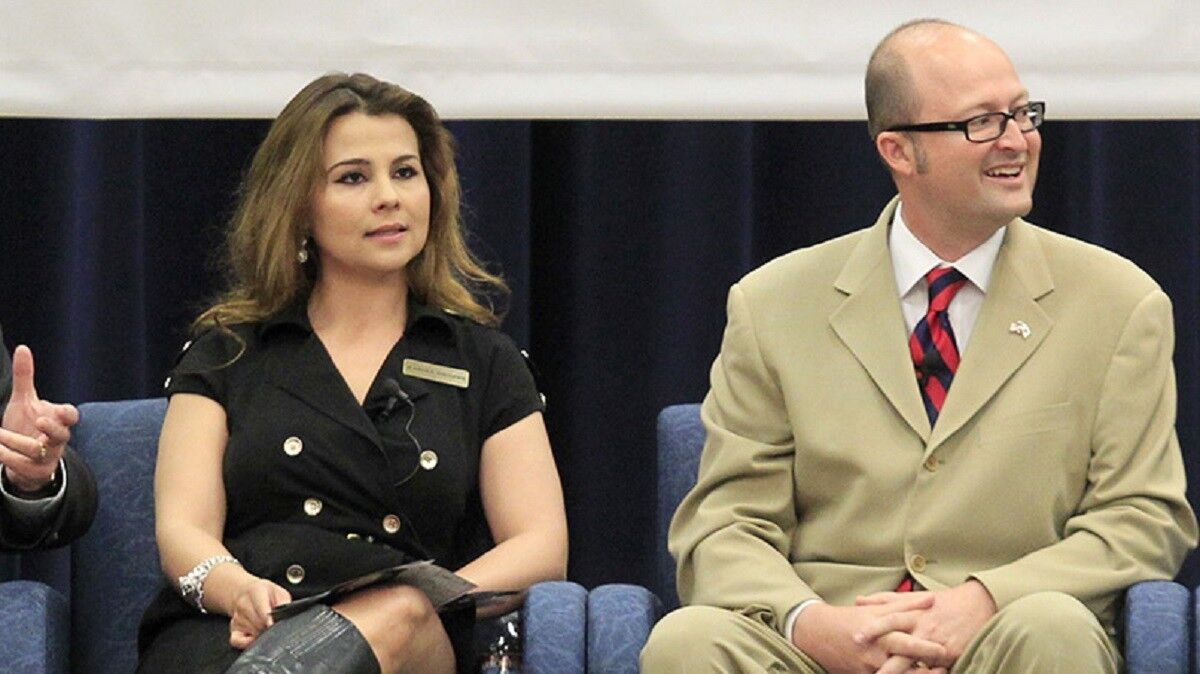 In what could signal the start of a heated campaign in the California Assembly's 74th District, Democratic challenger Karina Onofre captured nearly 3,000 more votes during Tuesday's primary election than incumbent Assemblyman Matthew Harper, a Republican and former mayor of Huntington Beach.
Onofre, an Irvine resident, received 34,114 votes, or 42.4%, to Harper's 31,233, according to county registrar results Wednesday afternoon, with all 284 precincts reporting.
Under California law, as the top two vote-getters, both advance to the Nov. 8 general election.
Republican candidate Katherine Daigle came in third, with 15,115 votes, or 18.8%.
The 74th District includes a portion of Huntington Beach, as well as the cities of Newport Beach and Costa Mesa.
Join the conversation on Facebook >>
Harper was first elected to the Assembly two years ago on a platform that included repeal of a climate change law on the grounds that it imposes unfair fees on greenhouse gas emissions such as carbon dioxide and methane.
Onofre, who changed her party affiliation from Republican to Democrat in 2014, challenged Harper for the 74th seat that year but failed to advance to the November election. She came in fourth in a field of five candidates.
In 2012, she ran unsuccessfully for Santa Ana City Council.
In a Facebook post early Wednesday, Onofre thanked God and her supporters for her strong showing.
"God bless all of you for coming out to vote," she wrote. "From the bottom of my heart, thank you. Now let's get ready for victory in November. Who's in?"
Harper said Tuesday night that he expected a strong Democratic turnout because the 74th includes the UC Irvine campus. He also noted that presidential candidate Bernie Sanders, senator from Vermont, had stirred Democratic support in general.
On Wednesday morning, he noted that the registrar still had an estimated 245,000 ballots left to count, which could even out the difference between Onofre and him.
Harper added that once voters know the differences between the two candidates, "I think I'll be able to consolidate support among Republicans and be able to reach out to 'decline-to-states' and reasonable Democrats who can appreciate someone who's more middle of the road."
Assemblyman Travis Allen (R-Huntington Beach) of the 72nd District held a commanding lead Tuesday against his closest challenger, Lenore Albert-Sheridan, a Democrat. The 72nd includes Huntington Beach, Fountain Valley and Seal Beach.
Allen got 35,062 votes to Albert-Sheridan's 20,067. Both advance to the November general election.
State Sen. John Moorlach (R-Costa Mesa) and U.S. Rep. Dana Rohrabacher (R-Costa Mesa), whose respective districts also include Huntington Beach, also had strong leads after Tuesday's election.
Moorlach, a former county supervisor and treasurer-tax collector, will face Democrat Ari Grayson in November.
Rohrabacher, first elected to Congress in 1988, will face Democrat Sue Savary of Newport Beach.
--
Bradley Zint, bradley.zint@latimes.com
Twitter: @BradleyZint
---