Immigration-reform walk to feature rally Friday in Costa Mesa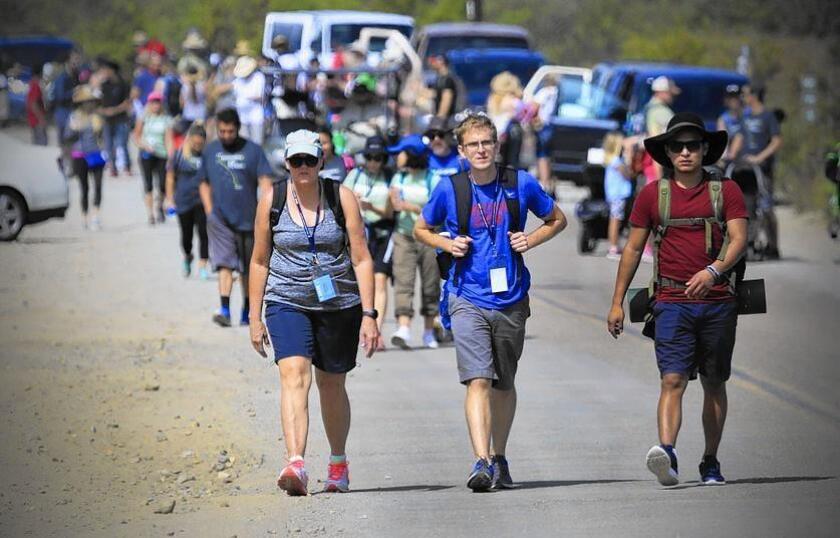 Immigration-reform advocates will rally at a Costa Mesa church Friday during a stop on a 132-mile march from the Mexican border to Los Angeles meant to promote solidarity with immigrants and to raise awareness of issues with current immigration laws.
The rally at The Crossing Church will come near the end of El Camino del Inmigrante, or The Path of the Immigrant, an 11-day journey organized by the Christian Community Development Assn.
Organizers say more than 100 people are participating in the event, which began Saturday at Border Field State Park, just north of the U.S.-Mexico border, and is scheduled to wrap up Tuesday in Los Angeles.
"We must confront the injustice of our current immigration policy," Noel Castellanos, president and chief executive of the Christian Community Development Assn., said in a statement. "As leaders, we are choosing to publicly walk in solidarity to call out this injustice and highlight the often silenced voices of suffering immigrants and their families."
Among local participants in the event is Westside Costa Mesa resident Christine Nolf, who walked during the first day of the event and plans to rejoin it Friday.
Though she has long advocated for comprehensive immigration reform — such as a path to citizenship for undocumented immigrants already living in the United States — Nolf said the issue has become more personal over the years.
"I've gotten to know neighbors, particularly here in Costa Mesa, that are undocumented and have been a part of our community for years and years and a part of our community that contributes and yet still are living in the shadows," she said Wednesday.
Events like El Camino del Inmigrante, she said, draw attention to the need for reforms and help address misconceptions people may have about the current immigration system.
"I think there's a lot of fear, a lot of misunderstanding about the current system and how broken it is," she said. "People say things like 'Get in line,' and I don't think people understand there's not a line to get into."
Participants and organizers will stage Friday's rally at 7 p.m. at The Crossing, 2115 Newport Blvd.
The theme of the rally is "Strangers No More," according to Monica Curca, communications and media manager for El Camino del Inmigrante.
"We're trying to shift the narrative," Curca said. "We want to look at how do we become neighbors. How do we embrace our neighbors? That's what Jesus called us to do — welcome the immigrant and the stranger."
Immigration has at times been a heated topic in Costa Mesa. The city grabbed headlines in recent years for some of its policies, such as the City Council in 2010 declaring Costa Mesa a "rule-of-law" city in support of upholding immigration laws. The city worked with U.S. Immigration and Customs Enforcement to check the immigration status of crime suspects, and an ICE agent was stationed at the city jail for that purpose. Many undocumented suspects were turned over to ICE.
"We removed 1,300 criminals from our community because of that effort," Allan Mansoor, a council member at the time and now a candidate in this year's council election, told the Daily Pilot last week. "It was a wide range of criminals — burglars, robbers, drug offenders, sex offenders, the whole nine yards. Those are serious crimes, and the community was safer because of it."
The ICE agent left the jail in 2010 after the federal agency adopted a program that used fingerprints to check immigration status.
For more information about El Camino del Inmigrante, visit ccda.org/events/el-camino.
--
Luke Money, lucas.money@latimes.com
Twitter: @LukeMMoney
---