Laughter fills parents' memories of Brock McCann, who was struck and killed by a trash truck
Murphy McCann tapped a keyboard to pull up the next picture of his son and burst out laughing when the boy's face, smeared with chocolate, appeared on the computer screen.
"Look at that guy," he said, smiling.
Eight-year-old Brock was mugging for the camera, lips puckered, fingers contorted into a goofy gesture pointing at the audience.
"He's a hambone," said his mother, Bernadette McCann.
Brock had a penchant for cake, they said. He'd tasted it for the first time at a birthday party for his only sibling, Jack, who's now 10.
"He got a whiff, his mouth opens this big," Murphy said, holding his fingers about five inches apart. "He can stuff a piece of cake into his mouth that's half the size of his head."
"I started cracking up," Murphy said.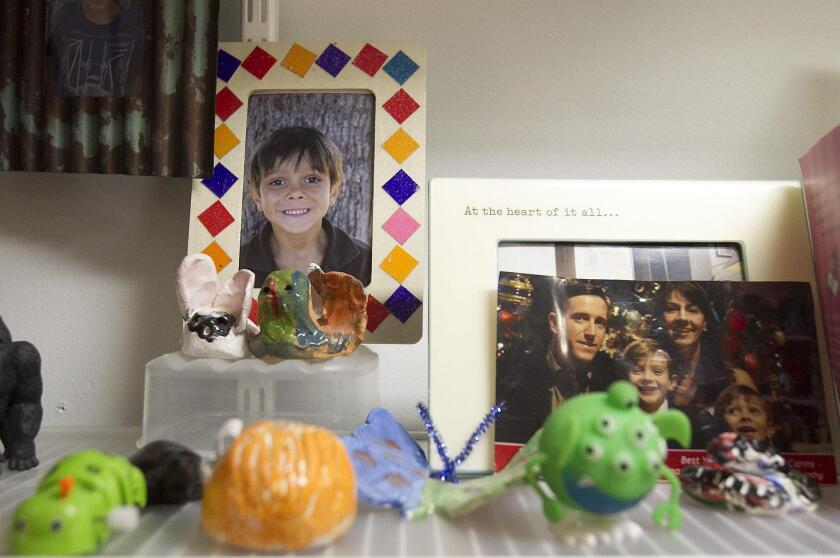 Even in simple experiences like trying new food or howling with laughter at a "Tom and Jerry" cartoon, Brock had a way of enjoying life and pulling his family along with him as he did, according to his parents.
"As tiny as he was, he could fill this whole house with his belly laugh," Bernadette said.
For about two hours Tuesday night, the McCanns flipped through photos and videos of Brock as they built an album to be displayed at his memorial service Saturday.
Six days before, Brock had been riding his bicycle home from Newport Heights Elementary School when he was killed. A trash truck struck him at the intersection of 15th Street and Michael Place, one block north of Irvine Avenue. He was about halfway home.
When classes ended around 1:15 p.m. May 25, Brock smiled at a crossing guard, wished her a nice day and pedaled away, according to friends and his family.
Police have yet to piece together exactly what happened next. But the crash left Brock's small bike pinned under the truck's cab and his body lifeless on the asphalt.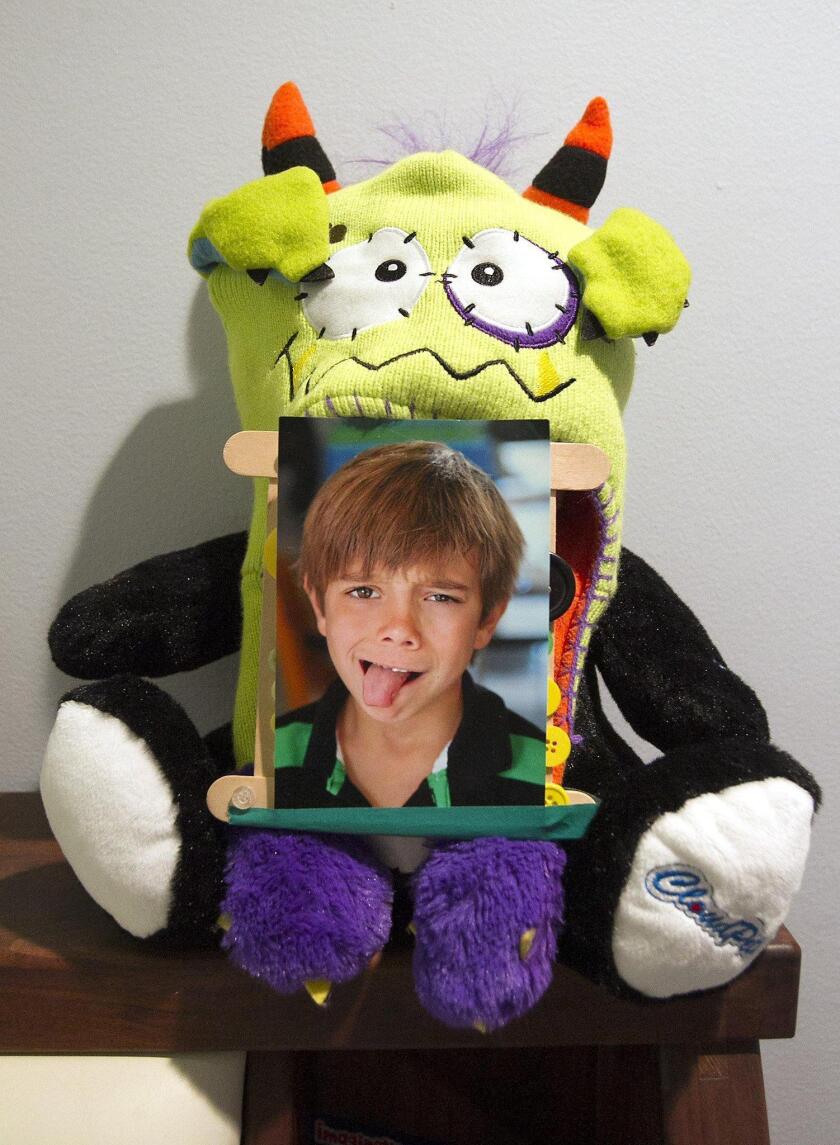 Since then, the family has lived minute by minute, Murphy said. Tuesday, he said, offered moments of composure during which he and his wife were able to reminisce about their youngest son.
"I really wanted to just grow old," Murphy said before his voice caught. He covered his face for a moment before he could speak again.
"I wanted to grow old with the guy."
Each picture sparked a new story: Ray Charles dance parties, acrobatics on the backyard trampoline and Nerf gun raids through the family's Newport Beach neighborhood.
Brock was small for an 8-year-old, but he possessed outsized athleticism.
When his father taught him to do a flip on the trampoline, he was intent on getting better each time he performed the trick.
Murphy admired his son's form as he tapped through a rapid-fire series of photos showing Brock spinning through the air.
On the football field, Brock managed to chuck accurate passes to receivers, even though he couldn't see over the linemen protecting him.
At home, Brock would mastermind his team's strategy when he and four or five friends would take on his father in a game of basketball. As soon as Murphy touched the ball, the kids would swarm, latching onto his legs and arms like Velcro.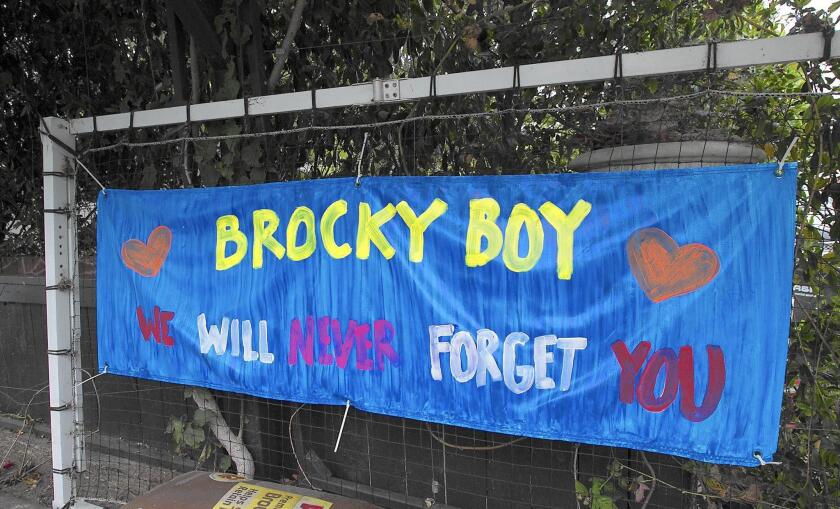 The games quickly devolved into laughter as Murphy tried to hoist a three-point shot with children hanging from every limb.
On Tuesday, the McCanns' home was full of friends bringing food and refilling drinks. They'd chip in with jokes or funny stories about Brock, relentlessly smiling.
But the mood eventually turned somber.
The week before his death, Brock had asked about heaven, Bernadette said. The afternoon of the crash, as authorities told her not to go to the scene, that flashed into her mind.
"My child was asking about heaven days before. He was afraid. I need to hold his hand," she remembers thinking at the time. "I can handle anything my child needs. I'm his mother."
But, she said, law enforcement begged her to stay away from the intersection. Brock had suffered such massive injuries that bystanders said it was immediately clear he was dead.
My child was asking about heaven days before. He was afraid. I need to hold his hand. I can handle anything my child needs. I'm his mother.
Bernadette McCann
"My heart was like, 'I need to be there with my child,' " Bernadette said Tuesday.
As she started to cry while telling the story, Murphy sat down behind her, pulled her close and rested his head on her shoulder.
Bernadette said she decided to stay away once she had assurances that Brock wasn't by himself.
"A priest on the scene promised he would not leave him alone," she said. "And we just went to church and prayed for him to reach God's hand."
In the McCanns' photos, Brock was surrounded by people more often than not. He sought out neighbors, classmates and, most of all, his family, the couple said.
He craved attention from the people he loved.
"It was trauma for him not to be cuddled ... until he literally fell asleep," Bernadette said.
The night before his death, Brock insisted on climbing into bed with her.
"Thank God, because he crawled in and we cuddled until we were both long asleep," she said.
--
Memorial service
A memorial service for Brock McCann is scheduled for 10 a.m. Saturday at St. Andrew's Presbyterian Church, 600 St. Andrews Road, Newport Beach.
Donations to help his family may be made to the Brock McCann Fund at gofundme.com/brockmccann. The fund had raised nearly $66,000 as of Wednesday afternoon.
--
Twitter: @jeremiahdobruck
ALSO
Boy killed by truck in Newport identified, remembered as 'smart' and 'sweet'
8-year-old boy's death spreads sadness through Newport
---