Mystery petitioners reappear in Newport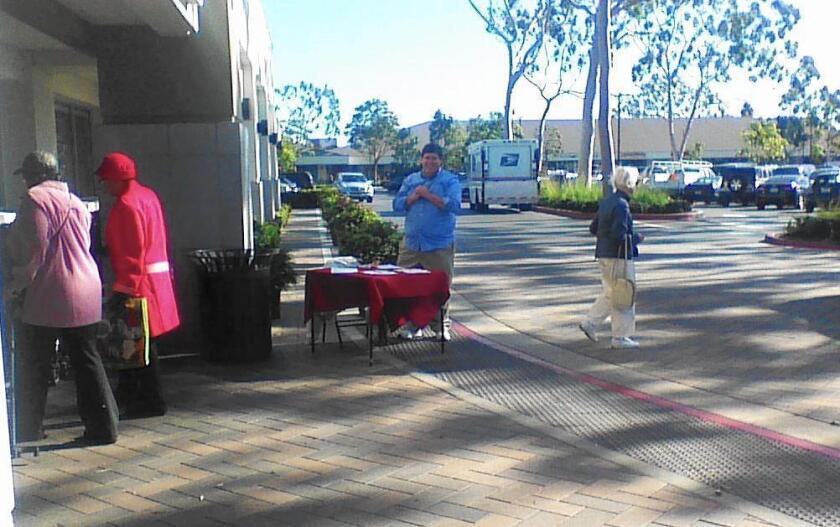 Two unidentified men who caused a stir in Newport Beach last week when gathering signatures related to the planned Museum House development returned Wednesday.
On Friday, residents reported seeing a man at a table outside the Ralphs supermarket in Newport's Westcliff shopping center gathering signatures opposing Museum House.
On Wednesday, he and another man — who also was with him Friday — were again outside the store, this time asking people to rescind their signatures supporting a referendum effort aiming to overturn the City Council's approval of the 100-unit, 25-story condominium tower in Newport Center.
The referendum drive, sponsored by local activist group Line in the Sand, needs 5,800 verified petition signatures of local voters by the end of the month to potentially bring the matter to a public vote.
When a Daily Pilot reporter approached the men Wednesday, they declined to give their names or say who they were working for.
In a video a resident sent to the Pilot on Wednesday, one of the men is seen debating with passersby, one of whom called the man's tactics "a trick."
In the video, the petition and fliers the man was distributing were clearly marked as sponsored by OCMA Urban Housing LLC, an affiliate of Related California, the developer of Museum House.
"We acknowledge that we are responsible for the materials that carry our name," Ron Demeter, a spokesman for Museum House, said in an email. "That way, people know clearly who is funding what they are reading."
However, he said he doesn't know who was circulating the materials Friday and Wednesday.
Around 12:30 p.m. Wednesday, a security manager with the Irvine Co., which owns the Westcliff center, approached the two men and told them about the company's rules regarding petitions, including that organizers must register beforehand.
"Those wishing to engage in free-speech exercises, such as signature gathering, at Irvine Co. retail properties must follow the shopping center's content-neutral rules for that type of activity," Irvine Co. spokesman Bill Lobdell said in a statement. "In this case, those rules — which align with state and federal law — weren't followed."
The men left shortly after speaking with the security manager.
Over the weekend, OCMA Urban Housing distributed door hangers urging Newport residents not to sign petitions opposing Museum House.
The hangers alleged that Citizens Against High Rise Urban Towers, a Santa Ana-based nonprofit that has produced mailers and TV ads opposing the project, is funded by "dark money" — funds given to nonprofits that don't have to disclose the source of the funding.
Demeter reiterated that Wednesday.
"Whose secret money is funding this campaign?" Demeter said. "Who stands to gain from hurting Museum House and the city of Newport Beach? That's the real story here."
Mark Rosen, an attorney with the group, has said it is funded primarily by Newport Beach residents who have signed other petitions against Museum House. He said he is unaware of the group's other financial backers.
---