Art museum and developer weigh next moves after Museum House condo project is halted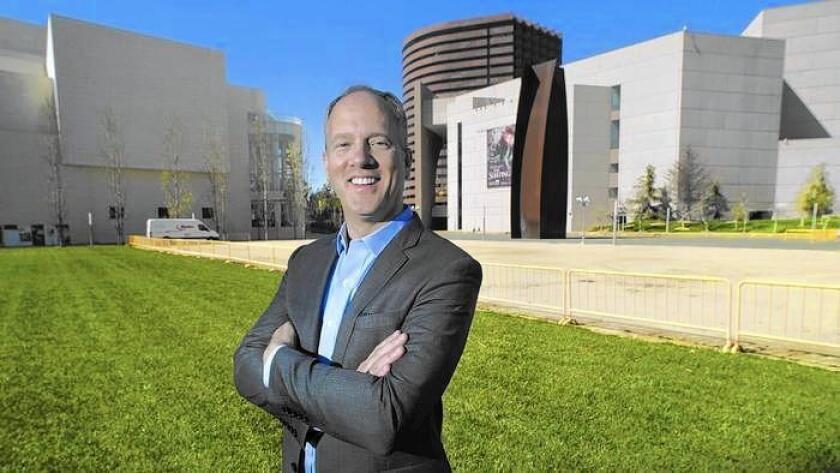 The chief executive of the Orange County Museum of Art said Wednesday that his organization will continue its effort to move to Costa Mesa despite the Newport Beach City Council's decision Tuesday night to halt a development plan the museum had hoped would provide funding for the move.
Todd Smith said OCMA is "disappointed" by the council's vote to rescind its earlier approval of Museum House, a 25-story, 100-unit condominium tower proposed by developer Related California.
A Newport Beach activist group seeking a referendum on the project had collected enough signatures to get its petition certified. But rather than call an election for this year or 2018, the City Council opted to revoke the development's approval, which the council granted last year.
The exception was Museum House's environmental impact report, a decision that activists fear may open the door for the project to return.
OCMA had planned to sell its Newport Center property at 850 San Clemente Drive to Related and apply the proceeds toward building a new museum at Costa Mesa's Segerstrom Center for the Arts.
A Related California representative declined to say Wednesday whether the company will abandon Museum House or submit another proposal to City Hall.
Smith declined to comment about OCMA's ongoing lawsuit that alleges the referendum petition violated state elections code. It's unclear how OCMA's complaint, filed Jan. 6 in Orange County Superior Court, may affect the future of Museum House.
The petition, sponsored by the group Line in the Sand, was certified by the Orange County registrar of voters office in January, causing Museum House to circle back to the council for consideration of scheduling an election or rescinding the approval.
Line in the Sand has argued that Museum House would set a bad precedent for more high-rises in Newport Center and contribute to increased traffic.
The council's vote Tuesday was 5-2, with members Scott Peotter and Will O'Neill dissenting.
The two said they wanted Museum House to go to a public vote, as Line in the Sand's effort intended.
Councilman Jeff Herdman introduced the motion to rescind Museum House's approval. The motion originally had no backers, but it gained support among Herdman's colleagues following a public comment period in which several residents accused the council of not listening to the people.
Among them was Dene Stratton, who said the council needed to "crawl out of the sewer."
"We delivered lots of signatures," he said. "You're still fighting this? Are you ethical? We're wondering if you're crooked. Honest to God, we are."
After calling Line in the Sand's signature campaign full of "fake facts," Councilman Marshall "Duffy" Duffield scoffed at some speakers' notion that showing support for the project would hurt council members' chances of staying on the panel. Duffield, who voted for Museum House last year, is up for reelection in 2018.
"You don't want me here? I'm gone. So don't be threatening me," he said.
Duffield added that the Museum House debate has been "a nightmare."
"I wish I could close my eyes, open them and it would all go away," he said. "But that's not gonna happen."
Councilman Brad Avery, who, along with Herdman and O'Neill were not on the council when the project was approved in November and December, said he liked the Museum House proposal and felt it would be a good fit for Newport Center.
"But basically, everything else that followed it I didn't like," he said, calling the contested signature effort "a bit of a horror show."
Councilwoman Diane Dixon thanked all sides for their efforts and said she hopes "we will have all learned from the process how to handle disagreement."
The Related California representative said Wednesday that the company is disappointed by the council's decision and will be watching OCMA's lawsuit to see if it affects the validity of Line in the Sand's referendum effort.
During the referendum process, the company spent more than $435,000 fighting Line in the Sand, much more than the $91,645 the activist group allocated for its campaign.
Museum House's 100 units were to be priced between $2 million and $4 million each.
Line in the Sand called the council's vote "a direct result of the strength of voter feedback" indicating disapproval of Museum House.
In a statement Wednesday, the group said "nearly a quarter of all Newport Beach registered voters expressed concern with the council's prior approvals by signing the petition in less than two weeks."
It also said it "wants to thank the thousands of Newport Beach voters who took the time to engage in the conversation about this project with the developer, city staff, the Planning Commission and City Council through letters, phone calls and meetings, and ultimately exercised their right to call for a public vote to decide this single political question through the referendum process."
An election, which Line in the Sand said "would yield only a foregone, and wastefully costly, conclusion," was anticipated to cost between $95,000 and $4.3 million, depending on the amount of paperwork that needed to be printed on the sample ballots.
Susan Skinner, an activist with Line in the Sand, said Wednesday that she is not dropping a lawsuit she filed Feb. 21 in Orange County Superior Court alleging the city did not properly implement its Greenlight Initiative, a growth-control measure passed by local voters in 2000, when it approved Museum House.
"If, as expected, the court upholds the validity of [Line in the Sand's] referendum petition against the Museum House, there will be no need for this lawsuit to go forward," Skinner said. "It is merely an insurance policy against the unexpected event of a successful challenge of the referendum petition."
Twitter: @BradleyZint
---