Trump campaign pays Costa Mesa over $15,000 for costs of policing April rally
Donald Trump's presidential campaign has cut a check to the city of Costa Mesa for more than $15,000 to cover some of the costs the city racked up for policing an April 28 rally at the OC Fair & Event Center that sparked a massive protest that snarled traffic and left police cars vandalized.
On Friday, the city received a check for $15,655.81 from the presumptive Republican nominee's campaign as reimbursement, according to city spokesman Tony Dodero.
Thousands of people flocked to the event, easily filling the 8,500-seat Pacific Amphitheatre. Hundreds of backers were turned away as the amphitheater reached capacity.
After the rally, protesters flooded the streets near the fairgrounds, blocking traffic. Some police vehicles were damaged as demonstrators smashed their windows or jumped on top of them.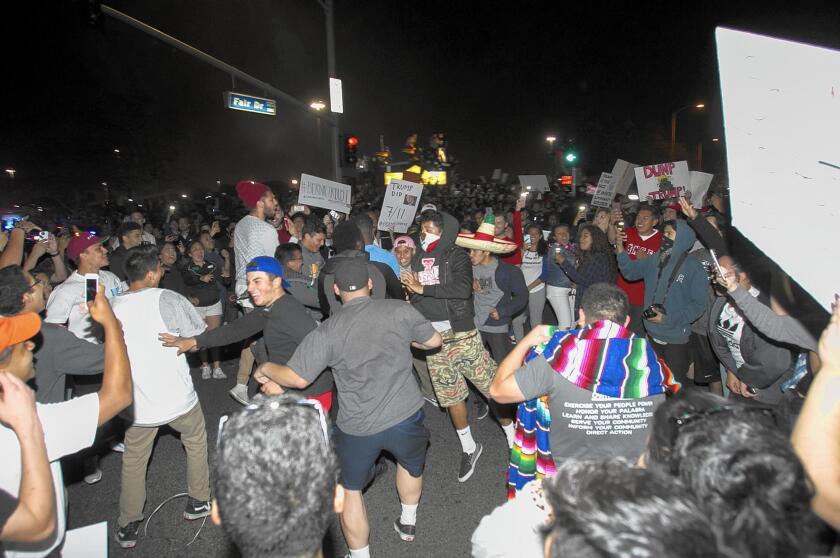 There also were reports of minor scuffles and shouting matches on the fairgrounds property.
All told, the city incurred nearly $47,000 in costs related to the event, Dodero said.
The city "determined that the significant costs and challenges that resulted after the event and outside" the fairgrounds "were part of the protest and not part of the event itself," according to an emailed statement from Dodero.
Therefore, "the city only requested that the campaign reimburse the city for ... $15,655.81" for the cost of additional officers and overtime that the event required, Dodero said.
The cost for Trump's campaign to use the Pacific Amphitheatre for the rally was $39,670, according to the rental agreement.
Members of the Orange County Fair Board later apologized to Costa Mesa residents who were adversely affected by the rally and its aftermath.
--
Luke Money, lucas.money@latimes.com
Twitter: @LukeMMoney
---