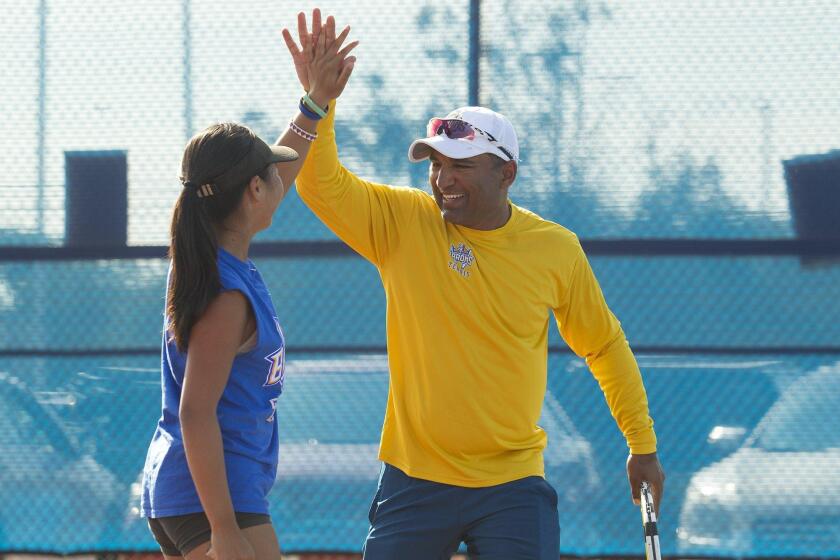 The best girls' tennis team in the Sunset League this season doesn't have the most tradition.
Heck, the Fountain Valley High girls' tennis team didn't even have its own courts to begin the season. They were being resurfaced. The Barons played matches at Seal Beach Tennis Center and practiced at Orange Coast College and La Quinta High, basically wherever Coach Harshul Patel could find available courts.
"We didn't have a great start, but we all believed that something great was going to happen if we kept working hard and stuck to the game plan," Patel said.
Something great indeed is happening for Fountain Valley, which is in position to earn its first league title since 1991. The Barons had a big week last week, when they claimed 12-6 victories at home against both Newport Harbor and Los Alamitos, the last two teams to capture the league title.
Fountain Valley, which has finished tied for second in league each of the last two years, was 9-5 and 6-0 in league through Wednesday. Junior Hanh Pham, the two-time defending league singles champion, looks ready to make it three in a row as she has a perfect 18-0 record in league. Senior co-captain Katie Ho, who played mostly doubles the last two years, is 17-1 in league in singles this season.
Only Pham is what you might call a star player. But on this team, every role player seems to be playing her role to perfection. And the belief seems to be growing every match.
"It was very unexpected wins against Newport and Los Al," said senior co-captain Clarissa Htay, who plays at No. 2 doubles with junior Vikki Nguyen. "In the beginning, our team was kind of iffy. There were new people on the varsity team. Then, I guess we practiced hard and we brought it together and we beat them. After winning against those two schools, it brought the team closer. Now we really want first in league, league champions."
Kayla Korhonen, a Newport Harbor transfer, plays at No. 1 doubles with fellow senior Jane Nguyen. The No. 3 doubles team is junior Aozora Ito and senior Briana Lau, while junior Sharon Chen plays at No. 3 singles.
That's five seniors in the starting lineup. They want to finish out their high school career with some history for their school. Twenty-five years since the last league title is a long time.
"Throughout my high school experience, I felt like we were sort of the underdog," Ho said. "We didn't have enough push to make it ... we didn't have enough of a push to strive to be No. 1. This year, our coach really pushed us to be the No. 1 team in league, and I think that's what really brought together the whole team."
Patel, in his sixth year as head coach, calls the Barons "legit," but adds that they're not a "superstar team." When the CIF Southern Section released the new competitive equity playoff divisions prior to the start of the season, Fountain Valley was the 38th team — of 38 — in Division 1. A ranking just percentage points lower, and Fountain Valley would have been a CIF title contender in Division 2. The Barons narrowly lost to Beckman, the top-ranked team in Division 2, by a 10-8 margin early in the season.
Still, Fountain Valley is a factor in Division 1. The Barons are ranked No. 10 in the division in this week's polls. And they plan to keep working hard as the regular season winds down. The second time through league, the matches against Newport Harbor (Oct. 20) and Los Alamitos (Oct. 24) are both on the road.
Ho believes she will be leaving the program in a good place.
"It feels really nice to know that we're a somebody now, not just like an underground school," she said. "We're slowly climbing to the top."
OILERS, SAILORS SET FOR SHOWDOWN
The Sunset League title in boys' water polo will more than likely be up for grabs Wednesday night, when Newport Harbor plays host to Huntington Beach at 5 p.m.
The two-time defending champion Oilers are ranked No. 3 in CIF Southern Section Division 1, with the Sailors at No. 7. Both teams improved to 2-0 in league Wednesday night, with Newport Harbor earning a 16-5 win over Fountain Valley and Huntington Beach blasting Marina, 23-2.
Before the Oilers won the league the last two years, Newport Harbor won five straight league titles from 2009-13.
NEWPORT'S MCKENNON WINS TOURNAMENT
I've been reporting on Newport Beach's Max McKennon and his success in junior tennis for a while now.
McKennon, 14, is growing up quickly. Last month, he started his freshman year at Newport Harbor High. I look forward to seeing him compete for the Sailors in boys' tennis next spring.
The talented lefty keeps doing well in his junior tournaments, too. Last weekend, McKennon won the boys' 16s singles title at the Cerritos Junior Open. He did not drop a set in five matches, beating No. 5-seeded Eric Silberman of San Diego, 6-2, 6-1, in the championship match.
--
Matt Szabo covers boys' water polo and girls' tennis in the fall.
Twitter: @mjszabo
---