Joe Surf: King Kelly still going strong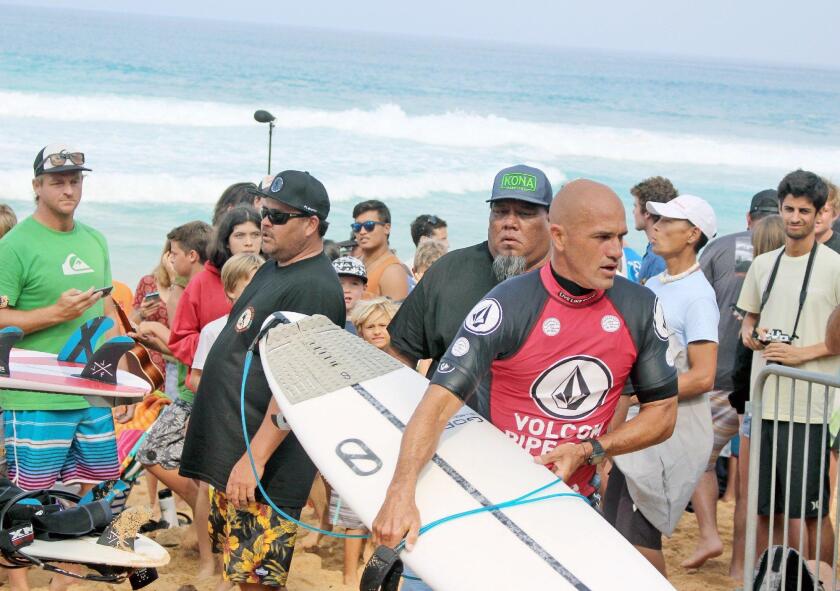 I'm not gonna lie.
I've interviewed MVPs and Hall of Famers from Major League Baseball, college football coaching legends, NBA superstars and Olympic gold medalists.
But as I stood near the athletes' check-in tent at the Banzai Pipeline on the North Shore of Oahu last week, I nervously shuffled my feet side-to-side in the warm Hawaiian sand.
I was waiting to interview Kelly Slater, the greatest surfer in the history of competitive surfing, owner of 11 world championships and still going strong even though he turns 45 on Saturday.
Slater had just surfed in his first heat in the Volcom Pipe Pro, an event he won last year. But this time, with the waves hitting 15-20 feet during his heat, he was up against another North Shore big wave legend in Bruce Irons and the up-and-coming Hawaiian Seth Moniz.
Irons and Moniz immediately got into the barrels of huge waves, both getting spit out and coming up with scores in the nine-point range. It set the tone for the heat as Slater ultimately couldn't find the right wave to make up the point difference. Moniz and Irons advanced and Slater's quest to repeat was immediately over.
Fans on the beach, though, didn't seem to care much. He was escorted to the athletes' tent by a huge Polynesian dude, did an interview with the World Surf League (WSL) webcast reporter, then began signing autographs.
Signing.
And signing.
By then, my sand-shuffling had dug a hole deep enough that the sand was damp. But after about an hour, Slater grabbed his board and motioned to go up to the Volcom House.
The Volcom House (there's actually two of them next door to each other) serve as the headquarters for the WSL operation, the media and the surfers themselves. There's a massage therapist and free Banzai Bowls, as well as a front-row seat to viewing the world's best surfers surf one of the world's biggest and best waves.
Slater of course was greeted by anybody and everybody hanging in the Volcom House yard. Finally, he agreed to chat with me. "Let's watch the surfing while we talk," Slater said, as we leaned on the short fence at the edge of the yard, overlooking the surf break.
CONFIDENCE BOOST
First thing I asked was about why Slater had considered winning the Volcom Pipe last year so important, other than simply ending a two-year drought without a contest title.
"It's tough because you get in your head a little bit," he said. "It's a different place than never having won a contest. Having won a lot of contests and then not win for a long time, it's really easy to overthink things and not just go with what you have trained to do and what you know.
"I feel like watching Tiger [Woods], I can understand how little confidence he's feeling right now, because I was definitely having a tough time building up my confidence the last couple years."
While winning the Volcom Pipe last year was big, Slater said winning the World Championship Tour (WCT) contest in Tahiti in August was even bigger. He also reached the semifinals in the WCT's final contest — the Pipe Masters — and ultimately finished the WCT season ranked No. 7 in the world.
SHOOTING FOR NO. 12
And that brought me to my next question. Slater had said he was going to give it one more try to win his 12th world title. He won his last title in 2011 at age 39, then finished second, second, fourth, ninth and then seventh in the five years that have followed.
So is this it for Kelly Slater?
"People took it that way, but it's not necessarily the case," Slater said. "But I may pull back and just not do any full years. I don't foresee myself stopping doing contests anytime soon, but that full tour thing might not be too appealing.
"If I feel healthy this year and give it my all and don't win, then I doubt that I'll do more full years. I feel like I've put in four or five years just now where I honestly didn't give a full effort. Not that I didn't try when I was in heats, but it's a lot of the preparation and mindset going into contests and being excited about it and finding a reason to want to win and to want to be where you're at, even if the waves are terrible or you feel sick or you're on the other side of the world and you have a family issue. You have to push past all that and want to be there and want to be prepared."
WHAT'S NEXT?
Whenever Slater decides to pull back from contests, he won't be wondering what to do with himself. He's got a variety of business interests, including his big venture into the man-made wave pool business with the Kelly Slater Wave Co.
"I got no shortage of things to do, I've got a shortage of time," he said. "I'll be pretty full-on busy as soon as I'm off the tour with more business-side stuff. Or I might even just pull back from that completely and just spend all my time traveling and surfing for a couple years.
"Just for fun, I love the lifestyle so much. My favorite thing on earth to do is get a good wave, that's what this whole thing in my life is all about."
THEN AND NOW
Slater has been surfing competitively for about 30 years now, and has seen a lot of change in the surfing world, some good and some not so good.
"In a lot of ways I think surfing now is the way we wished it was then," Slater said. "There's a give and take. For more opportunity as a career for people, you're naturally going to have more crowds and a lot less privacy, a lot fewer surfs where there's no people in the water and more of that corporate and business interest that's in the sport.
"It's the nature of the world, things are growing and expanding and anything that becomes viable financially people want to capitalize on that. It's a funny thing, it's real easy to say oh we don't need corporate but we all make a living because there's a business behind this thing. As long as we do it responsibly and in good faith towards our sport I don't see any harm in it.
"But there's a sort of purity to the grass roots of surfing that none of us wants to see disappear or taken away. So I think we all have at some level conflicted feelings inside about surfing and business mixing."
HOW ABOUT HB?
Slater spent a lot of time in Huntington and Newport when he was much younger after moving from his hometown of Cocoa Beach, Fla. He won Huntington's U.S. Open in 1996 at age 24 and then 15 years later in 2011 at age 39. But he hasn't surfed the Open in recent years and he doesn't plan to do so again.
The waves are generally small and the crowds are overly large, not so appealing to someone like Slater who enjoys surfing in a more natural setting with fewer hotels and a smaller corporate influence.
"It's easy to see the bad sides of it but there are some good sides too amongst it all," Slater said. "There's a strong surf culture there and a lot of history in Huntington. But that event makes your head spin; I really don't look forward to surfing that event again because I did it so many years it's kind of one of those 'been there, done that' things.
"Usually it has a lot of points and money for the guys so it's an important event when you're trying to get on tour. I had a lot of fun in those contests over the years. Hurley brought me back there a couple times and asked me to surf the event; Bob [Hurley] is a good friend, so I was happy to surf there for a few years after I hadn't for about 10 years.
"The problem is, that time of year [early August] the wind every day is predictable. It does the same thing every darn day."
The interview ended but Slater kept talking. He noticed my Frog House Surf Shop shirt and mentioned he used to live next door to the owner's dad in Cocoa Beach. He talked about his interest in jiu jitsu and mentioned a great gym called the Art of Jiu Jitsu Academy in Costa Mesa.
And finally, when I asked him what his plans were for the next few days since he was eliminated from the contest, he said simply: "Go find a good wave to surf."
It's good to be the king.
--
JOE HAAKENSON is a Huntington Beach-based sports writer and editor. He may be reached at joe@juvecreative.com.
---