Marina's Yuno a scoring machine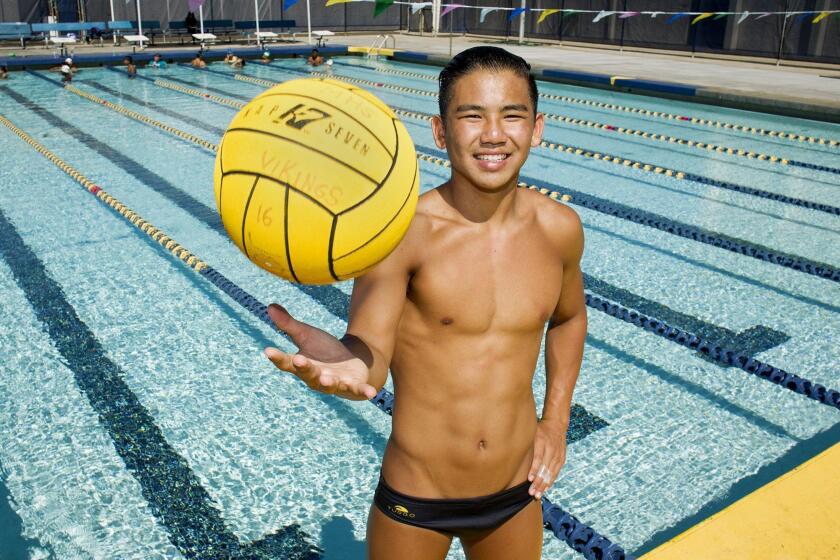 To say that Leo Yuno is a major part of the Marina High boys' water polo offense would be a gross understatement.
Yuno, a senior attacker, has put up double-digit goals in two games already so far this year. He had 10 in a 19-5 win at Estancia, and 11 in the Vikings' 12-11 win over Long Beach Poly on Monday.
Yes, that's 11 of the 12 goals the team scored overall. First-year Marina Coach Tyler Middleton knows what kind of a player he has in Yuno.
"His shot speed is very good," Middleton said. "But the secret for him is that he has the ability to eggbeater, and stay at a high level of 'eggbeatering,' longer than most of his defenders. He's able to have a look at the goal, where others would not. And just his general shot placement, it's there ... more so than a lot of shooters I've seen, even at the collegiate level."
Yuno set the Marina single-season goals record last year as a junior, after putting in 144. This year, he already has 62 goals in just 10 games.
The Marina career goals record of 387 goals, set by Jeff Larson from 1996-99, is definitely in play. Yuno currently has 340 goals in his four years with the Vikings.
Marina (5-5) is preparing for its Sunset League opener Wednesday against Los Alamitos, at Newport Harbor High at 6 p.m. The Vikings beat Edison last year in league, and it was their first league win since 2008.
Marina moved down to CIF Southern Section Division 4 this year, and Yuno said he hopes to help the Vikings qualify for the postseason.
"We're getting the team chemistry," Yuno said. "It's not there right now, but we'll eventually get there. The Long Beach Poly game, it was looking good. Hopefully by the time we get to the league game on Wednesday, the team chemistry will be there.
"It's definitely been a really bumpy road, getting the team better. I mean, we're still getting there, but it was really nice to get that first [league] win. I felt like I did something in my four years."
The Vikings have other senior starters like Parker Velek, Kyle Harvey, and Gareth Svanda. But part of what sets Yuno apart is his experience. He has been playing the sport for about nine years, and he plays club for a big program in SOCAL.
"Competitive teams, especially teams in our league, they know who he is," Middleton said. "A good coach is going to identify a shooter like him, but we work on strategies to get him open water, to isolate him against weaker players so he can do his offensive stuff. But it is a struggle. He scores at least 80% of our team's goals as of today, and one of the challenges as a team is getting our other players to be aggressive in regard to shooting."
Yuno would like to get his teammates more involved. He said when the Vikings played against University (an 18-10 loss on Sept. 20), the Trojans had three players guarding him at all times. He only scored twice.
The team is working on balance. Yuno won't have that problem in college. He definitely wants to continue his water polo career next year, and he said programs like UC Santa Barbara and UCLA have shown interest.
For now, though, he is hoping to make his senior season at Marina one to remember.
"We want to qualify for D4 CIF [playoffs], and get at least three wins in the Sunset League against Los Al, Fountain Valley and Edison," Yuno said.
CDM, NEWPORT HARBOR READY FOR BATTLE OF THE BAY
The rivalry Battle of the Bay match in boys' water polo is typically played under the lights, and this year is no exception.
Newport Harbor (7-3) plays at Corona del Mar (5-3) on Saturday at 7 p.m. Expect a packed house and an electric atmosphere.
Both teams have basically had all week to prepare for this one. The Sailors had no other matches this week, while the Sea Kings had just one, opening Pacific Coast League play against Woodbridge on Thursday.
And both teams can feel well about how they've been playing lately. CdM, led by senior co-captains Tamir Avital and Will Rodosky as well as senior goalie Matt Moran, finished fourth in the South Coast Tournament last weekend, but that included a 9-8 upset quarterfinal win over No. 2-seeded defending champion Mater Dei. It was the Sea Kings' first win against Mater Dei since 2009, and the first time any Orange County team had beaten the Monarchs since 2010.
Newport Harbor, led by senior co-captains Cole Brosnan and Nic Rimlinger and high-scoring senior Connor Turnbow-Lindenstadt, finished sixth at the South Coast Tournament. The Sailors also hung with Mater Dei for a half in the fifth-place game, before losing, 15-8. But Newport Harbor also earned a lopsided 14-4 win over Dana Hills in the second round, and that's a Dana Hills team that was ranked higher than Newport in Orange County coming into the tournament.
CdM is up two spots to No. 5 in CIF Southern Section Division 1 in the most recent poll. Newport Harbor moved up one spot to No. 7.
Each of the last four Battle of the Bay matches have been decided by two goals or less. CdM is going for its third straight rivalry win, which would be a first in Coach Barry O'Dea's 12-year tenure.
COSTA MESA HOSTING TOURNAMENT
The Costa Mesa High boys' water polo team is hosting the annual Newport Rib Classic, a two-day tournament that begins Friday.
The Mustangs are in a four-team pool with Woodbridge, Trabuco Hills and Tustin. Sage Hill is also in the tournament and the Lightning have El Segundo, Santa Ana Valley and Beckman in their pool, which will be played at Santa Ana Valley High.
The tournament championship game is scheduled for 4 p.m. Saturday at Costa Mesa.
--
Matt Szabo covers boys' water polo and girls' tennis in the fall.
Twitter: @mjszabo
---