Verdugo Views: Two local organizations to hold joint anniversary bash at Alex Theatre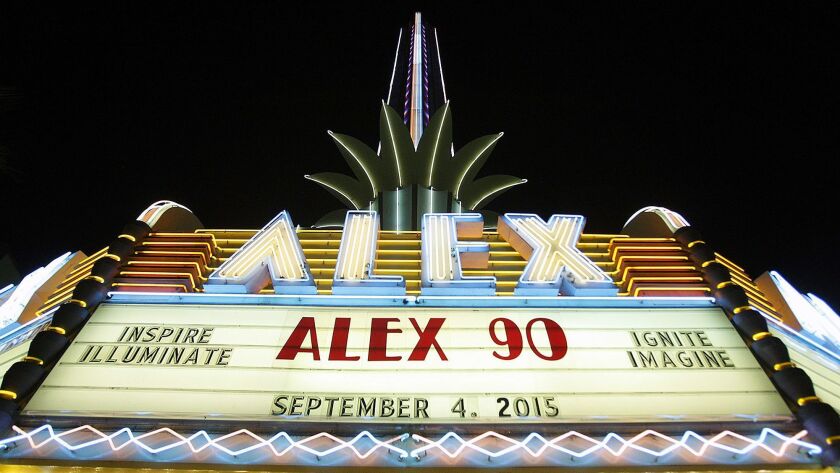 Two local groups, the Glendale Historical Society and the Alex Film Society, are joining forces in July to celebrate the historical society's 40th anniversary and the 25th year since the film society's inaugural event.
Historical society members formed their organization in 1979, spent several years rescuing the Doctors House, moving it to Brand Park and restoring it; then they turned their sights on the declining Alex Theatre. Its future had been uncertain since Mann Theatre officials announced they were opening a new complex on Maryland Avenue, as noted in the Glendale News-Press, Aug. 9, 2003, edition.
Through a grass-roots effort, historical society members encouraged city officials to purchase the Alex and turn it into a community arts theater. Meanwhile, a passionate band of film buffs wanted to ensure that classic films could still be shown on the big screen.
The film buffs were brought together by Brian Ellis and Randy Carter, who had worked together in the 1980s on the long-running television comedy series "Cheers," Carter said in one of a series of emails. Carter and his wife, Janice, were living in the Hollywood Hills at the time; their children were nearing school age and they were seeking a new home.
"We visited Brian and his wife, Pam, in Glendale and liked what we saw," Randy Carter said. They've lived in northwest Glendale since 1989.
The film society was formed in 1994. While recognizing that the Alex's "days as a single-screen movie palace were clearly a thing of the past," the members wanted to present occasional films "the way they were meant to be seen," Carter wrote.
Besides Randy Carter as well as Brian and Pam Ellis, founding members included George Crittenden, Andrea Humberger, Connie Humberger, Barbara Leimeter, Dan Leimeter, and Bob Miller.
Crittenden, Miller and Leimeter repaired the last existing projector, acquired a new set of lenses and got a second projector donated. They also tracked down the original Voice of the Theatre speakers. Andrea Humberger provided background information about the Alex.
Brian Ellis and Randy Carter met with Richard May, vice president of film preservation at Turner Entertainment, and learned that a 1994 mini-series titled "Scarlett," was "spinning a fabricated story of Rhett Butler and Scarlett O'Hara" and that Ted Turner wanted the original 1939 'Gone with the Wind' screened in major cities to counter-program the TV version.''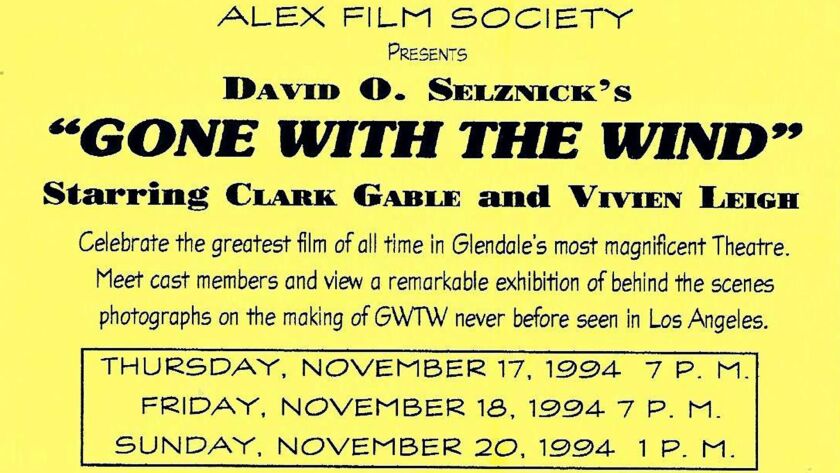 May loaned them a pristine print, and film society members planned their first event.
The last few days were hectic. The screen wasn't installed until the day before; plus the 6-foot tall Voice of the Theatre speakers had to be retrieved from storage in the old Post Office building at Terminal Annex, Randy Carter wrote.
Unfortunately, they couldn't access the Alex to do a proper sound check before opening night.
Several cast members, including Ann Rutherford and Rand Brooks, had agreed to be there. "Olivia de Havilland sent regards by telegram from her home in Paris. Members of the Selznick family and several actors who portrayed children in the film turned out to salute the classic," Randy Carter added.
On opening night, City Council members and a who's who of prominent Glendale residents mingled in the lobby before the show.
The curtain parted to great applause. An animated short titled "Yosemite Sam" was on the screen when they noticed the dialogue was garbled.
"Next up was the newsreel of the movie's opening in Atlanta in 1939… same result,'' Randy Carter wrote. They started the feature and "listened, appalled, to two minutes of unintelligible sound before stopping the projector."
Randy Carter paced in the aisle.
"During my career in live theater, a canceled performance was unimaginable," Randy Carter added. "Yet it was happening. Brian, as our founding president, made an announcement from the stage that we would be issuing "rain checks"… but…and here's what saved us. We would continue with a panel discussion featuring our invited guests.''
Grabbing chairs and ushering the celebrities to the stage, the group entertained the crowd with anecdotes for almost two hours.
"Patrons left with broad smiles on their faces and dozens commented that the impromptu talk was the best evening [they had] ever had at a film screening," Randy Carter wrote.
Television's Channel 5 reported on the event — without mentioning the sound issues. The following Sunday, there was a line all the way down Brand Boulevard for a sold-out matinee performance.
Now, 25 years later, on July 13, the two societies, in association with Glendale Arts, will be celebrating the Alex's unique connection to Hollywood. NPR's Adam Felber will host the evening of live music, rare film footage and a no-host bar. Doors will open at 6:30 p.m.
For more information, visit www.alexfilmsociety.org/schedule.php
Katherine Yamada can be reached at katherineyamada@gmail.com. or by mail at Verdugo Views, c/o Glendale News-Press, 453 S. Spring St., Suite 308, Los Angeles, CA 90013. Please include your name, address and phone number.
---